If I could list a few of my favorite things, like Frauline Maria/Julie Andrews does in The Sound of Music, I'd definitely figure out how to wiggle into the lyrics the fact that one of my favorite things is when Valentine's Day coincides with President's Day and as a result, we get a beautiful long weekend to celebrate love. Don't know how'd I'd fit that into the song, actually, but you get my point.
Whether you're single and hate V-day, you're doing it up for Galentine's day, you're dating, you're engaged, you're married, at least we have Monday off, am I right?
Part of the joy of Valentine's day is partly, at least this weekend, a chance and an excuse (if you need one!) to bake something heart-shaped, to make a fancy cake or a fancy meal. Even if your V-day evening consists of Ben & Jerry's and You've Got Mail (or, if I could pick, it would be brownies and Pride and Prejudice), you gotta admit that the holiday is basically synonymous with Chocolate Day. Which is pretty awesome.
And without getting on my (married) high horse on this holiday, I want to say that I think that love is beautiful. My mom used to wake up early on Valentine's Day, even if it was a week day, and make my brother and I some kind of fancy breakfast, and give us heart balloons sometimes, and little bears and chocolate to show us she loves us. And that's amazing.
So go love someone, something. Even if it's just you. Do some yoga. Journal. Drink fancy tea and watch your favorite movie. Remember that Jesus loves you (even if you don't believe in that, doesn't make it not true). Remember that your family loves you (even if they are messed up, at least 1 person in your whole family circle, or a friend who is so close, they might as well be family loves you). Go online and search for something to donate money to. Here's a great one. Let your heart be broken for people less fortunate than you, and then love them by giving something of yours to help.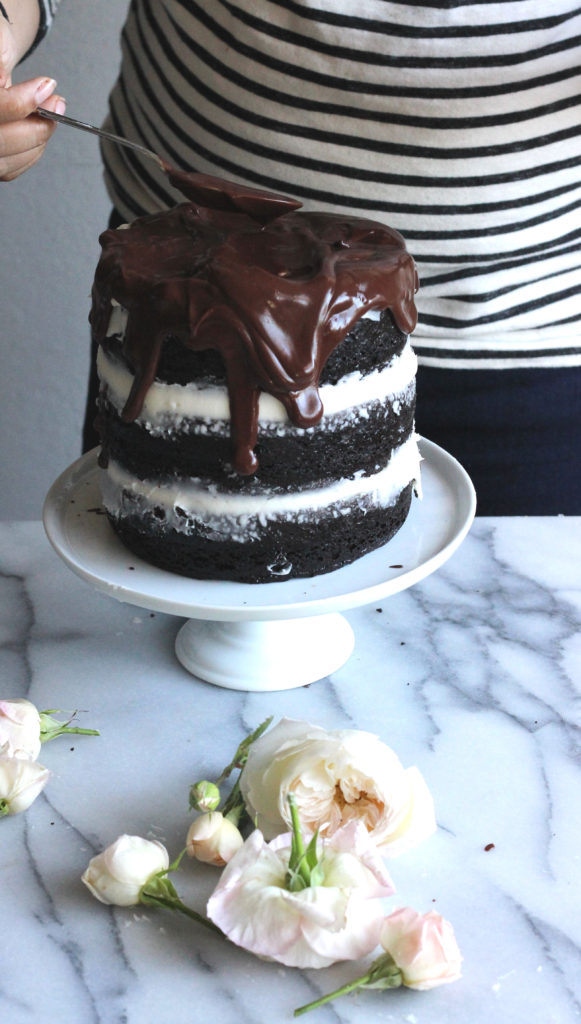 Ok so now that that has been said, I want to introduce you to this amazing cake, and also teach you a little secret. Right now, it is full-on Girl Scout cookie season. I see them by the Walgreens at my house, and at the train station when I'm super hungry and still have an hour before I get home and eat dinner. The secret: how to get Thin Mints out of season. Safeway (or Vons, in some places), carries "Fudge Mint" cookies, Safeway brand, in the cookie section. Same flavor, slightly different texture, but they definitely help curb that Girl Scout cookie craving if you miss the season somehow.
Jon is not a big chocolate person, but he loved this cake. It's based on the ever-popular Beatty's Chocolate Cake by Ina Garten. This particular rendition is a hit because it's kind of like cookies and cream, but the cookies are minty and chocolatey, and the cake is perfectly soft and moist. The ganache is the rich chocolatey addition to the top of the cake. Without it, though it may not look like it, the cake is very lightly chocolate flavored.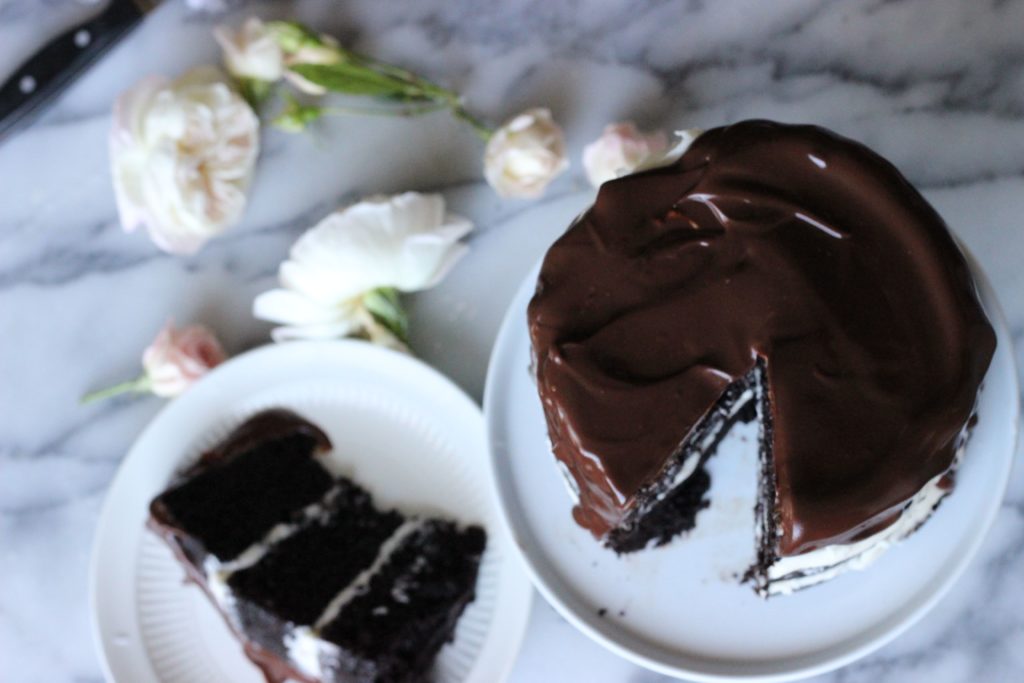 Ingredients
For the Cake:

1 3/4 cup all purpose flour
1 1/2 cup sugar
1/2 cup brown sugar
1/2 cup cocoa powder
1/4 cup crushed thin mints, plus 1/2 cup extra for layering
2 tsp baking soda
1 tsp baking powder
1 tsp kosher salt
1 cup buttermilk
1/2 cup vegetable oil
2 large eggs
1 egg yolk
1/2 cup coffee
1 1/2 tsp mint extract
For the Frosting:

2 sticks (1 cup) of softened butter
2 cups powdered sugar
1 tsp mint extract
For the Ganache

1 1/2 cups semi-sweet chocolate chips
3/4 to 1 cup heavy cream
Instructions
Grease 3 small round cake tins, add a thin layer of flour to them as well, set aside.
Preheat oven to 350 degrees Fahrenheit.
In bowl, combine dry ingredients - baking powder, salt, baking soda, thin mints, cocoa powder, and flour together.
In the bowl of a stand mixer, combine buttermilk, eggs (pre-beaten), sugar, coffee, and mint on low speed for about 1 minute.
Slowly, in increments, add the flour mixture in to the wet mixture, while still mixing on low, stopping every now and then to scrape the sides of the bowl. The batter will be very wet.
Pour the cake mix evenly into the 3 cake tins and bake for about 15 minutes.
After 15 minutes, check to see the cakes are done by sticking a fork, knife, or long toothpick into the center. If it comes out clean, the cakes are ready. If not, check to see if they are done every 5 minutes. Mine took about 20 minutes to cook.
Turn the cake tins out onto a cooling rack when they come out of the oven, and then leave them alone until the tins are cool to touch. If any part of the cake stuck to the bottom of the pan, it's ok! You are going to cover the whole thing in ganache anyways.
For the Frosting:

With a hand-mixer or by hand, combine softened butter, powdered sugar, and mint extract until it forms into frosting.
Add more sugar or butter, depending on what texture of buttercream you like.
For the Ganache:

Melt the chocolate chips in a double boiler, or in a heatproof bowl over a pan of boiling water.
Add the heavy cream in 1/4 cup increments until the ganache is runny in texture. I used a little bit more than 1/2 a cup.
To Assemble:

Put first layer of the completely cooled cake on the cake stand.
Slather it in about 1/3 of the frosting mix, making sure to add extra at the edges and a little over the side (so that when you smooth the sides, there is enough frosting to cover the gap between the two cake layers).
Sprinkle crushed thin mints on top of the frosting.
Repeat for the next layer.
For the top layer, add a large dollop of frosting to the middle of the cake and smooth out from there to the edges, working to keep the whole layer of frosting level this time, not adding more to the edges like before.
Pour the chocolate ganache over the whole top of the cake and let it run down the sides.
Enjoy!
http://thebayleafkitchen.com/thin-mint-chocolate-cake/