So, a quick status update on the novel: I stopped writing it (sad face). I still think I had an OK idea, and maybe I'll actually finish it, but definitely not by November 30. I got behind because of all the family stuff in the last week. In NaNoWriMo, once you are a day or two behind, it just gets harder and harder to keep up with the word count. So I stopped trying, but it's actually be a good decision for me. Train rides are my reading time, and I've been finishing a good book slowly, which is like watching a great TV series on Netflix one episode a day. Sometimes it's fun to savor the suspense.
I'm in full comfort-food-mode at the moment. We had a few parties at work this week, all of which were catered by a local fancy grilled cheese shop. So I've been feasting on mushroom-gruyere grilled cheeses and impossibly delicious mac and cheese bakes. And now I'm just a little bit more than worried about my waistline this year.  I'm starting to eat all the junk food and Thanksgiving is still a week away!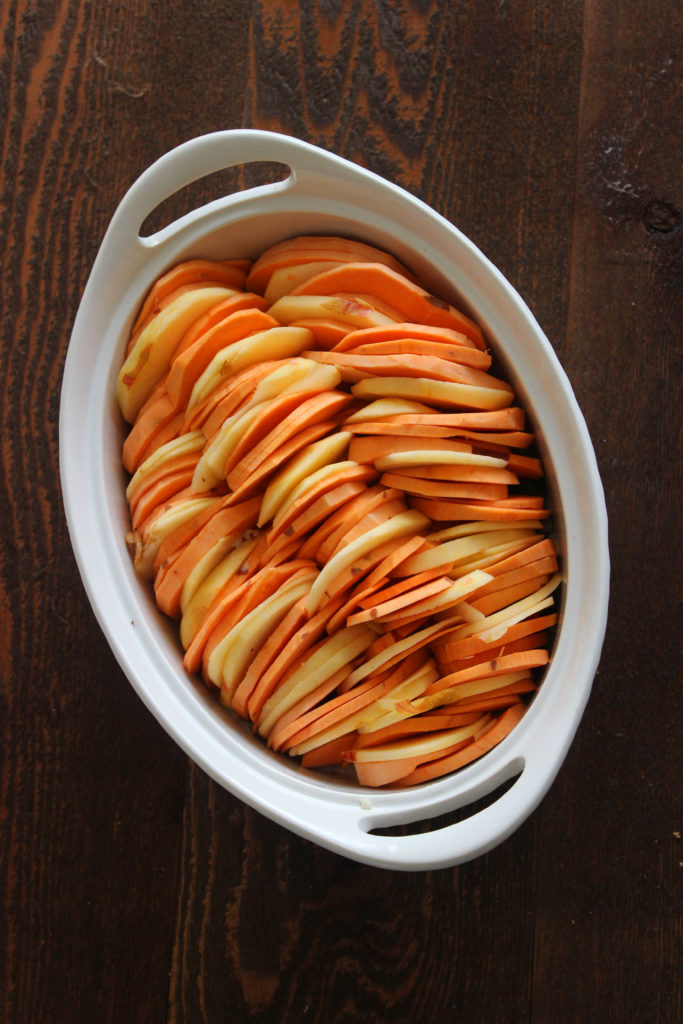 I have mixed feelings about Thanksgiving, and particularly about this year. On one hand, I really like some of the traditional dishes like the mashed potatoes, Parker House Rolls, and of course, the sweet potato casserole.  But on the other hand, I sometimes feel obligated, due to the special occasion, to eat more turkey than I really meant to, or to try the stuffing, which I've ALWAYS regretted. I'm not a big fan of stuffing, to be honest.
On a happy note, I have a lot to be grateful for this year. I love having a blog as a creative outlet, and I feel like my photos are improving (I think?!). We have a nice apartment that is close to all the important things, like the grocery store for emergency ingredient runs. I have a brand new nephew this year (!) and a family that loves me. Jonathan is the best husband ever. My job is super great and fun. And even with the latest sadness in our family and in the world (praying for Paris, Beirut, & Syria), we trust that God will pull us through together, and we're grateful that we are a part of His family, too.
But on a little sad note, my Nana won't be able to make her usual Sri Lankan curry dishes to compliment the traditional American menu items. We are so lucky to have her here with us to celebrate with this year, but she doesn't have the strength or ability to make her usual Thanksgiving contribution. She used to make these dishes for all of our family gatherings, including birthdays, the Super Bowl, Christmas etc. Even though we'd waited all year for turkey, Nana's curries were and are still always my favorite Thanksgiving food. It will be sad to not have them this year, since they are what I thought made our family's Thanksgiving meals exciting and different.
This year, we can't drive up for Thanksgiving until the very last minute, so I won't have any hand in the cooking at all, or I would have asked for the recipe and tried to make the curry myself(except that I might bring some kind of dessert, but no promises).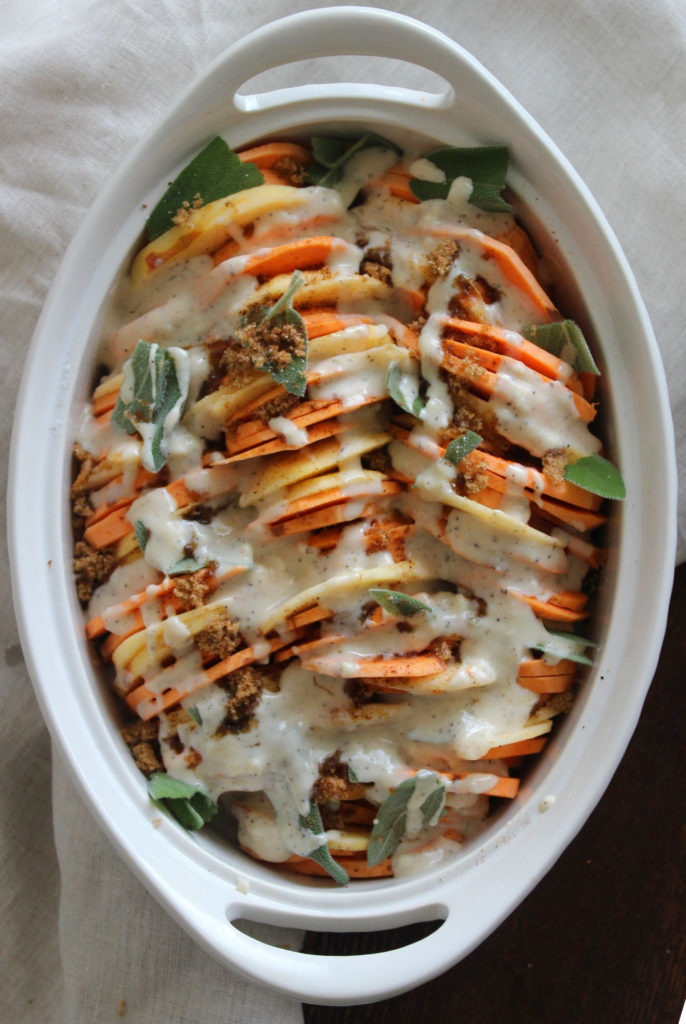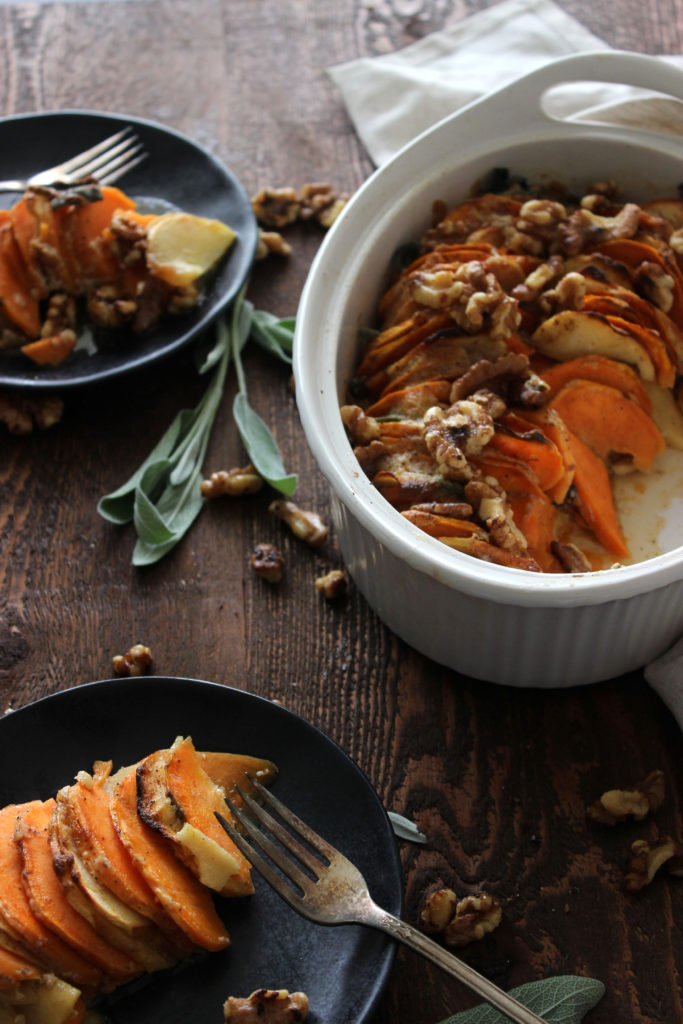 Because I can't help her out, I heard more sad news: my mom will be relying on one of those pre-made Thanksgiving dinners that grocery stores are always advertising for those who don't want to cook their own.
This is sort of depressing to me, so I decided to make something fun and homemade pre-Thanksgiving, by reinventing one of my favorite side dishes: the sweet potato casserole. I love the traditional marshmallow topping and the brown sugar, but I had a few apples that were starting to go a little bad in the fridge and thought a sort of gratin would be a great way to use them up.
The extra crunch from the toasted walnuts and the flavor of the crispy pan-fried sage make this one a winner. Also, the richness of the browned butter smells amazing. This Sweet Potato and Apple Gratin is a not-too-sweet, rustic-inspired side dish that elevates the usual casserole from its normal role of being the sweet and candy-like side dish, to something a little more complex in texture and flavors.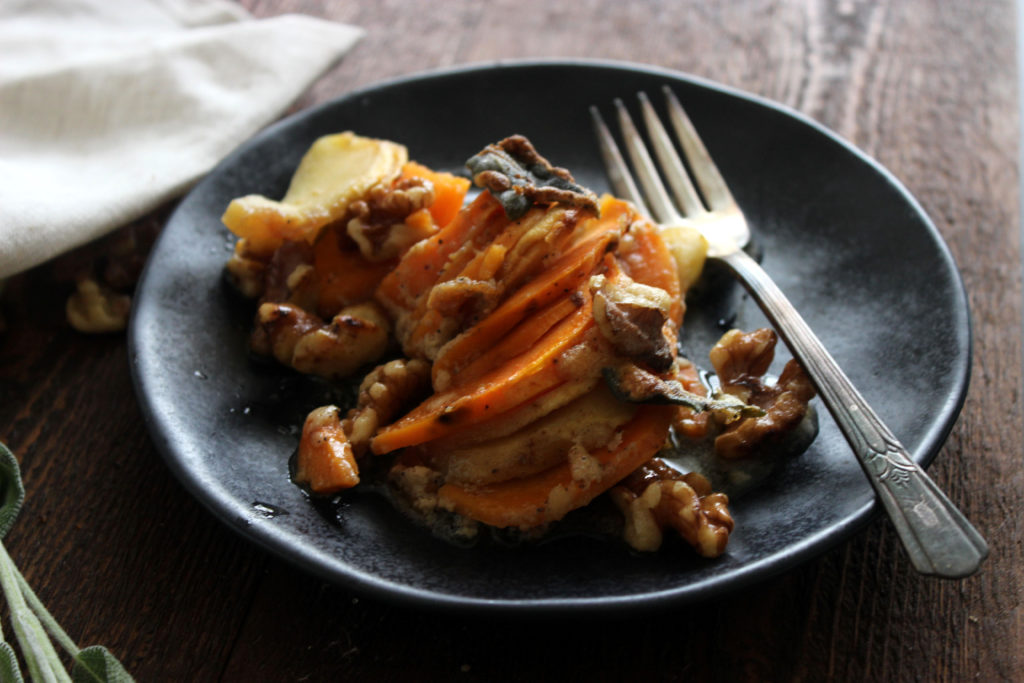 Sweet Potato and Apple Gratin with Browned Butter, Sage, and Walnuts
Ingredients
2 large sweet potatoes, peeled
3 apples, peeled
1 cup half and half
2 tbsp flour
4 1/2 tbsp butter
4-5 sage leaves, chopped
1/2 tsp. salt, divided
2 tbsp. brown sugar, divided
2 pinches of cloves
2 pinches of nutmeg
1 cup of walnuts
1 extra tbsp of butter
Instructions
Chop sweet potatoes and apples into thin slices (try to make them 1/4 inch or thinner). Cover with water in a bowl & set aside
Preheat oven to 425 degrees Fahrenheit. In a sauce pan over medium heat, melt the butter and brown it until it smells slightly nutty and is amber brown. You will begin to see flecks of brown at the bottom.
Strain the brown flecks out of the butter with a fine grain strainer into a bowl and set aside.
In the same saucepan used to melt the butter, add the chopped sage and cook over medium-low heat until sage is crispy and lightly browned. Set aside.
In a medium saucepan, heat the half and half on medium low. Whisk in the flour and continue to stir until the lumps have smoothed out and the mixture is warm and steaming.
Combine butter and milk mixture together.
In a medium-sized (about 10-12 inches in diameter) oven-safe casserole dish, place a layer of sweet potatoes, then alternate with a layer of apple, and one more layer of sweet potatoes.
Pour about 1/4 of the butter and milk mixture over the layers of sweet potatoes and apples. Sprinkle 1 tbsp of brown sugar, 1/4 tsp of salt, 1 pinch of nutmeg & 1 pinch of cloves and half of the crispy sage leaves.
Arrange the rest of the sweet potatoes and apples over the top of the gratin by chopping the slices in half and alternating between sweet potatoes and apples. Pour the rest of the milk and flour mixture over the sweet potatoes & apples and sprinkle the remaining 1 tbsp. of brown sugar, 1/4 tsp of salt, pinch of nutmeg, pinch of cloves, & crispy sage over the top of the pan.
Place in preheated oven and cook for about 40 minutes, until the sweet potatoes and apples are soft and their edges are slightly crispy-brown
While the gratin is in the oven, melt the remaining 1 tbsp of butter in a small frying pan. Add walnuts and cook until the walnuts are darkened and smell nutty. Take off of the heat and allow to cool completely.
When the gratin is finished, take out of the oven and sprinkle the toasted walnuts on the top. Enjoy!
http://thebayleafkitchen.com/sweet-potato-and-apple-gratin/