For my husband Jon's birthday last month, I decided to do it up and bake something special. Recently I've been in a baking rut — compounded by the fact that I'm now meticulously counting my calories and exercising. There hasn't been a lot of room for creative and crazy baking. The bane of a food blogger: restrictions on what s/he gets to eat.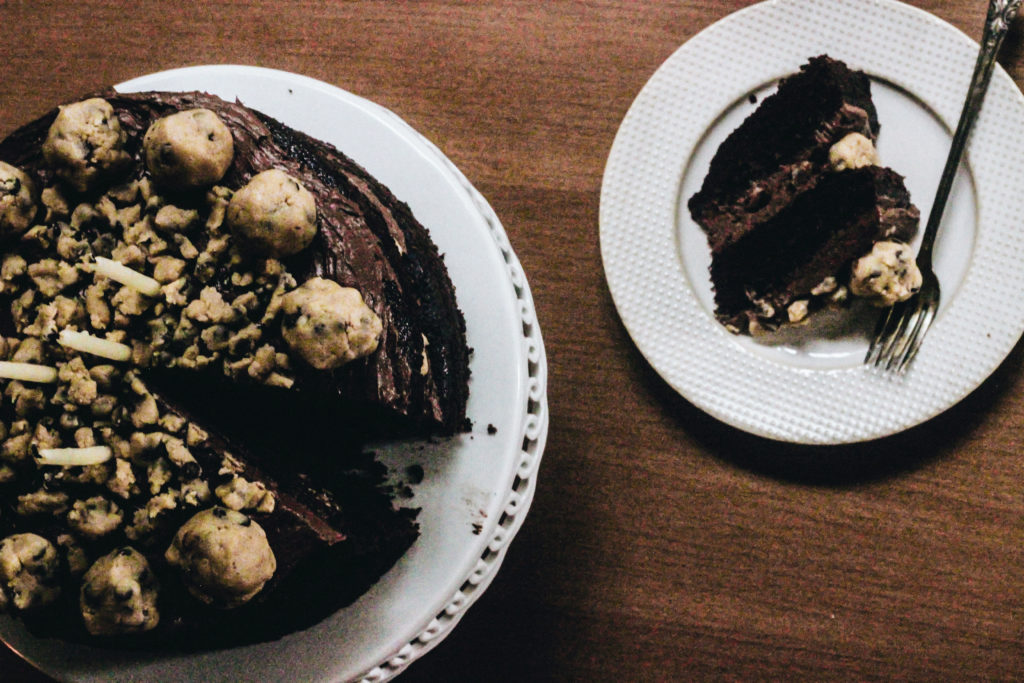 I'm in a weird time of life right now too. Work has been quite tumultuous and unsteady over the last few months, and my usual crutch is food. If I've had a hard day, I reward myself with treats, or use needing to talk out my feelings and thoughts with Jon as an excuse to go out to eat. Old habits die hard. REALLY hard. It's amazing how much my life revolves around food and especially, eating out. I still struggle with trying to figure out what to do with friends besides going out to eat…so far, no luck — I save my cheat meals to socialize.
It's the right time to learn to deal with it though. I'm slowly realizing that life is never going to get more smooth, the longer I do it. I'm always gunning for the future — a time when I'll be more steady and stable, my career will be assured and my path/expertise all sorted out. But actually, I don't think this will happen any time soon. Even people I work with who are extremely talented and experienced have confessed to pretty dramatic shifts in their lifestyles and jobs — moving across the country and needing to start over with new friends and a new life. I know stress-eating needs to be managed, because life is not really ever going to get less stressful.
So we find more options! We go on walks instead of snacks, I drink TONS of water, when I crave boba or the snacks in the fridge at work.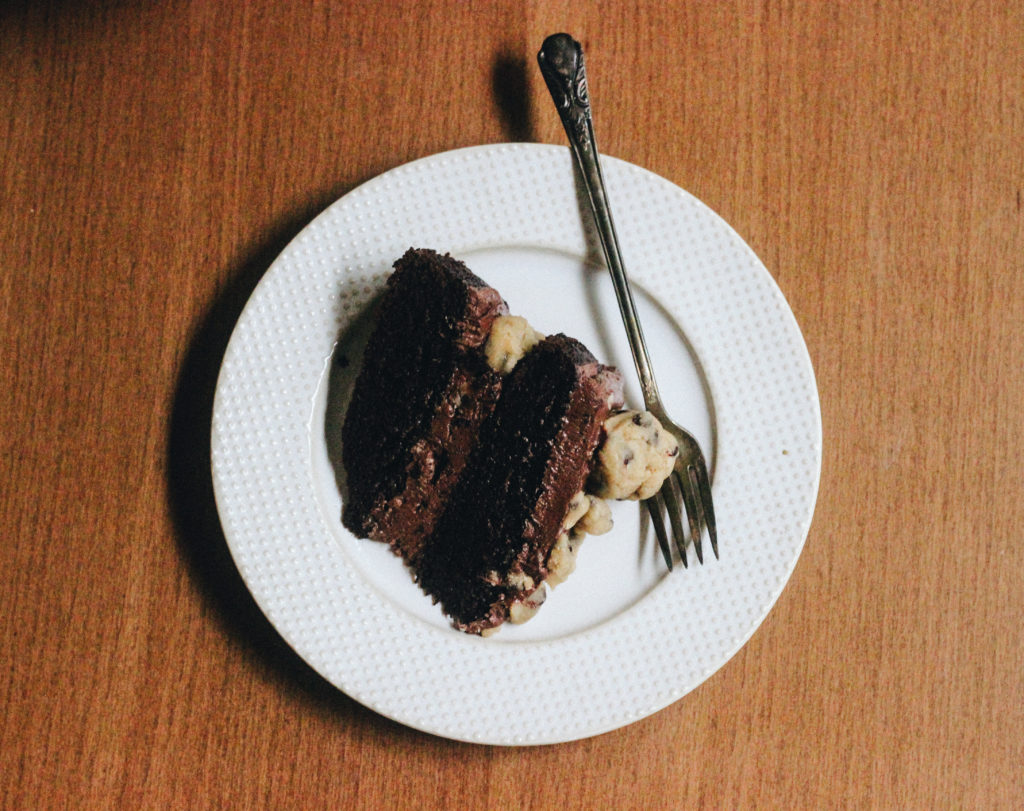 But sometimes (like for birthdays!) it's fine to take a break, indulge, and enjoy. Hence this chocolate cake. I figured, if it was going to be a cheat meal, I better do it with style.
I've always been a fan of the concept of Christina Tosi's Milk Bar Birthday Cake, and even visited a Milk Bar location in New York in January and tried the birthday cake fudge balls (basically a cake pop with no stick). This is loosely inspired by that cake, but doesn't really look, or I imagine taste, anything like it. The cookie dough recipe makes quite a lot, but I had people over to help me finish it, and it can always be frozen for a future cheat meal snack.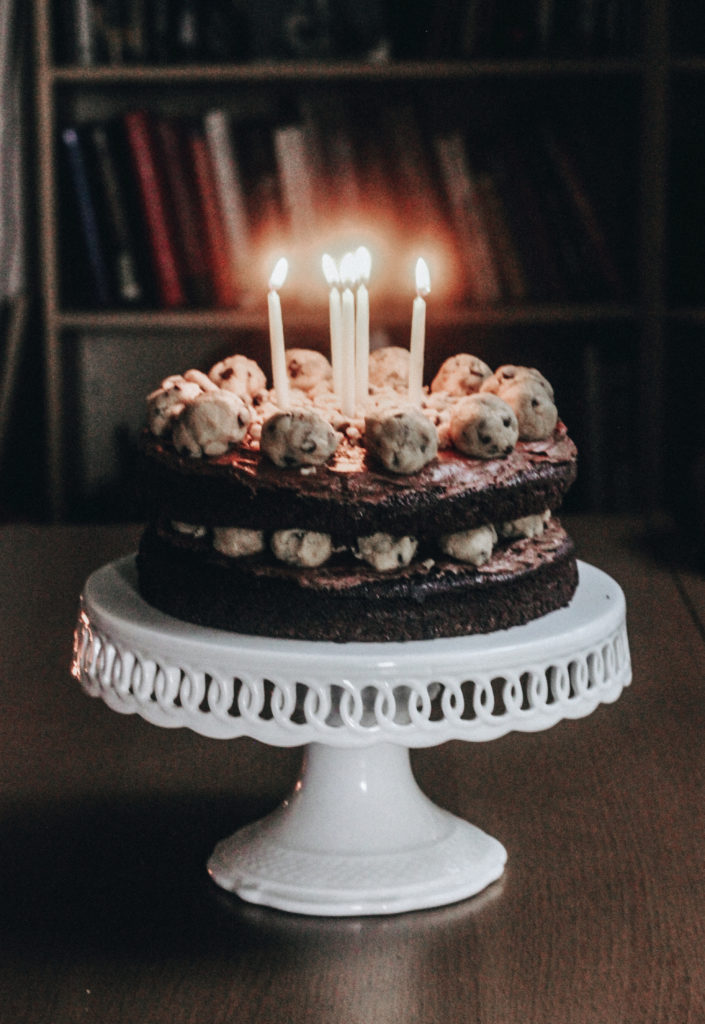 This recipe is based on a combination and slight tweaks of the following other recipe's: Hershey's Perfectly Chocolate Cake, Chocolate Frosting, & Eggless Chocolate Chip Cookie Dough
Chocolate Chip Cookie Dough Cake
Ingredients
For the cake:

2 cups white sugar
1 3/4 cups all purpose flour
3/4 cup cocoa powder
1 1/2 tsp baking powder
1 1/2 tsp baking soda
1 tsp salt
2 eggs
1 cup milk
1 tbsp white vinegar
1/2 olive oil
2 tsps vanilla extract
1 cup of water
1 1/2 tsp instant coffee powder
For the cookie dough

1/2 cup (1 stick) of unsalted butter, softened
1/2 cups white sugar
1/2 cups brown sugar
1 1/4 cup all purpose flour
1 tsp salt
1-3 tbsp milk
1 tsp vanilla extract
8 oz. mini semisweet chocolate chips
For the frosting

1 cup (2 sticks) softened unsalted butter
2 cups powdered sugar
3 tbsps cocoa powder (or more to taste)
1 tsp vanilla
pinch of salt
Instructions
For the Cake

Heat oven to 350 degrees Fahrenheit. Grease two 9 inch round baking pans. I recommend cutting a circle of parchment for the bottom of each pan so the cake falls out easily after baking.
Put the water on to start boiling
Measure out the cup of milk and add the white vinegar to it, stirring well. Allow to sit for at least 3 minutes.
Stir together dry ingredients -- flour, sugar, cocoa, baking powder and soda, salt -- in the bowl of an electric mixer.
Add the eggs, vinegar-milk, oil, and vanilla to the bowl, and beat on medium speed for 2 minutes.
While the batter is mixing, combine 1 cup of boiling water with the instant coffee powder.
After 2 minutes of mixing, lower the speed to medium and slowly pour in the water, to avoid splashing or cooking the eggs. The mix will be very watery.
Distribute the mixture evenly between the two cake tins, and bake them for 35-40 minutes.
After 35 minutes, stick a toothpick into the middle. When it comes out clean, it is done.
Let the cakes cool completely, and then flip over the tins onto a drying rack. If you're not making the cake that day, cover the cakes in plastic wrap and put into the freezer.
For the cookie dough

Combine all the butter, sugars, flour, salt, milk, and vanilla into a large bowl.
Mix with an electric mixer until smooth.
Pour in the chocolate chips and fold into the batter by hand with a wooden spoon until they are well distributed throughout the dough.
Refrigerate for at least 45 minutes to firm it up.
For the frosting:

When you are ready to frost the cake, combine softened butter, sugar, cocoa powder, vanilla, and salt in a bowl and mix well with an electric mixer, or by hand (but that's significantly harder).
Add more cocoa powder to taste, 1 tsp at a time.
If the frosting is too runny, put it in the fridge for 15 minutes before using it to frost the cake.
Put it all together

Dab a little bit of frosting onto a cake stand to stabilize the cake. Put down the first layer.
Glob about half of the frosting onto the first layer, in a big mound in the middle.
Spread the frosting out to reach the edges of the cake.
Roll 1/2 tablespoon scoops of cookie dough, and place them along the edges of the cake layer, evenly spaced apart.
Crumble cookie crumbs into the middle of the frosted layer.
Place the 2nd layer over the cookie dough-ed 1st layer and repeat.
Serve with vanilla (or cookie dough!) ice cream. Would also be delicious with oreo crumbles and whipped cream!
http://thebayleafkitchen.com/chocolate-cookie-dough-cake/