We just made it back from vacation, our two week trip to Italy! I'll be posting photos from the trip on the blog soon. We're back home, unpacked, laundry done, and trying to combat jetlag, but failing pretty hard. For instance, I woke up at 5 a.m. this morning and couldn't fall back to sleep. I also meant to take a 30 minute nap that turned into a 2 hour nap. Any tips on fighting jet lag?
In Italy, our favorite snack and meal accompaniment was always either bruschetta or Caprese salad. Eating the delicious fresh "bufala" mozzarella (made from Italian water buffalo milk!) with fresh tomatoes, and sometimes basil and mixed greens or arugula made us feel so much better about downing multiple plates of pasta and pizza. Caprese salad is our new go-to summer food.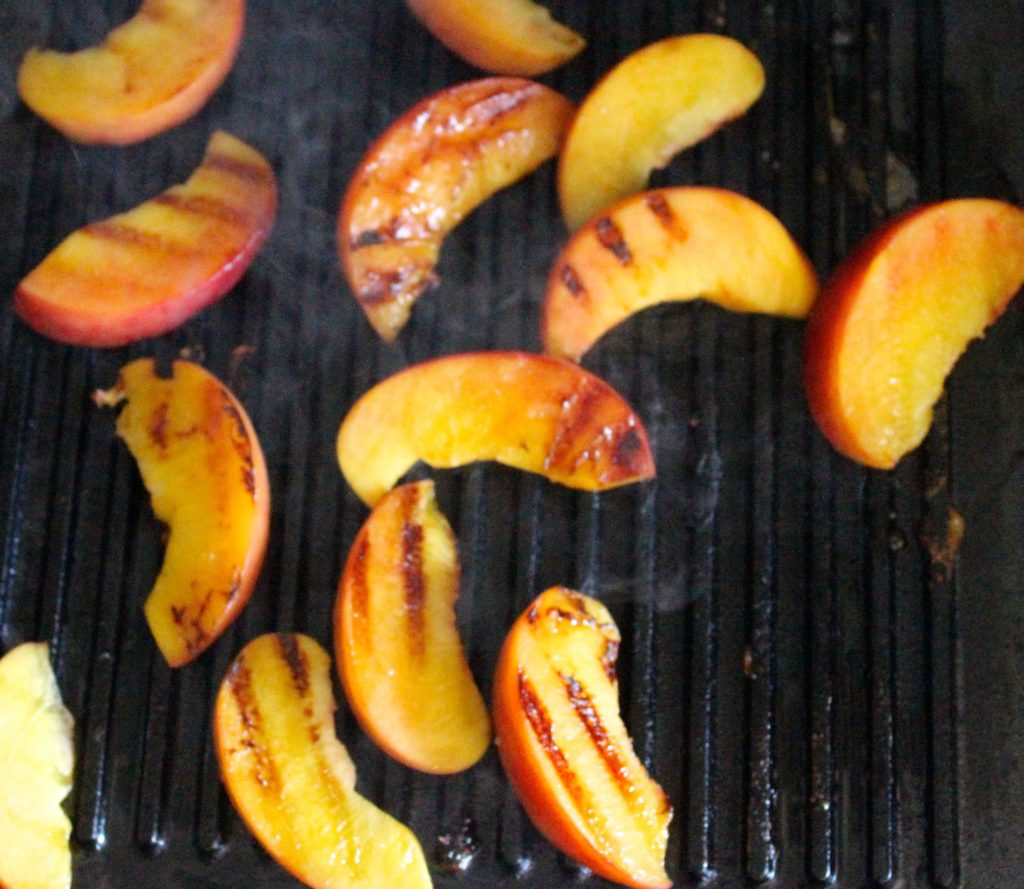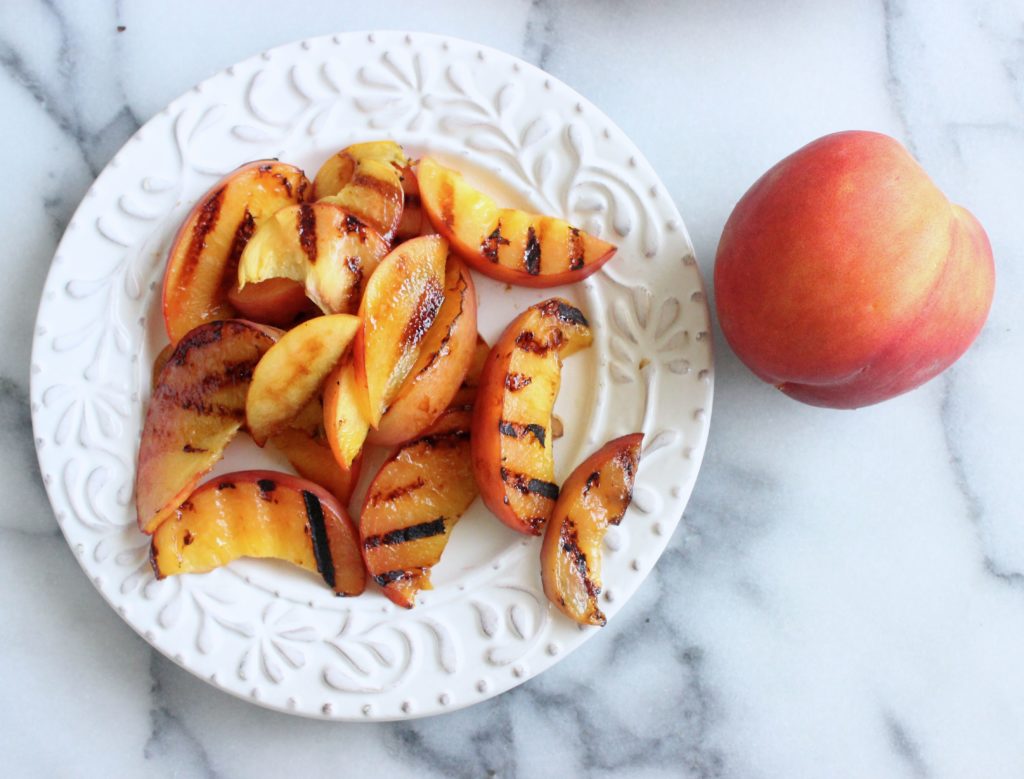 It's lovely to be back and have an extra day to catch up on rest – so I didn't have much time to prep anything special for the holiday weekend.
My mom's birthday is the 4th of July, so we always made a big deal about it, growing up. We'd hop in my dad's truck with various desserts and snacks and drive to this parking lot my mom knew about. We'd meet up with our family friends and play parking lot volleyball, eat peach pie with ice cream and Jello American flag cake (or cheesecake, or regular cake – whichever variation my mom found appealing that year), sing Happy Birthday and then settle in to watch the budget firework show of our tiny hometown – which was always so exciting and amazing and over so quickly!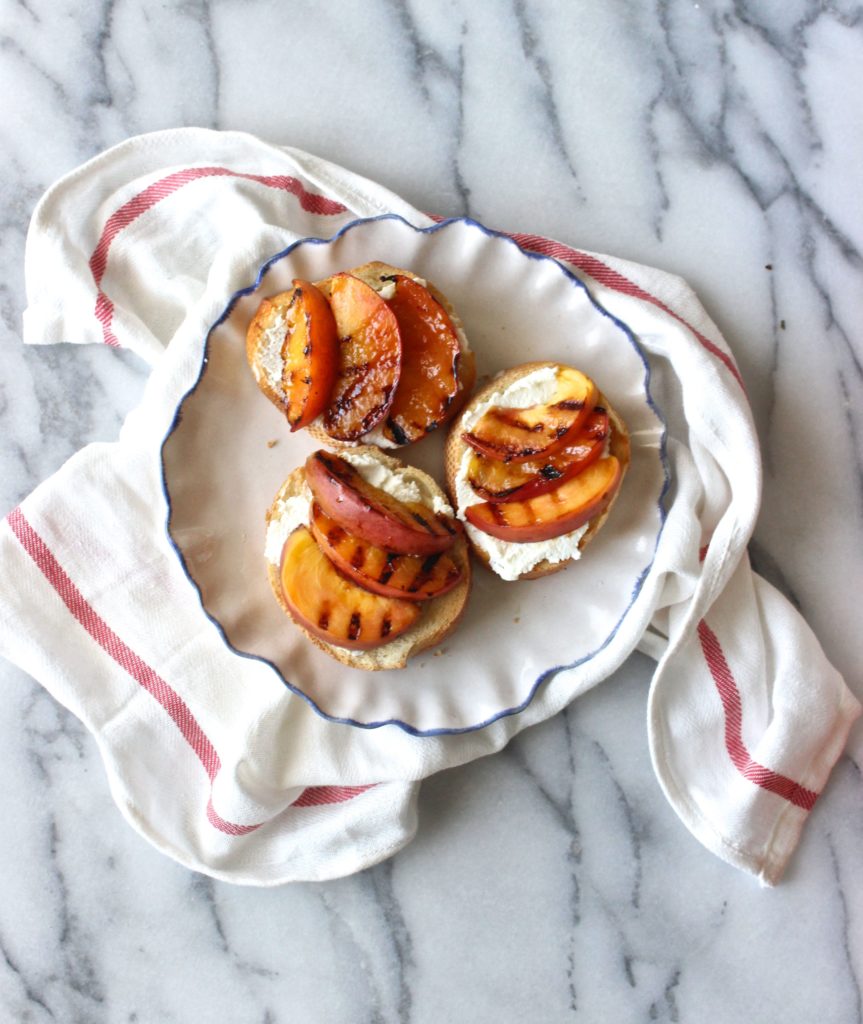 She's out of town this year, and the last few years we've been travelling on the 4th of July, or just coming back from a trip. So I decided to make this pretty , sweet, fresh version of bruschetta/Caprese that also reminds me of the peach pie I always loved to eat on the 4th.
This dessert bruschetta is so summery and bright and fresh. The strong flavor and mushy texture of the grilled peaches are complemented by the firm fresh strawberries and basil. Feel free to use a grill pan, like I did, because, like the unfortunate apartment dweller I am, I don't actually own a grill. Top the bruschetta with honey, reduced balsamic vinegar, or, as suggested in the recipe below, the leftover champagne syrup from the peaches.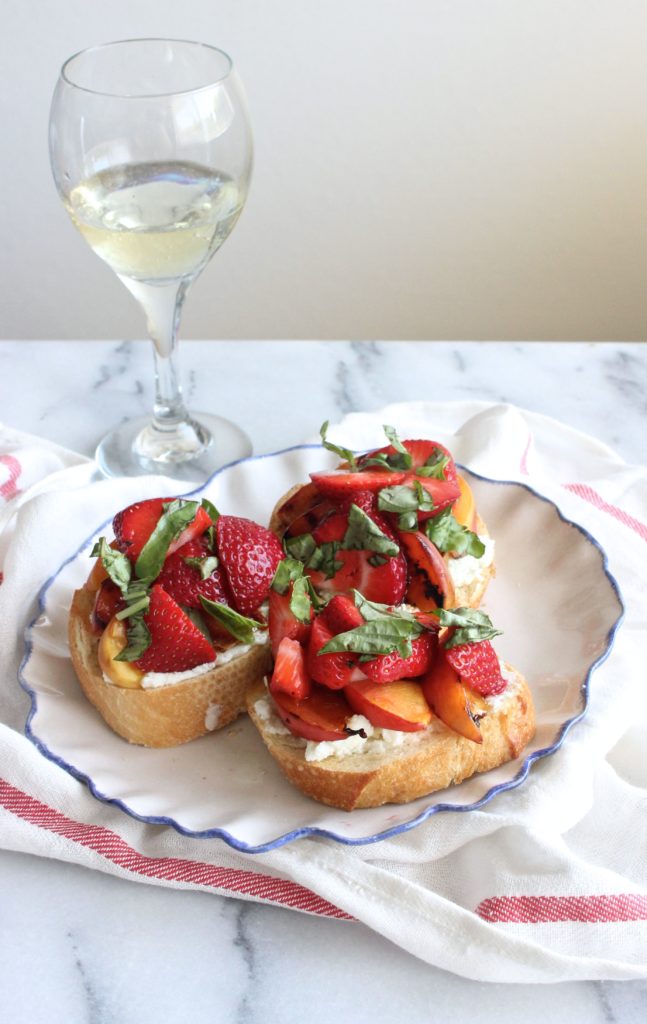 Summer Dessert Bruschetta with Peaches, Strawberries, and Champagne
Ingredients
2 peaches per 4 bruschetta
5 strawberries per 4 bruschetta
1/4 cup champagne or prosecco
1 tablespoon less than 1/4 cup white sugar
1/2 tsp vanilla
2 tbsp chopped basil
Ricotta cheese to spread
Sliced French bread
Optional: honey or reduced balsamic vinegar to top
Instructions
Slice peaches into eighths, put into a medium bowl.
Add champagne, sugar, and vanilla to the peaches and mix together well.
Grill the peaches in a grill pan on the stove (like I did) or on a grill at medium heat for about 1-2 minutes per side, until slices are soft and the grill marks are dark. Set aside the extra champagne syrup mix to top the bruschetta.
Slice strawberries into 4-5 slices each. Put these into a separate small bowl.
Add chopped basil to the strawberry bowl and mix together.
Toast the bread on the grill or in a toaster.
To serve:

Spread desired amount of ricotta over the toasted bread.
Top with grilled peaches and strawberry-basil mixture.
Drizzle the leftover champagne syrup on top of the bruschetta, or substitute honey or reduced balsamic vinegar.
Enjoy!
http://thebayleafkitchen.com/summer-dessert-bruschetta/