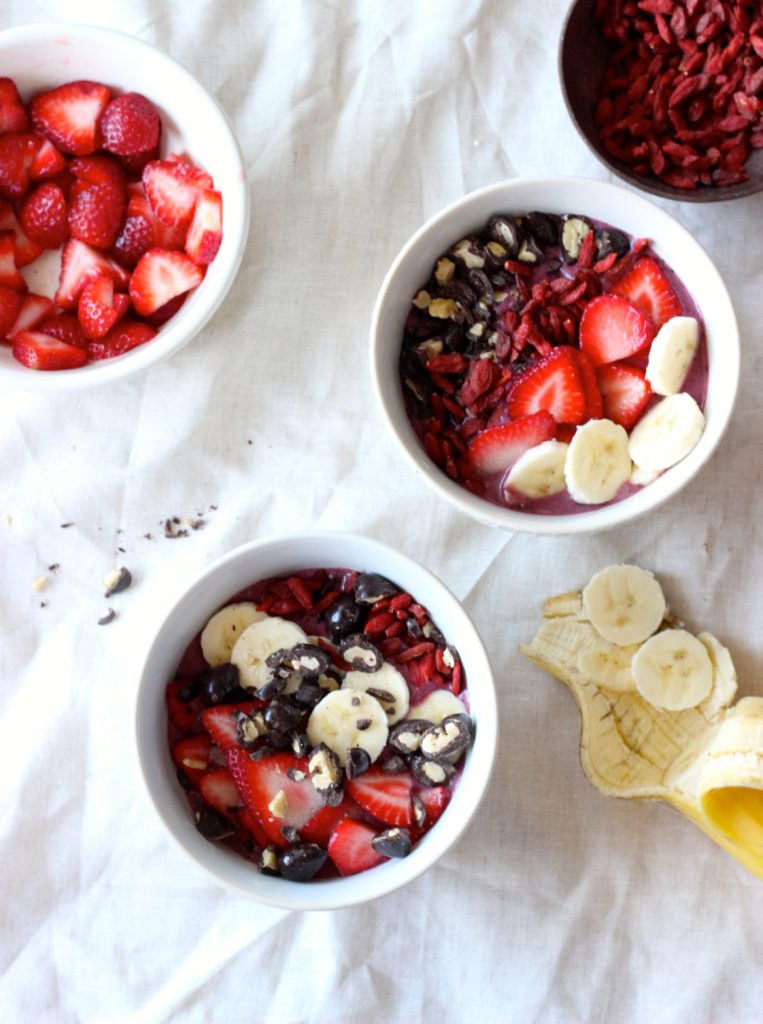 In Santa Barbara, where I was blessed to go to college for three years, there is a wonderful place called Backyard Bowls. After I first visited Backyard Bowls, I realized that Santa Barbara is actually the ideal place for a restaurant of that sort.
To expound, in SB everyone walks around in Lululemons and Nikes, surfboard racks and/or bike racks on their cars, simultaneously carrying their giant smoothie and yoga mat at all times. At my college, at least 8 people had the exact same super-overpriced dress in different colors from Free People.  To give you a sense of the culture.
Backyard Bowls is a trendy acai bowl restaurant that's only a 10 minute walk from the pier and a 10 and a half minute walk from the beach. I used to visit and order a bowl on the weekends, brave the overcrowded line, and grab something to go. Sometimes I'd just eat it in my car after a workout. Sometimes I'd eat it out on the sidewalk. All the time, I enjoyed it and wished it was easy to have a blender and frozen fruit and fresh fruit all at the same time in a dorm kitchen.
This was my first introduction to acai bowls. Now, I am totally surprised at the lack of acai places near my office. Acai is such a trend, and for good reason. It's healthy, filling enough to be lunch, and fresh. Actually, I'm surprised at the lack everything by my office really. It's the land of successful startups big enough to afford rent in the most expensive rent part of town, and there's nary a boba spot, trendy fusion restaurant (ok, maybe there is one...) nor ramen joint to speak of. 
So I was extremely happy to find an acai place by my house. Or at least within driving distance. And now, this is all I ever want to eat on weekend mornings. It's getting to be an expensive habit though, because at least in my area, a full-sized acai bowl (a small is really just a snack) will run you about $14! And when it comes down to it, it's just a fancy smoothie with fruit on top.
I decided to mimic the acai bowl at home.
Even though acai powder is an expensive ingredient (my bag of it cost me $10) all you need for a healthy, tasty acai bowl or two is 1 1/2 teaspoons, so that bag is going to eventually pay for itself. If you buy and keep all these ingredients, you can make yourself an acai bowl whenever the urge strikes.
On the rare day that I work from home, I make this for breakfast. Any time I'm hungry but don't have a lot in the fridge, I eat an acai bowl. Just keep some frozen berries, bananas, and fresh leafy greens in your fridge, buy the rarer ingredients  (goji berries, acai powder) once in a while, and you have a healthy and super easy meal/snack at your elbow.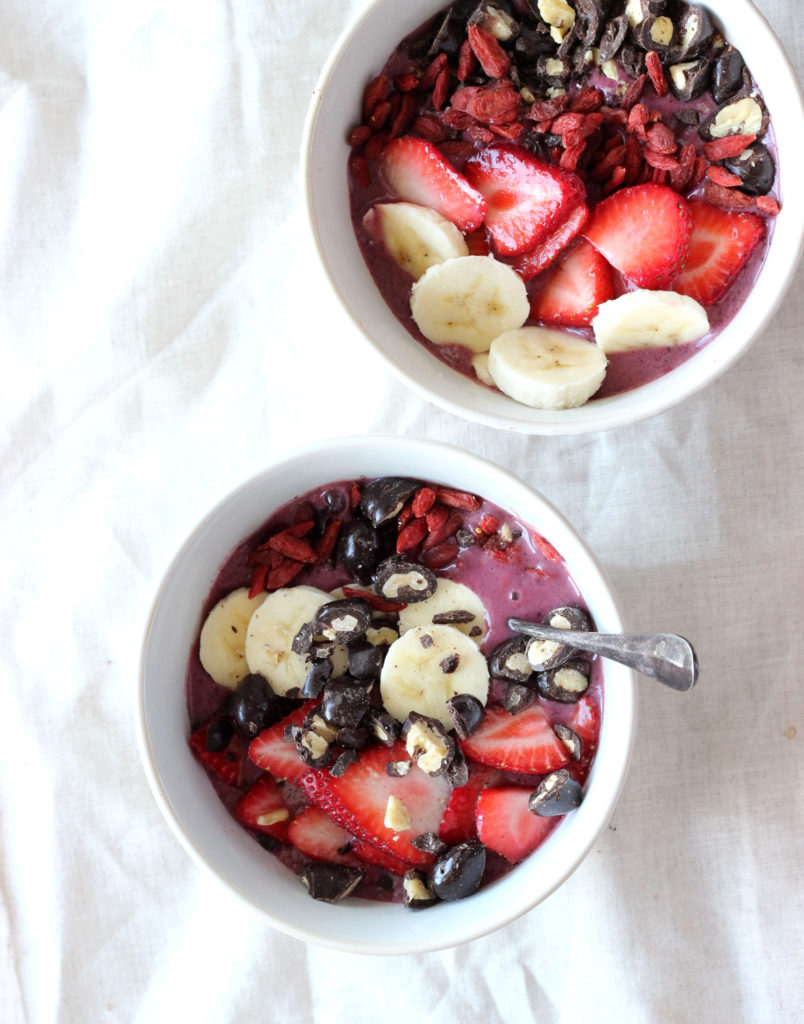 Strawberry Chocolate Almond Acai Bowls
Ingredients
For the Smoothie Base

2 cups frozen berries
1/2 tsp almond extract
1 frozen banana
1 handful of spinach or kale
1 cup of almond milk
1 tsp acai powder
2 tbsp honey
For the Top

1 cup sliced strawberries
1 cup sliced chocolate covered nuts
1 banana, sliced
goji berries
honey
Instructions
Blend smoothie base ingredients all together until smooth. Feel free to play with the quantities, increase the spinach, or the almond milk if you like a more liquid-y base.
Pour into bowls (makes about 2 medium bowls).
Top with fruit, chocolate covered nuts, goji berries, and honey to taste.
Enjoy!
http://thebayleafkitchen.com/strawberry-chocolate-almond-acai-bowls/