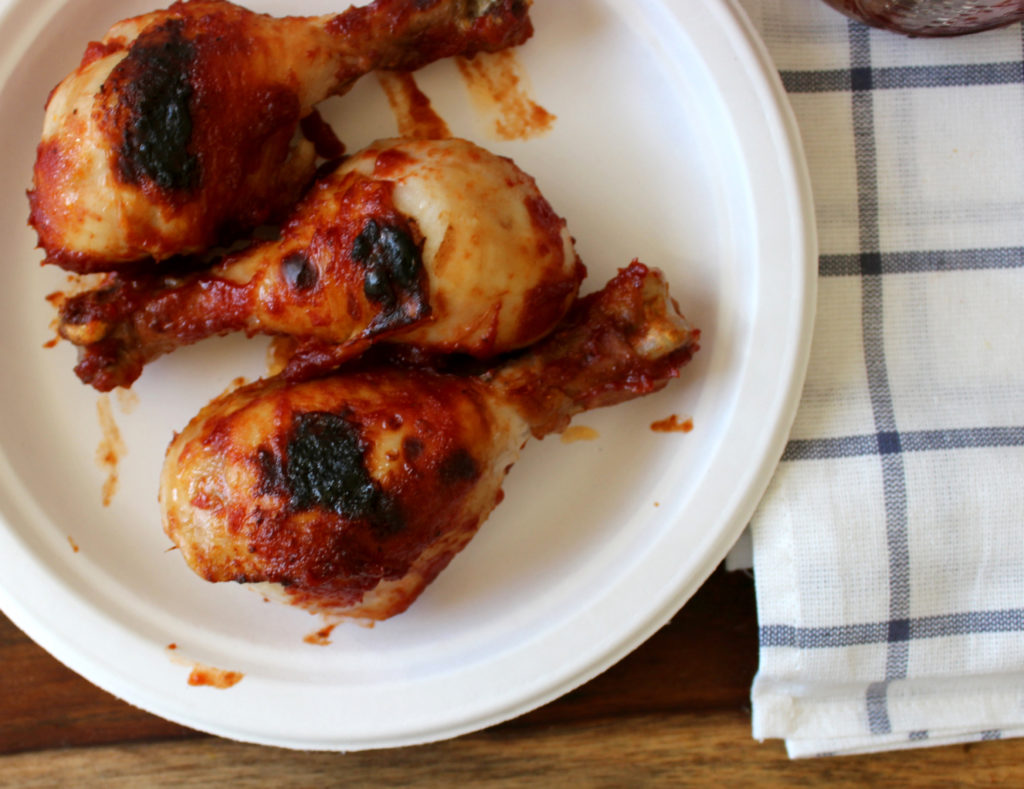 We don't have a grill in our apartment. There. I've said it. Every morning we drive by this mom & pop hardware store that proudly displays an array of barbecues in different sizes, shapes, even colors (My favorite: the neon purple-topped mini stand grill). I lean over to Jon, who is driving, and say "we should see how much those cost." he says "yeah, we should" and then we promptly forget about it. It's become part of our morning ritual.
The somewhat-practical side of me says we should wait to buy the grill until we're settled in our future home, with a sprawling lawn, ample backyard space, maybe a pool, 3,000 square feet, Beauty and the Beast library, clawfoot tub and fireplaces, overlooking the ocean…who knows? Right now we're actually pretty blessed to live in an apartment with a balcony, but what if we move and have to downsize and are left trying to store or sell a barbecue we can only use for a portion of the year anyways? The hungry side of me says "GRILLED CORN MUSHROOMS STEAK CHICKEN S'MORES SAUSAGE" on repeat.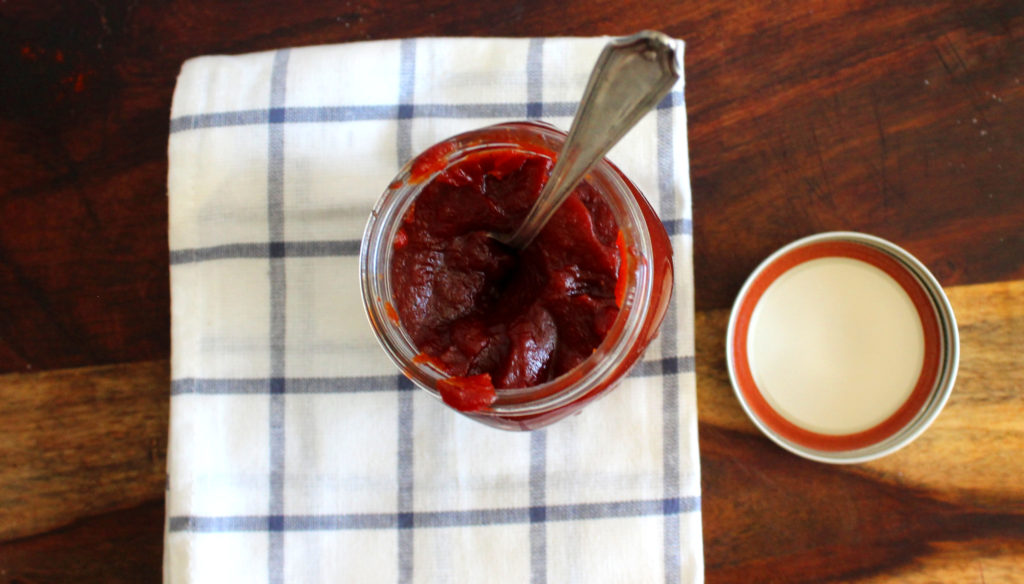 So, we've found a way to compromise. Though we lack the crucial equipment, I tweak my oven temperature and timing to create that slightly charred grill-like quality for corn and chicken. The trick is to slather sauce on whatever you're cooking (in my case, chicken), let it bake until it's no longer raw on regular heat, then re-coat with sauce and fry those suckers up on mid-high broil until they get that nice black "grill-mark" like color.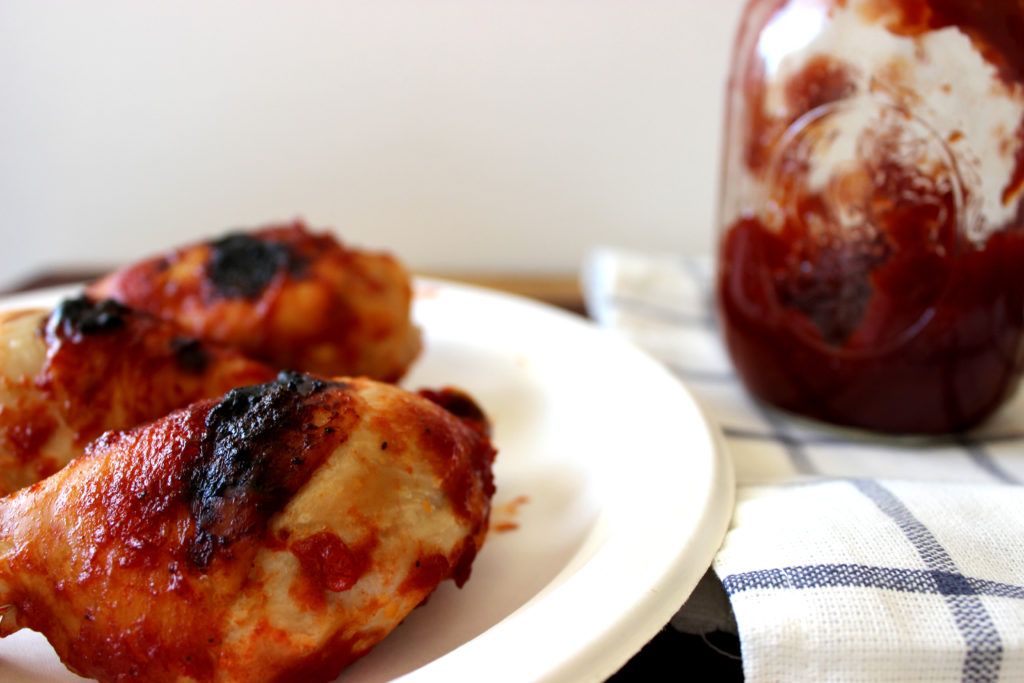 It's not really the same thing as grilling at all; in no way am I advocating that oven-grilled meat tastes better than actual grilled meat. But hey, at least I can still have some barbecue as an apartment-dweller! As a summer baby, my birthday parties almost always involved grilled food and s'mores, so what better way to party it up this three day weekend, than with some homemade barbecue sauce!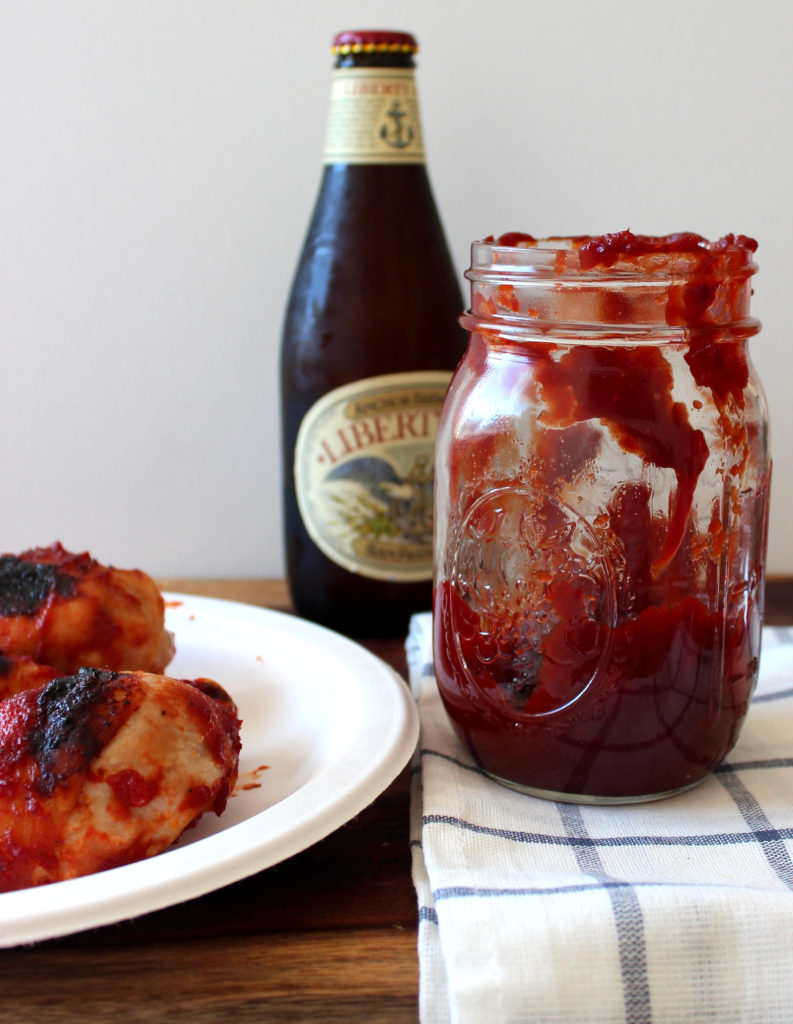 I have to say, I was pretty intimidated by the idea of making homemade barbecue sauce. I used to watch pretty much every show on the Food Network, including those competition shows where really tough-looking tattooed, motorcycle-riding ladies and gentlemen donned aprons (with screen-printed skulls, of course) and stewed vats of "The Best Barbecue Sauce in The World." But when I saw this recipe from Smitten Kitchen, I decided to give it a try.
Around the web, I found that many barbecue sauce recipes call for "liquid smoke" which, my local, easy-to-walk-to grocery store does not carry. I probably wouldn't buy it anyways, since I don't think I would use the ingredient that often. Instead, I added lots of smoked paprika. I would like to caution you that this sauce recipe has a more subtle smoky flavor. The real stars of this sauce are the brown sugar & bourbon. If you really want a smoky sauce, I'd say go ahead and find that smoke extract and add 1/2 teaspoon. If you're like me, and you don't mind a sweeter barbecue flavor, don't worry about the smoke extract.
Also, I'm super into the bacon craze. I like to add it in wherever I can. It's fun to leave the bacon in the sauce, too, because then you get a happy surprise when you bite into your chicken and get a bacon bit included.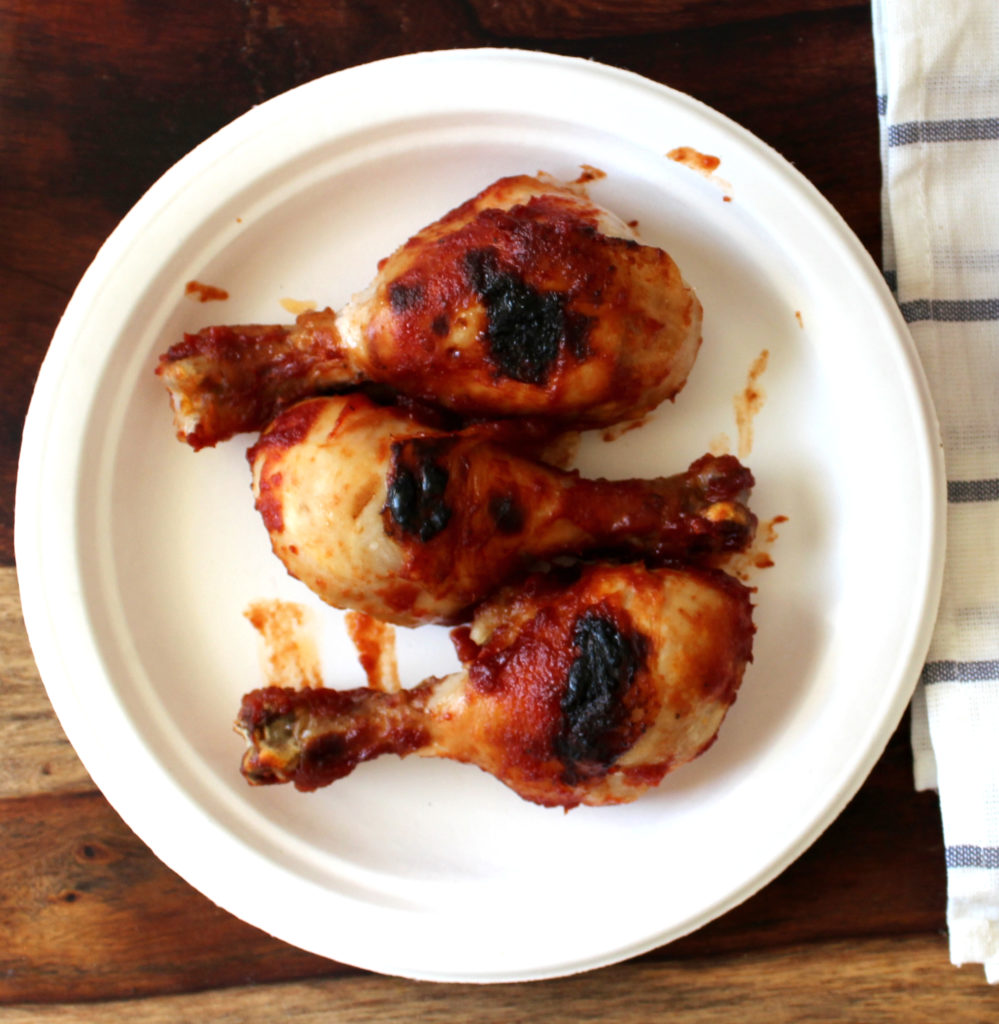 Ah, the art of the three-day weekend. Hopefully yours involves napping, barbecuing, spending time with friends and family. As you read this, I'm probably on the road driving up to visit another extension of the Leaf family, the Oregon Leafs. They just had a new baby and I'm so excited to meet my new pudgy-cute nephew (the best kind of cute)!
Homemade Barbecue Sauce with the Three B's: Bacon, Bourbon & Brown Sugar
Ingredients
12 oz. can tomato paste
½ c. apple cider vinegar
¾ cup + 2 tbsp. dark brown sugar (packed)
¾ tsp onion powder
½ tsp garlic powder
1 ½ tsp. smoked paprika
1 tsp. salt
½ tsp pepper
3 tbsp bourbon
3 strips of bacon
½ tsp worschester sauce
For oven barbecued chicken drumsticks

2 packages of raw chicken drumsticks, with skins (I made 12 drumsticks)
Instructions
For the Sauce:

In a small skillet, fry the bacon until cooked and crispy. Pat with a paper towel to get rid of the extra fat.
In a medium saucepan on medium to low heat, add all ingredients into the pan and stir until the sauce is warmed and has slightly darkened, about 10-15 minutes. Turn up the heat to medium high, continuing to stir frequently until the sauce begins to bubble, even while you are stirring. Set heat to low stir until sauce is no longer bubbling. Cook 5 more minutes.
For the oven barbecued chicken:

Preheat oven to 375 degrees Fahrenheit. Place drumsticks in a plastic freezer bag, and add ½ to ¾ of the sauce to the bag and close tightly. Shake and rub the sauce over the chicken. Place sauce-covered chicken drumsticks into a 9x13 casserole pan, laid out flat. Cook for 20 minutes, then flip the drumsticks over to the other side and cook for 25 more minutes. After the chicken is cooked (you can peel apart one of the drumsticks to see if the chicken meat is no longer pink), add the rest of the sauce over the chicken and increase oven temperature to low broil. Allow chicken to cook for about 5 more minutes, but keep an eye on it, as it begins to get browned and crispy on the outside. When chicken is browned to your liking, take out of the oven and serve at a picnic, a birthday party, or in your apartment with the windows open and a bottle of beer.
http://thebayleafkitchen.com/homemade-barbecue-sauce-with-the-three-bs-bacon-bourbon-brown-sugar/