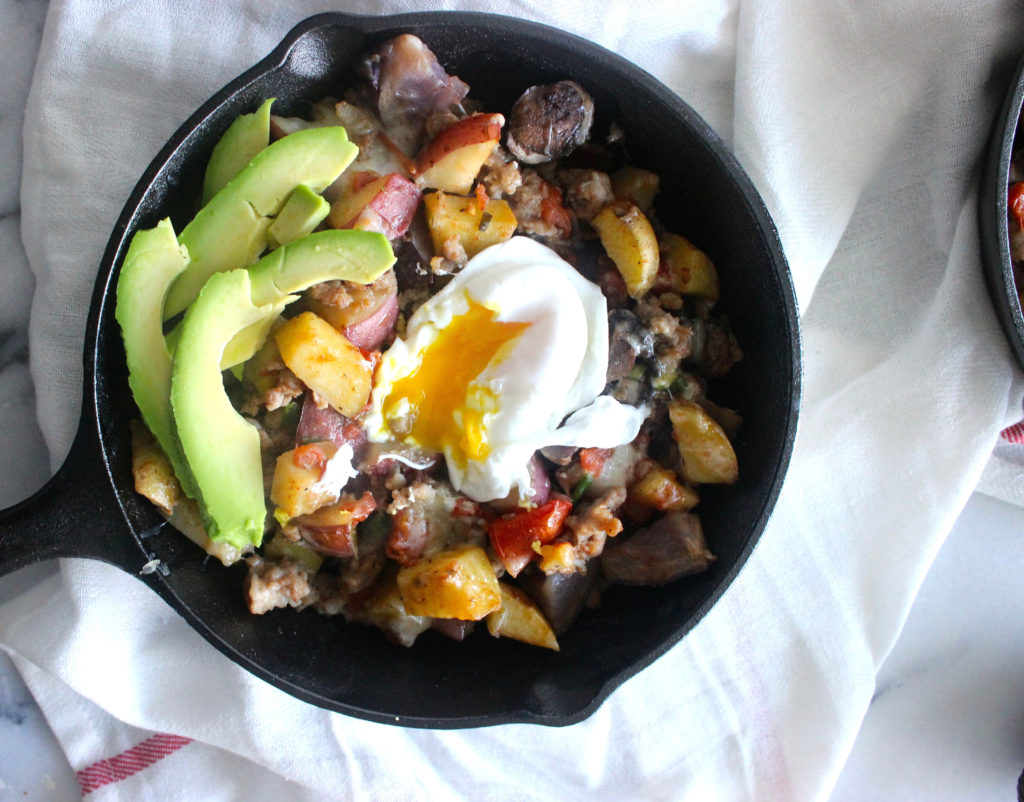 Happy 2016 to all!
It's been a great vacation week for us! We just got back from a mini-food field trip to Portland and a visit to my nephews and brother and sister-in-law. We've been sleeping in, relaxing, and thinking about our goals for the new year.
Looking back over 2015, it's been a great year. A lot of things went right: I started working in my dream industry, book publishing, Jon finished the chip for medical scanners he's been working on for years, I finally buckled down and started this blog that I'd been talking about doing for a while, we visited a city we'd never been to before, and a city we'd seen for an hour but wanted to know more about (post about this one coming soon!). We definitely had our highs – we gained a new, adorable nephew, some great friends got engaged, we took vacations and read good books – and also our lows, like with Grandpa passing away.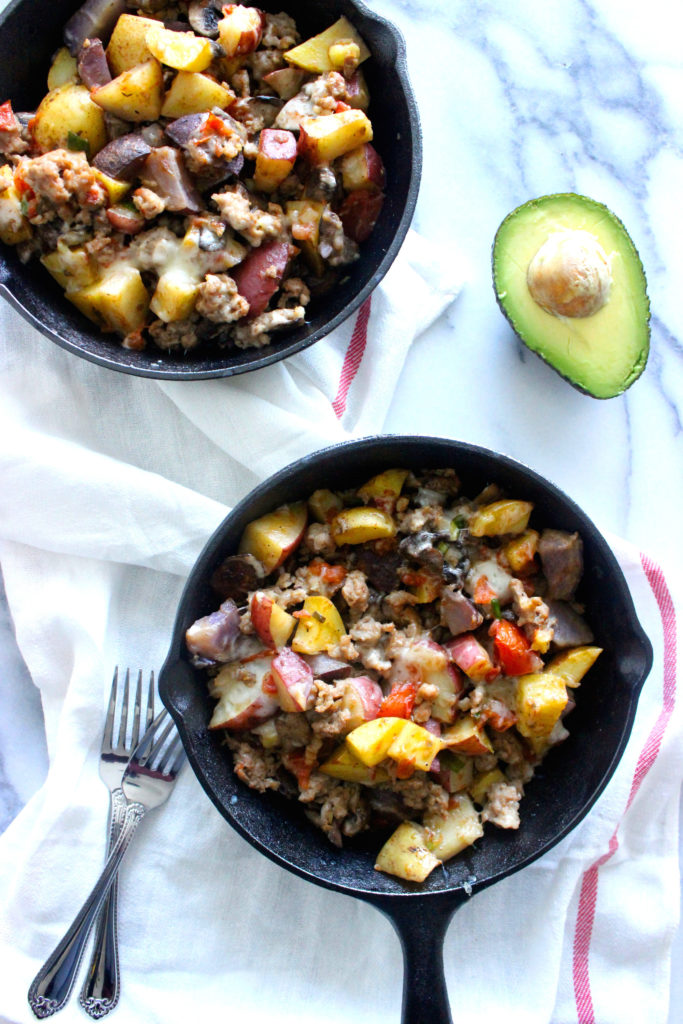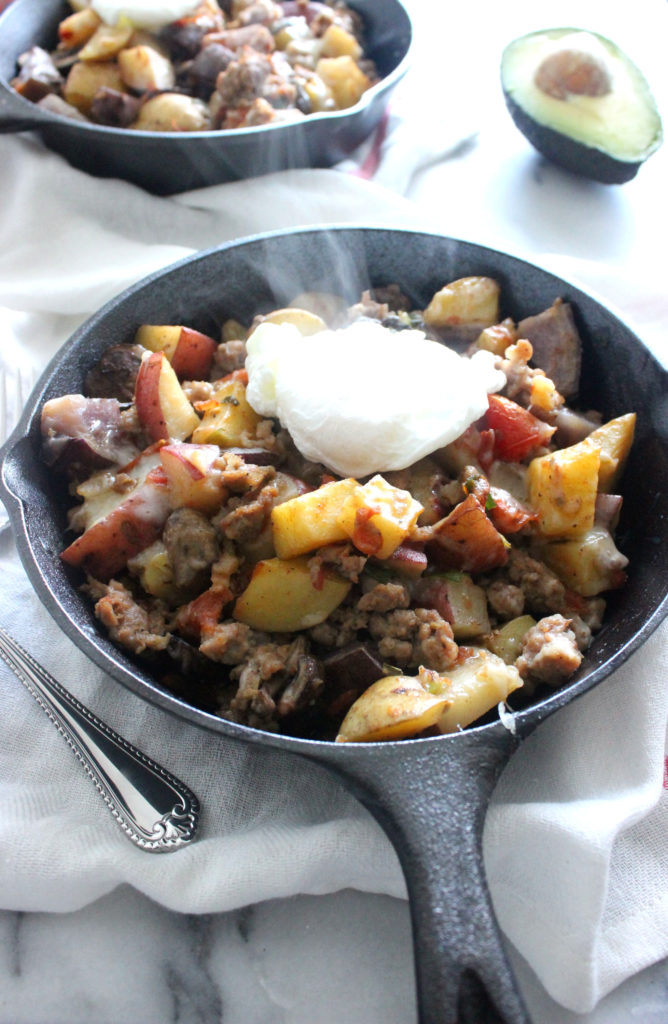 For 2016 we have a lot of goals and plans and things to looks forward to. We're aiming to take a trip to Italy this summer to celebrate our second wedding anniversary. I'm hoping to finally get on Twitter and learn more about using that channel (if you'd like, you can follow me on my adventure into tweet-dom. @meganbleaf). Jon finished the requirements for his Master's degree this December, so he'll be walking in the graduation ceremony this summer. Maybe this year I'll finally get a puppy?!
A friend of mine shared this article on Facebook the other day, and it inspired me to make some goals for myself this year. Here are a few:
Drink – More water! I have a Nalgene that I used to fill up 2 x per day. Sometimes I still do this, but I need to be more disciplined about it
Move – We both have bikes but rarely use them. Also, I might start taking some Barre classes. There's a nifty core workout studio near our apartment that I might also try.
Read – I read a bit less than I was expecting to in 2015, only 21 books! I'm going to up my goal to at LEAST 35 in 2016
Pray  – I am a huge worrier and my go-to is not always trusting that Jesus has got it covered already.
Learn – I just got a new lens and a tripod for Christmas, and I'm excited to improve my photography.
Listen – to podcasts! So many of my coworkers listen to great podcasts and have given me awesome recommendations.
I thought I'd start this year out with a recipe for a breakfast dish served at a local restaurant called Alanna's that we love. The restaurant is located in a cute old Victorian style house, and the dish is essentially a hash called "Company's Coming." It involves veggies, potatoes, sausage, & poached eggs. It's hearty without being too heavy. It's one of my favorite breakfast meals I've eaten at a restaurant – which is really saying something, since breakfast is my favorite meal of the day, and my favorite meal to go out to eat.
In whatever state you're entering this new year, dear reader, I hope that 2016 holds some hopefuls and dreamings for you. You may have had a crappy 2015, but there's always a fresh start, and always something to be thankful for and to look forward to.
Here's to a fresh new year.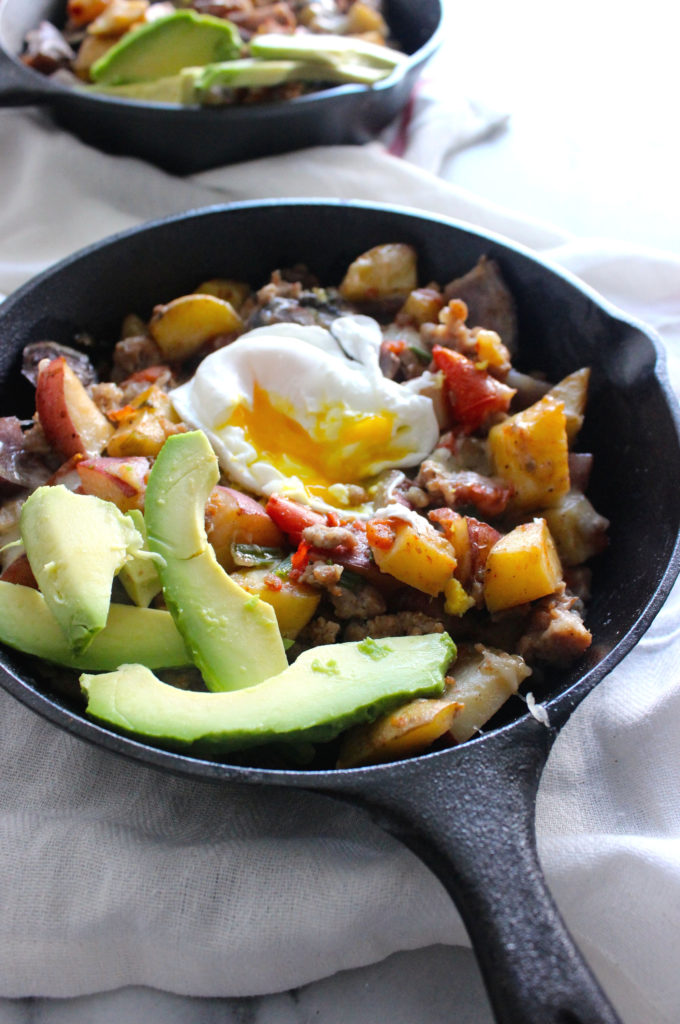 Company's Coming Breakfast Hash
Ingredients
1 8 oz. package of ground Italian sausage (I like mine spicy!)
1 hothouse tomato
3 yukon gold potatoes, chopped into bite-sized chunks
3 red-skinned potatoes, chopped into bite-sized chunks
3 purple potatoes, chopped into bite-sized chunks
1/2 lb. cremini mushrooms, sliced
3 green onions, sliced + 1 or 2 for sprinkling
2-3 eggs (1 per person)
1/3 cup of white vinegar
1 cup shredded swiss cheese
1/2 tsp salt
1/2 tsp paprika
1/4 tsp black pepper
avocado to top
Instructions
Preheat oven to 400 degrees Farhenheit.
In a large cast iron or oven-safe skillet, cook the sausage on medium-low heat until no longer pink, about 15 to 20 minutes. About halfway through cooking, add the green onions and mushrooms. Continue to saute and cook until sausage is totally browned and mushrooms are soft.
Reserve in a bowl to the side, leaving the liquid grease in the skillet. Take the skillet off the heat.
In a bowl, mix potatoes, salt, pepper and paprika together. Chop up the tomato roughly, grind it up a little bit with the back of a spoon or a fork, and add to the potatoes.
Add potatoes and tomato to the warm cast-iron skillet and put into the preheated oven for about 20 minutes, or until the potatoes are soft and a fork can stick through them easily.
When potatoes are cooked, take the skillet out of the oven and raise the temperature to 450 degrees Fahrenheit or to a low broil.
Add sausage mixture to the potato mixture and stir well to combine. Add swiss cheese to the top of the skillet.
Bake for another 10-15 minutes to crisp the potatoes and get rid of any extra liquid. Make sure you watch the skillet carefully though, so that the cheese and the potato skins do not burn. Stir around occasionally if necessary.
To poach the eggs, crack each egg into separate smaller bowls. In a boiling medium sized pot of water or a deeper skillet pan, add the vinegar and stir in the same direction for 30 seconds. Before the water settles down, slip each egg gently into the middle of the swirling water, trying to keep them separated. If the whites join together, gently push them apart with a slotted metal spoon before the whites harden. Cook for about 4 to 6 minutes, until whites are firm, but the yellows and the middle of the eggs are still jiggling when taken out of the water with the slotted spoon.
Spoon each egg over the top of the hash, and serve with sliced avocado and sprinkle with any leftover green onions.
Enjoy!
http://thebayleafkitchen.com/companys-coming-breakfast-hash/