I'd just like to start this post by saying I'M ATTEMPTING TO WRITE A NOVEL IN A MONTH.
For those of you who have never heard of NaNoWriMo, it's sweeping the nation! November is officially National Novel Writing Month and your goal is to write 50,000 words in 30 days, from Nov. 1 to Nov. 30. I'm so pumped because I've tried it before and failed, but now I have the extra hours of my commute to get it all done. So far, it's worked and I'm churning out roughly 2,000 words a day on the train.
NaNoWriMo has become by go-to point of small talk for the month. "Hey Megan, how's it going?" "GOOD. I'M DOING NANOWRIMO." Most people are politely interested, and they sometimes ask the dreaded question: "What's your novel about?" At which point I weirdly gesture with my hands, kind of shrug and then decide that I'm keeping it a secret from the world forever.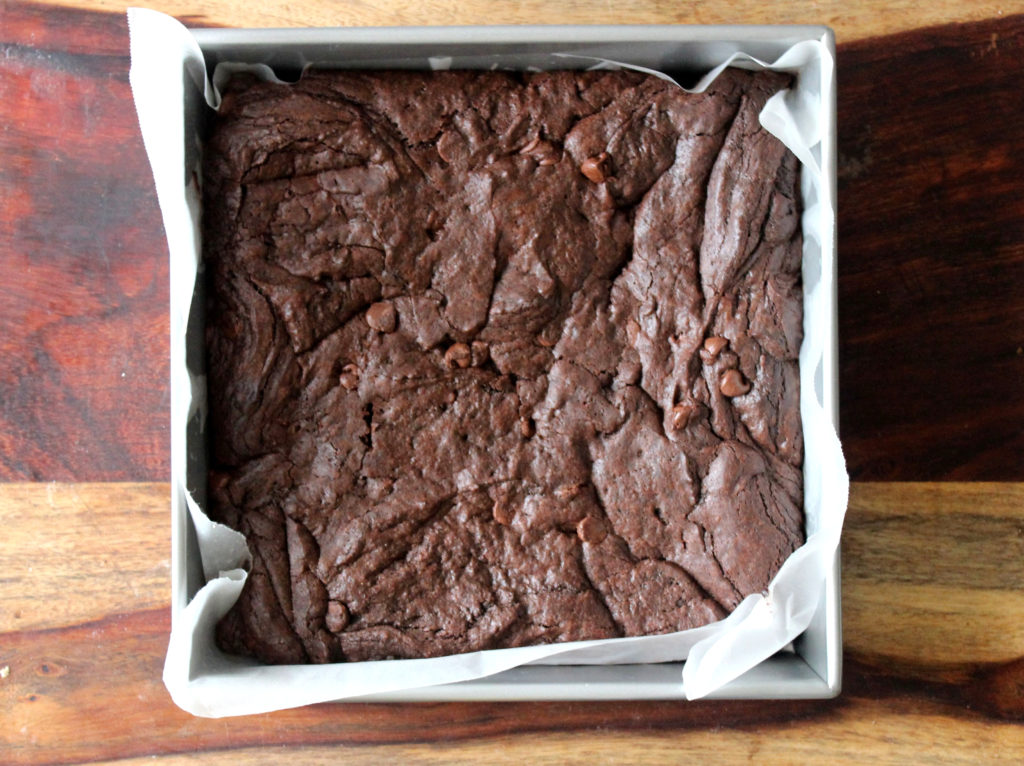 In short, I'm not going to tell you about it. Maybe 2 weeks from now, I will, but right now (ha, I typed "write now"), it's my deep dark secret project that only a few people know about because they helped me brainstorm.
So now, instead, I'm going to tell you about these luscious chocolate brownies that will keep you awake all night and help you reach your writing dreams and goals for the month.
My coworker friend is allergic to dairy. To the level where she can't have baked goods that have milk or butter in them. But she loves chocolate. I thought of her as I was making these brownies because I wanted something with extremely dense, dark dark chocolate but with hazelnuts and a sweet layer of caramel on the top. When my friend heard I had made dairy-free caramel, she was so happy. She said she rarely ever gets to eat caramel.
I went about converting these two recipes from some of my favorite bloggers, Michelle & Kristin, into a dairy-free version. I also took this recipe for caramel and adapted it to make it dairy-free. The result: an extremely soft, super dark chocolate brownie with a crunchy, salty sweet layer of hazelnut goodness on the top. So good! I'd even recommend making this in a cast iron skillet and eating it straight from the pan. It's a similar consistency to the Pizookie at BJ's restaurants, or a good old deep dish skillet cookie.
Coconut milk & coconut oil were my go-to ingredients for the non-dairy conversion, but I'd be interested to see the effects of almond milk & another type of oil (olive oil?). It's hard to go wrong with so much gooey chocolate.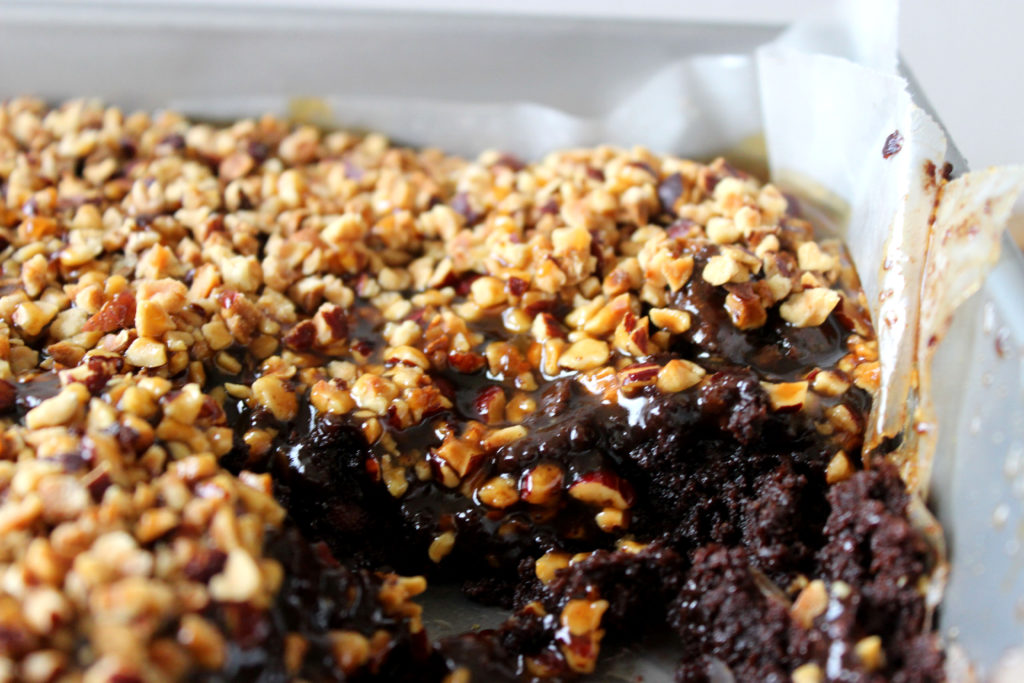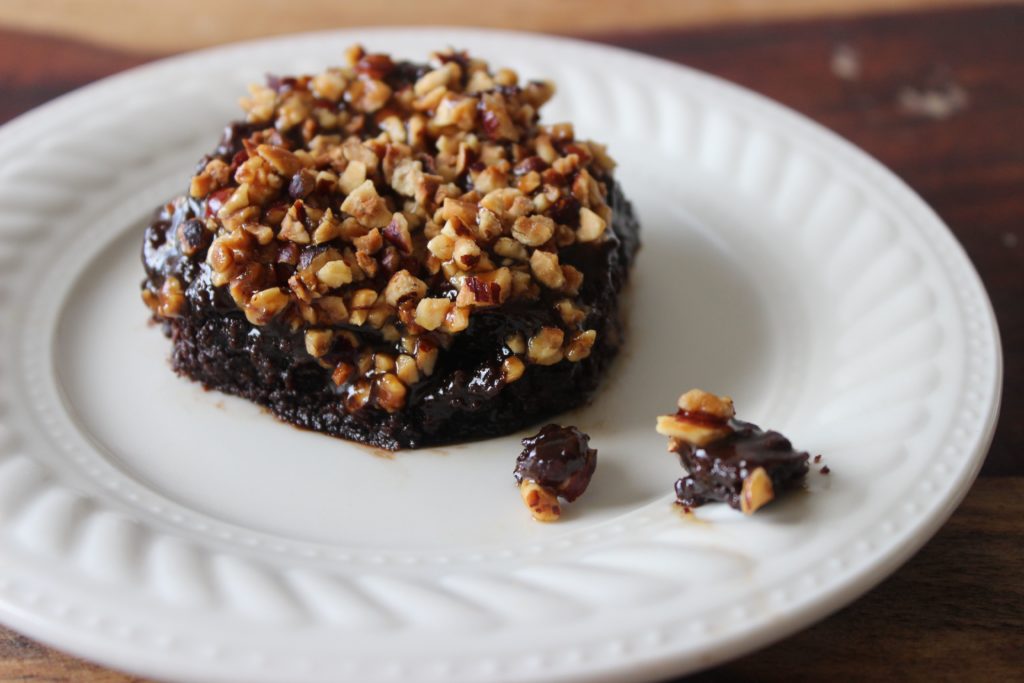 Dairy-Free Coconut Oil Brownies with Coconut Milk Caramel
Ingredients
For the brownies

1/2 cup coconut oil + 2 Tbsp.
3 eggs, room temperature
8 oz. semi-sweet chocolate
3/4 flour
1 cup granulated white sugar
1/2 cup dark brown sugar
1/2 cup dark chocolate cocoa powder
1/3 cup semi-sweet chocolate chips
1 tsp. vanilla
For the Caramel

1/2 cup of full fat coconut milk
3/4 cup of white granulated sugar
1/4 cup of water
1/2 tsp. salt
For the Hazelnut Topping

1 cup of chopped hazelnuts
1/2 tsp. salt
Instructions
For the Hazelnut topping

Heat oven to 400 degrees Fahrenheit.
Spread hazelnuts out on a baking sheet with ridges. Bake for about 10-12 minutes, until hazelnuts have browned and smell nutty. Make sure they don't turn black and burn!
Set toasted nuts aside and turn off the oven heat to allow the temperature to come down before baking the brownies
For the Brownies

Preheat oven to 350 degrees Fahrenheit.
Break up the 8 oz. of semi-sweet chocolate bars and melt in a double boiler or a heatproof bowl over a saucepan of boiling water. When finished, set aside to cool.
Melt the coconut oil in a microwave until it becomes liquid. Add the brown and white sugar and stir. Add the eggs and stir until completely incorporated. Add the vanilla.
In a separate bowl, stir together the cocoa powder and flour.
When the melted chocolate has cooled off a bit, add to the wet mixture and stir. Fold in the dry ingredients, taking care not to overmix. At the last minute, before everything is incorporated fully, add chocolate chips.
Pour into a cast iron skillet or an 8x8 inch brownie pan. Adding wax paper underneath will help the brownies not to stick.
Bake in preheated oven for 45-50 minutes. Check to see if it's finished by sticking a toothpick into the center. If it comes out clean, it's ready!
For the Caramel

Directions from Food Network Caramel Sauce recipe (link in blog text)
Mix sugar and water in a medium saucepan on medium high heat, and bring to a boil.
Boil until the mixture caramelizes and becomes a light brown color, until the mixture reaches 320 degrees Fahrenheit on a candy thermometer
Take the mix off the heat and add coconut milk and salt.
Change heat on the stove to low and whisk the caramel until it becomes smooth. Take off the heat and allow the caramel to firm up.
To Assemble

Pour caramel over brownies and sprinkle hazelnuts over the top. Serve warm and enjoy!
http://thebayleafkitchen.com/coconut-oil-brownies-and-dairy-free-caramel/