Almost every time my dad would make the Costco run when I was growing up – you'd better believe it – he'd buy a pack of giant Costco sized muffins in a variety of flavors. I remember always loving the poppyseed ones best and the apple-streusely ones second, and being kind of bored with blueberry, until I found out his dark secret: there was a fourth flavor. He had always hid the triple chocolate muffins in plastic baggies at the bottom of the freezer in the garage, so mom wouldn't know they were his secret on-the-go breakfast food.
Once I found out about the chocolate muffins though, they were also my secret. Sometimes I'd ask for half from my dad, but also, sometimes I'd just take half and hope he wouldn't notice.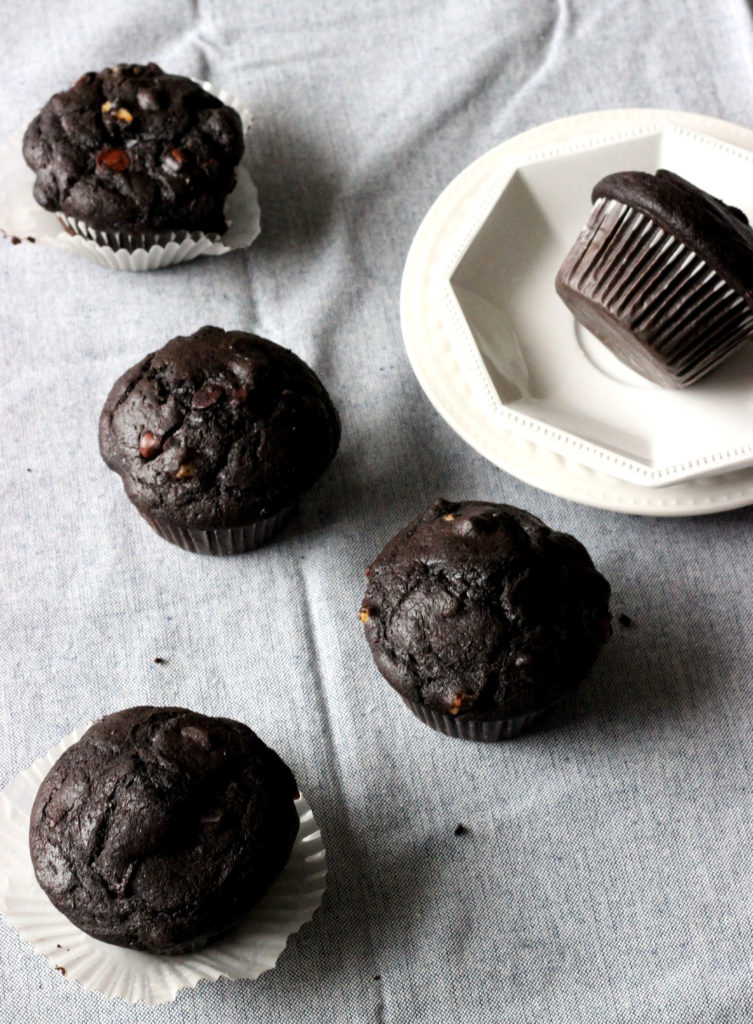 When I was older and decided to look up the calorie count of Costco's chocolate muffins (don't do it! It will scar you for life!), I realized that though many would deny it, chocolate muffins are little more than chocolate cupcakes, renamed by people who want to eat only dessert all the time. But what you should know is that 1) chocolate muffins are delicious 2) as long as you don't eat them every single day you will be fine 3) sometimes you just gotta eat dessert for breakfast.
These muffins were put through the rigorous test when I brought them to my office and told everyone I didn't like them.
Everyone (and I mean everyone) stopped by my desk to give their opinion, and to my surprise, unanimously loved them (proving that sometimes even a bad review can work to sell your product. #marketingmoments). The highlights of the recipe that were most articulated by colleagues who taste-tested my muffins were that these 1) smell like coffee, but don't necessarily taste like it in an overpowering way 2) have a great texture 3) are not TOO sweet to be too much for breakfast 4) hit the spot.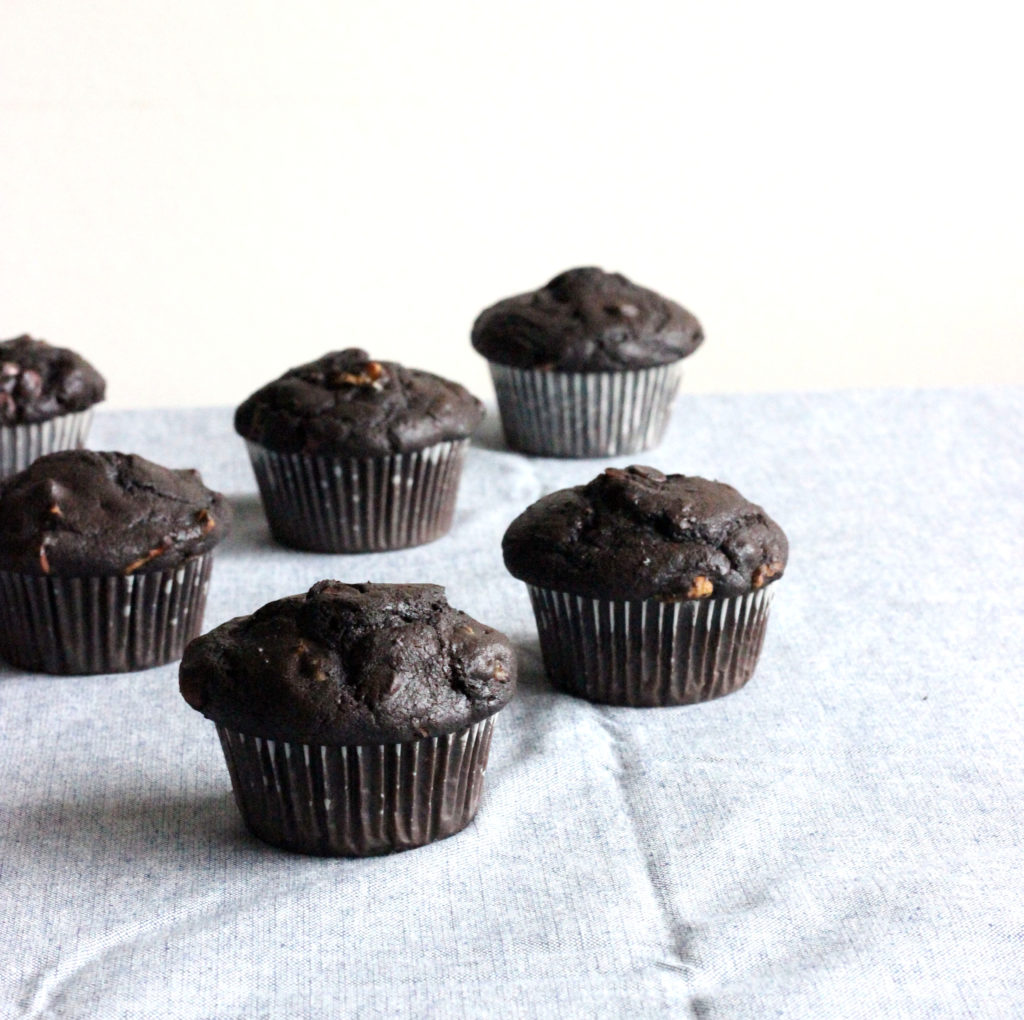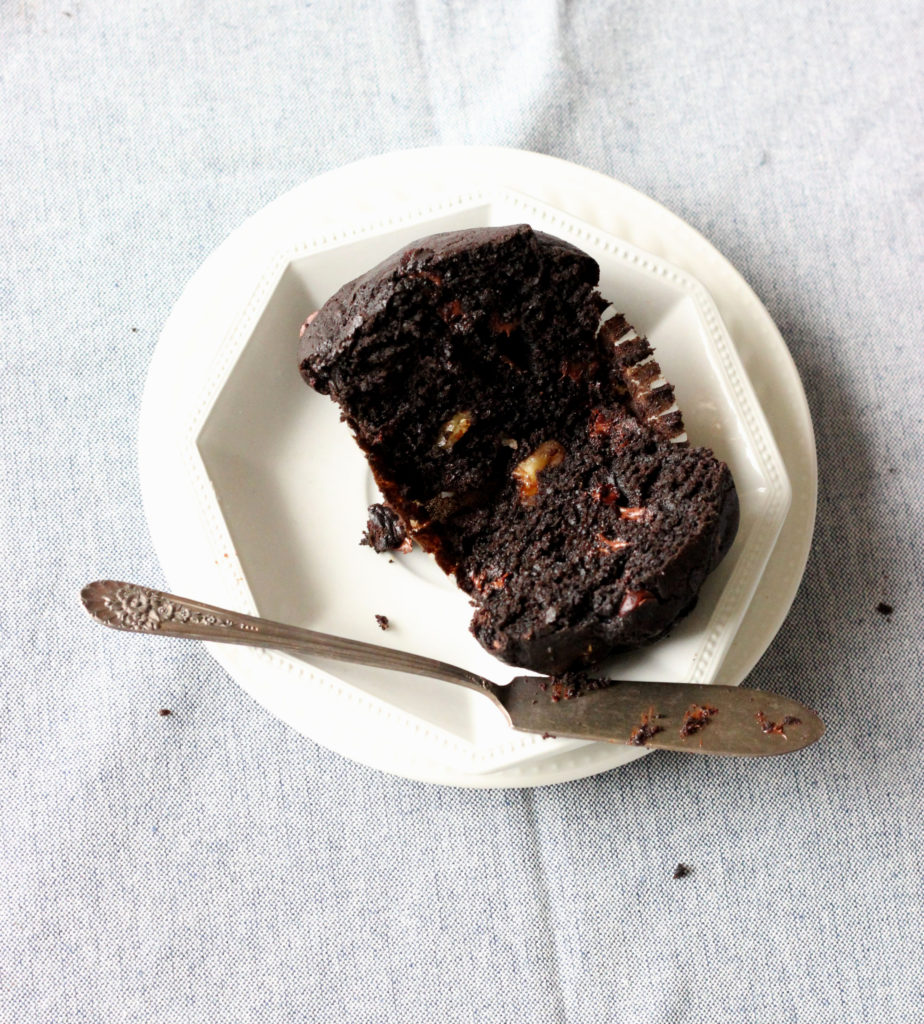 So I'm sharing the recipe with you after a couple extra tweaks I made to make sure that I also love them.
The toasted nuts add a delicious crunchy bite to the soft muffin, and the whole chocolate chips are necessarily sweet to balance the bitterness of instant coffee powder. These will definitely wake you up, and though I cannot claim that they are healthy (sad face), they are a great option for days when you want to treat yo'self.
Chocolate Espresso Muffins with Toasted Walnuts
Ingredients
1 1/2 cup all purpose flour
1/2 cup dark chocolate cocoa powder
1 cup walnuts, chopped
1 cup of semi-sweet chocolate chips
½ cup 2% milk
2 large eggs
¾ cup white sugar
1 1/2 sticks (3/4 cup) of unsalted butter, melted
1 tbsp. unsalted butter, not melted
6 tbsp instant coffee
1 1/2 tsp baking powder
1/2 tsp baking soda
1/2 cup 2% Greek yogurt
1 tsp vanilla extract
1/2 tsp salt
Instructions
In a small saucepan on medium heat, melt 1 tbsp of butter. Add the chopped walnuts and toast until slightly browned and fragrant, stirring frequently to avoid burning. Transfer the nuts to a bowl and allow to cool in the refrigerator.
Preheat oven to 350 degrees Fahrenheit.
In the bowl of a mixer, or a large bowl, combine the melted butter & sugar on low speed for about 3 minutes. If not using a mixer, combine until completely smooth.
In a separate small bowl, add the instant coffee powder to the milk and stir to dissolve. Stir in the vanilla extract and the Greek yogurt, and the eggs until only small lumps of the yogurt remain.
In another dry medium bowl, combine the dry ingredients - the flour, salt, baking soda & powder, and cocoa powder together.
While the mixer is on low speed, slowly add the coffee mixture to the sugar & butter mixture until combined.
Keeping the mixer on low, spoon the dry ingredients about 1/3 cup at a time, pausing to scrape down the sides of the mixing bowl every so often. Take care not to overmix - stir until just combined each time. Before the very last spoonful of dry mix is totally combined into the wet mix, fold in the chocolate chips and the cooled nuts, and mix only long enough that they are well combined and the flour is no longer visible in the mixture.
Spoon the batter into a 12-hole, lined muffin tin.
Bake for 20 minutes, then check to see if they are finished by inserting a toothpick or knife in the center of one of the middle muffins. If it comes out clean of batter, they are finished. If not, check every 5 minutes more. Mine took about 24 minutes to totally cook.
Take the muffins out of the oven and allow to cool in the pan until you are able to handle them and place them on a cooling rack to set and store them in the refrigerator or freezer. Otherwise, serve them warm.
Enjoy!
http://thebayleafkitchen.com/chocolate-espresso-muffins/