We recently moved to a new town in the Bay Area, and I've been itching to check out the local farmers market since it opened (finally!) for the season in April. Our old town had an amazing market all year-round — full of flowers, fruits, pastries and, a little randomly, delicious Indian food — and it's still within easy driving distance. So we often go back there for our weekly in-season veggie (and Manresa croissant!!!!) fix.
I went to the new farmers market a couple weekends ago…only to be rather disappointed. Granted, I walked over around noon, and it was supposed to close at 1. But there were about 5 stalls, picked clean of most of the appetizing spring vegetables — save for literally bushels of leeks. So that's what I came home with.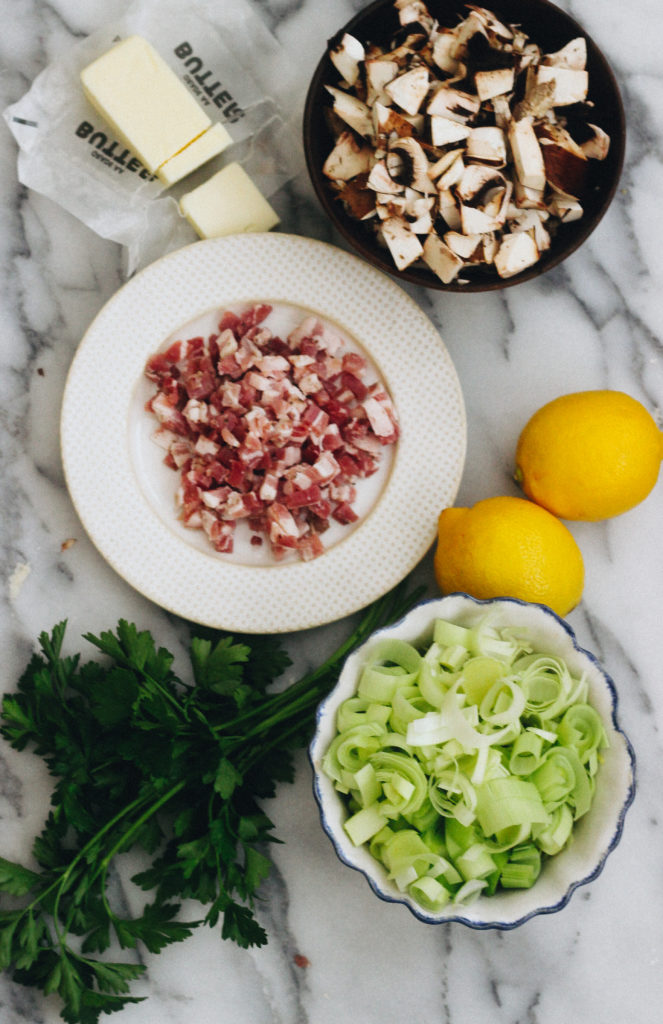 I plan to go back to try again a little earlier, obviously, but I'm actually pretty happy with how these leeks turned out in my pasta. Two years ago, I discovered the magic of leeks when I made the classic potato and leek soup for people coming over. Leeks are basically buttery onions — thats the best way to describe them — so they add a little bit of creaminess (somehow…) to whatever they are in: quiche, pasta, soup, etc.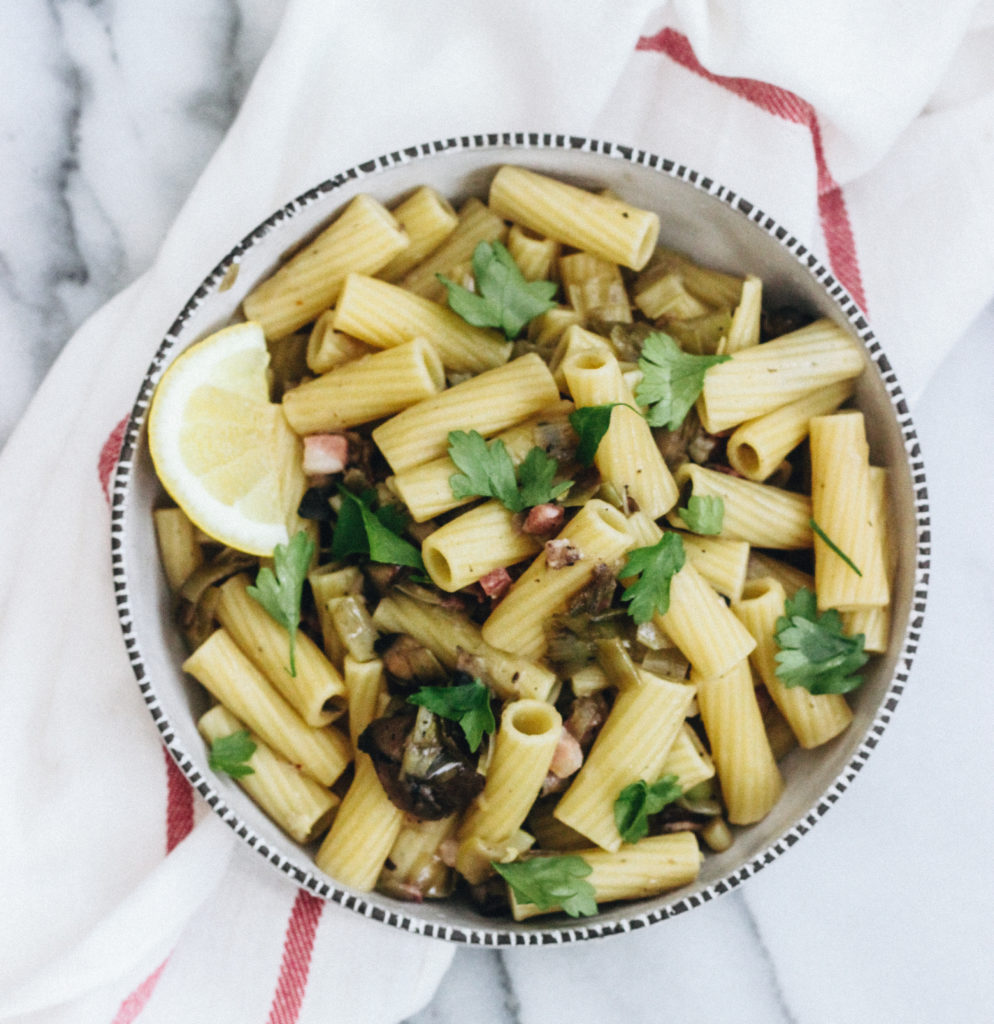 I'm currently obsessed with the no-sauce sauce pasta — which is basically a little bit of butter, wine, lemon juice and water you cooked the pasta in. You use it to finish cooking the pre-al-dente pasta and then let it reduce, so it's a very light flavoring, rather than a creamy sauce. Perfect for our weird California weather, which jumps from being rainy to 80 degrees in like, 2 days.
Spring Leek, Pancetta, & Lemon Pasta
Ingredients
1 16 oz. package rigatoni
salt
¾ cup leftover pasta water
½ cup white wine
1/3 cup parmesan reggiano + extra for topping
3 tbsp butter, divided
4 oz. pancetta or bacon
2 large leeks, chopped
2 large portabella mushrooms
fresh parsley, chopped
1 lemon, zested and juiced
3 tbsp. milk
salt and pepper to taste
Instructions
Bring a pot of salted water to boil. Cook the rigatoni according to the instructions on the box, but take out 1-2 minutes early, before they reach the al dente stage. They should still be a little chewy with a snap. Drain the pasta, reserving ¾ cup of the water and set aside in a bowl.
While pasta is cooking, slice the leeks in half, and then into strips.
Dice the pancetta into tiny cubes. Cut the portabella mushrooms into ½ inch cubes.
Heat a medium saucepan over medium heat, with 1 tbsp of the butter. Add the pancetta to the pan and cook in the butter, about 5 minutes, to become just lightly brown. Using a slotted spoon, transfer pancetta to a plate, leaving the melted fat and oil in the pan.
Add the chopped leeks and mushrooms to the pan (still over medium heat). Cook until the mushrooms are soft and small. The leeks and mushrooms should cook down to about half. Transfer cooked leeks and mushrooms to a bowl.
In the saucepan, still over medium heat, melt the additional 2 tablespoons of butter. Add lemon zest and juice, pasta water, and white wine. Turn up the heat to medium/high and allow to come to a boil. Stir in the 1/3 cup of parmesan cheese until no longer lumpy. Add the not-quite-al dente pasta to the sauce and stir well until noodles are totally coated and sauce begins to cook down. When there is only about 3-4 tbsp of sauce left in the pan, take the pan off the heat. Stir in the milk until completely incorporated. Add the leeks, mushrooms, and pancetta to the pasta and mix well. Add salt and pepper as desired.
Enjoy topped with fresh parsley and more parmesan!
http://thebayleafkitchen.com/spring-leek-pancetta-lemon-pasta/