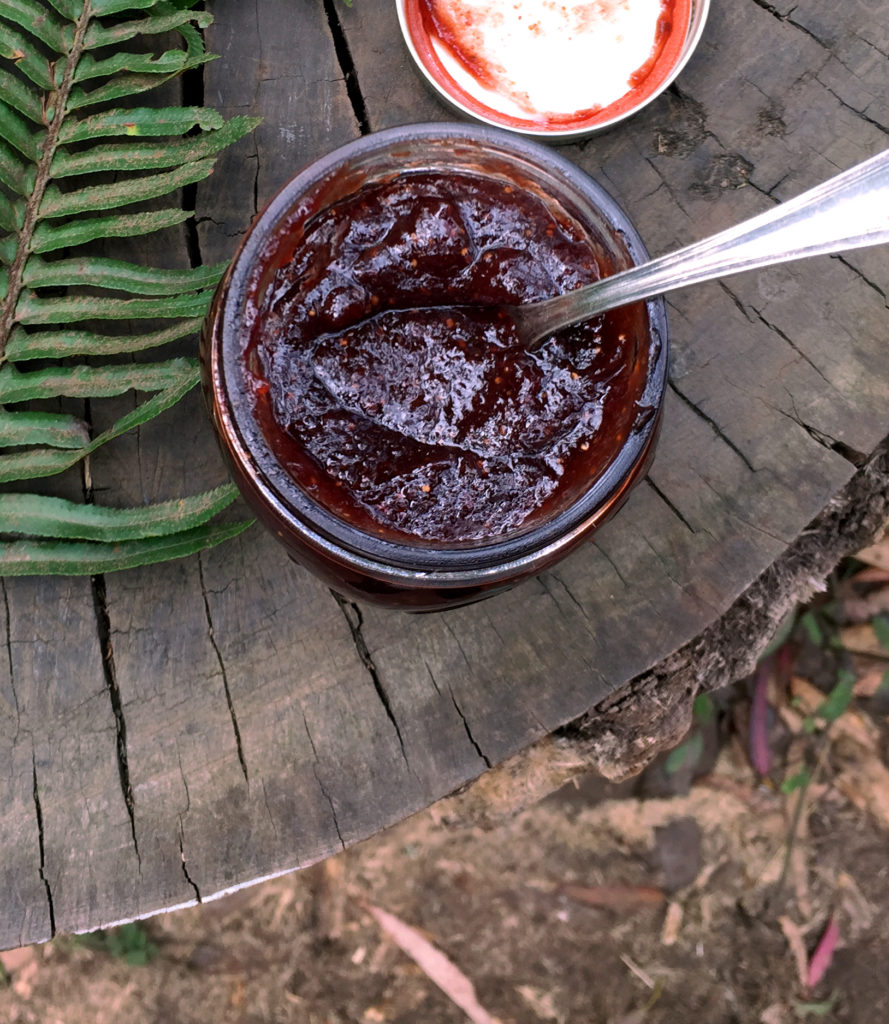 <a href="http://www.bloglovin.com/blog/14385977/?claim=2ysbgvrhhmw">Follow my blog with Bloglovin</a>
There was a time in my life when I hated the city. When people talked about visiting San Francisco or LA, in my head I would snort incredulously, and out loud I'd proudly proclaim that I was no city girl, country living is all for me.
Growing up in a rural area can do one of two things to you: either you love it and can never imagine moving or living anywhere else, or you loathe it and go to college as far away as possible, preferably in a city. I was firmly in the first camp for the majority of my childhood. That, and the fact that for as long as I can remember and to this day, my dad visibly shudders when people talk about enjoying the city. He always says it's the Irish blood in him that makes him love the land. He's basically the dad in Gone With the Wind ("It will come to you, this love of the land. There's no gettin' away from it if you're Irish…"). When my parents bought their house years ago, the major draw for my dad wasn't that it had more bedrooms or more square footage. For him, he was sold on it when he realized buying it meant owning his first full acre of land.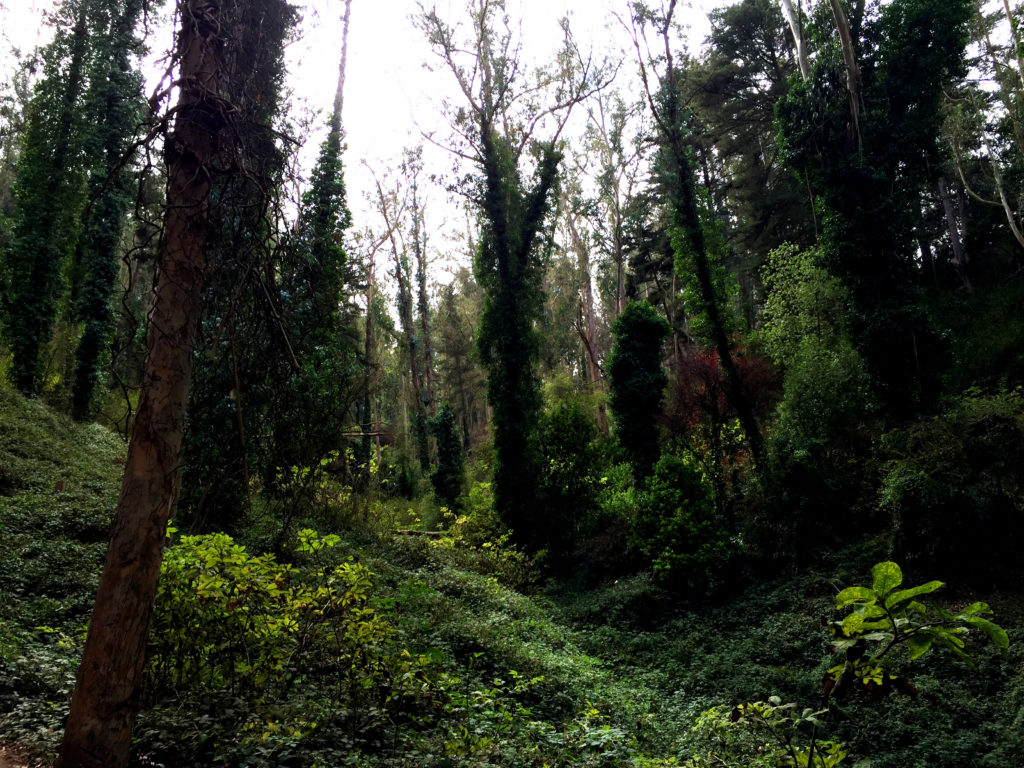 But then, I lived in San Francisco for a semester during college and totally fell in love. I love the ability to walk to places. I love that there's always something happening: a free concert, a weird event (like the annual fire-throwing tournament. It's real. It's awesome), a happy hour, a parade, etc. etc. Quality restaurants, people-watching, locally owned boutique shops and grocery stores but also easy access to chain clothing stores and Target. And also, tons of green space that means you don't have to always choose between nature vs. civilization; you can have both!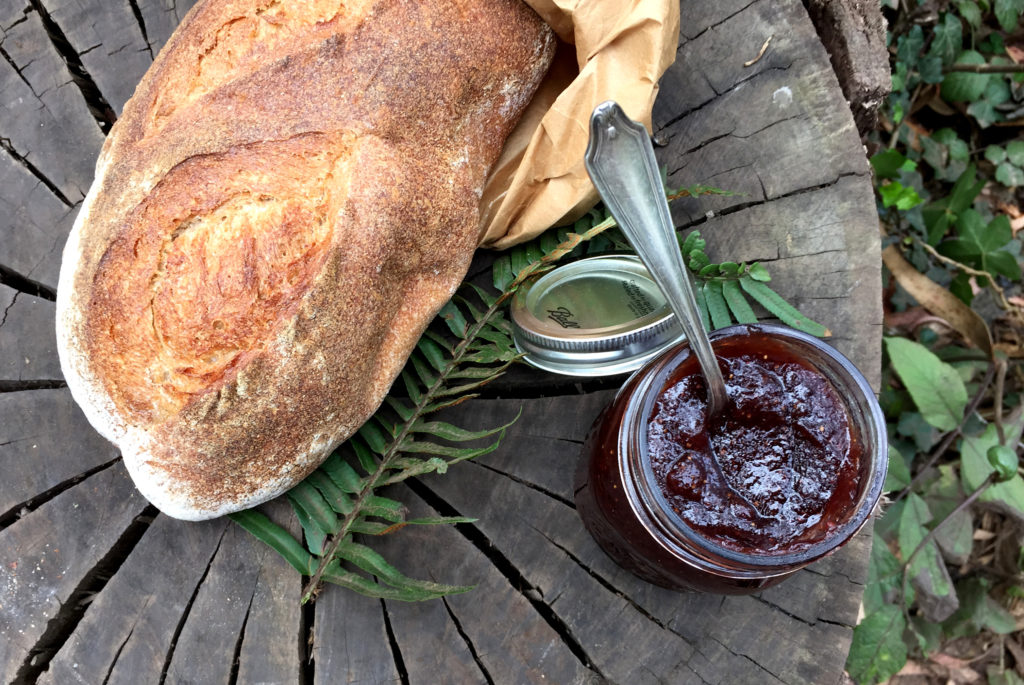 So first off, I have to admit that taking styled photos of a full-sized bottle of jam and entire loaf of bread, while hiking on a not-entirely deserted forest trail, was a little challenging and pretty comical. I set out the food and posed it while Jon grabbed my phone and snapped pictures, and then I'd take over and angle my body awkwardly over the display, and then we'd hear hikers walking near us and so we'd stand and innocently snack on our full loaf of bread and jam, and smile while they passed, then repose and shoot a bunch of pictures. It was pretty funny. We laughed at ourselves, but also, we had to reshoot a bunch of times because of bug scares from the stumps we set the food out on.
But despite all the trouble, this jam is awesome. Last year, I made regular fig jam at home, and also, I bought some fig butter from Trader Joe's. I told you, I go pretty crazy for figs. I really felt that the two regular fig jams were a bit too sweet. They work better as condiments where they would compliment other flavors or as a part of a cookie, than on their own, slathered on a piece of bread.
The jalapeños in this recipe add some complexity to the jam that was before, just really sweet. This jam is sticky and sweet with a little zing of heat that isn't unbearable, but is definitely noticeable.
The hike is called the Historic Trail, and you enter by this wooden staircase between two houses on the corner of 17th and Stanyan street. I heard about this trail through a post by Jordan of Oh Happy Day on urban hikes in San Francisco. We've found little pathways and mini trails in Golden Gate Park, but nothing this woodsy or trail-like. The path is well maintained, the incline is relatively easy, the only problem is the abundance of poison oak. However, Jon is extremely allergic to poison oak, but was able to completely avoid it merely by watching his step and making sure he stuck to the dirt path, and never veered off into the sides.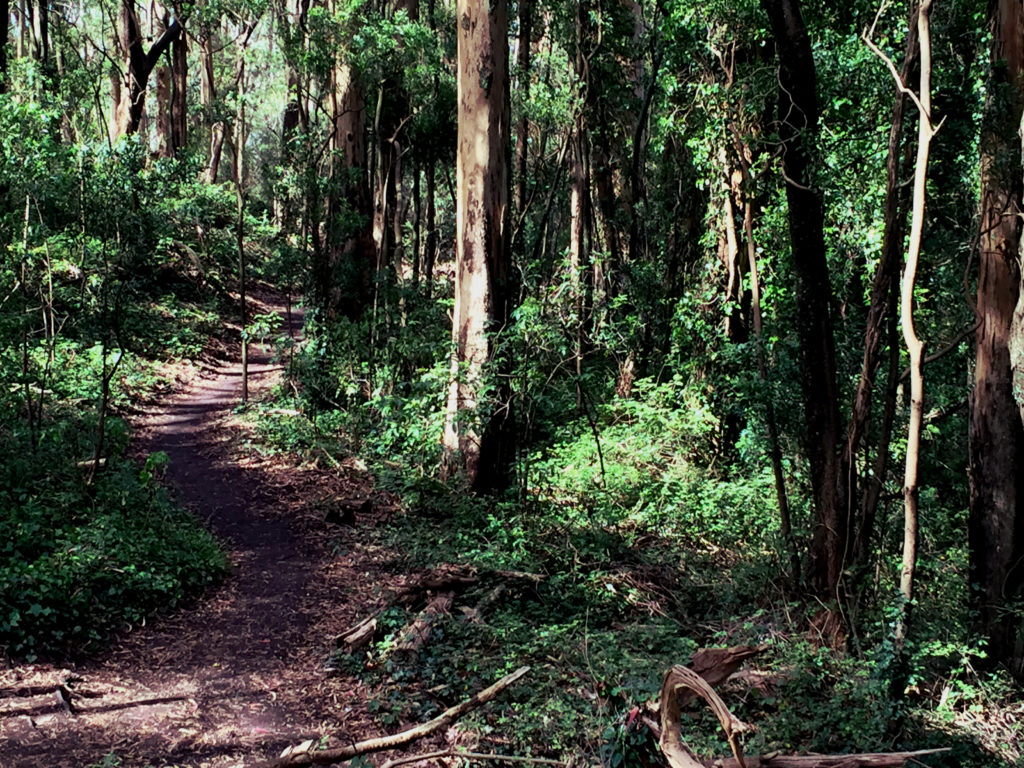 Spicy fig jam was a great accompaniment for our hiking adventure. It's also is easy to make, delicious, unique, and is great as the star of the show on a plain piece of toast or a biscuit. I could see this one also being delicious on a grilled ham and cheese sandwich! Or a BLT! Or a burger! The possibilities are endless…
Spicy & Easy Jalapeño Fig Jam + an Urban Hike
Ingredients
2 pints of fresh figs (about 8-10 medium figs)
1 jalapeños, deseeded
2 jalapeño with seeds
1 cup of granulated sugar
1/2 tsp. salt
1 tsp. vanilla
1 tsp. cornstarch
1 tsp. lemon juice
Instructions
Cut the stems off the figs and smash them in a bowl. Set aside.
In a blender or food processor, blend the jalapeños until they are completely smooth. Add the figs and blend together until mixture is goopy.
In a saucepan over medium heat, add fig and jalapeño mixture. Add in all the rest of the ingredients and stir until the jam is very dark red, and slightly translucent.
The jam should be thick enough to stick to the spoon, if not, add 1/4 tsp. more cornstarch and stir.
Add more sugar to taste.
http://thebayleafkitchen.com/spicy-and-easy-jalapeno-fig-jam-an-urban-hike/