I used to be that girl who Instagrammed the first PSL of the season. I "unlocked" our local Starbucks on September 1, by using the password "PSL" – single-handedly providing the joys of pumpkin and autumn to my neighborhood – a week earlier than PSL is technically supposed to be available.
I guess I've mellowed a bit in my older age. I still enjoy wearing roomy sweaters and leggings and UGGs instead of swimsuits and jean shorts, but lament the loss of a prolonged evening and a 9 p.m. sunset. Also, a huge reason to love the summer is ….
S'mores. S'mores are the most delicious, simple, nostalgic dessert. Everyone has their own "memory food," but I'll bet you s'mores are on at least 85% of Americans' lists. To me, s'mores are late summer nights – time with friends and family – the smell of campfire on a sweatshirt or in my hair. For many of my birthdays, my family would fire-up the hibachi in the driveway, invite my friends over (all on summer break), and we'd stay up, eat s'mores and watch movies. In fact, that was my bachelorette party. We watched the Incredibles. I made s'mores with Ghirardelli caramel filled chocolate bars.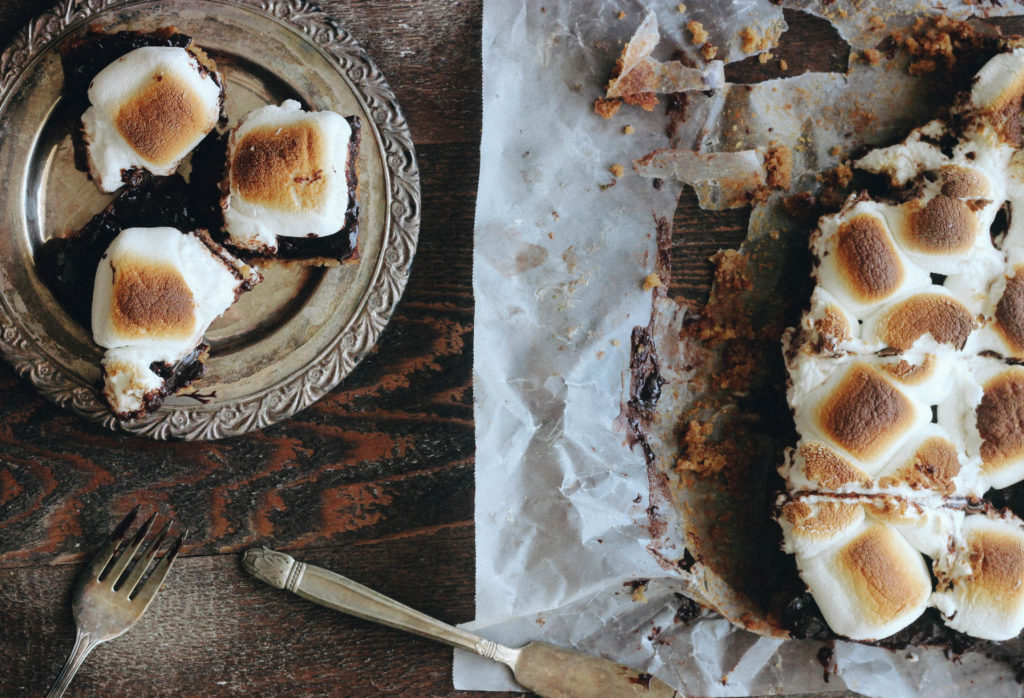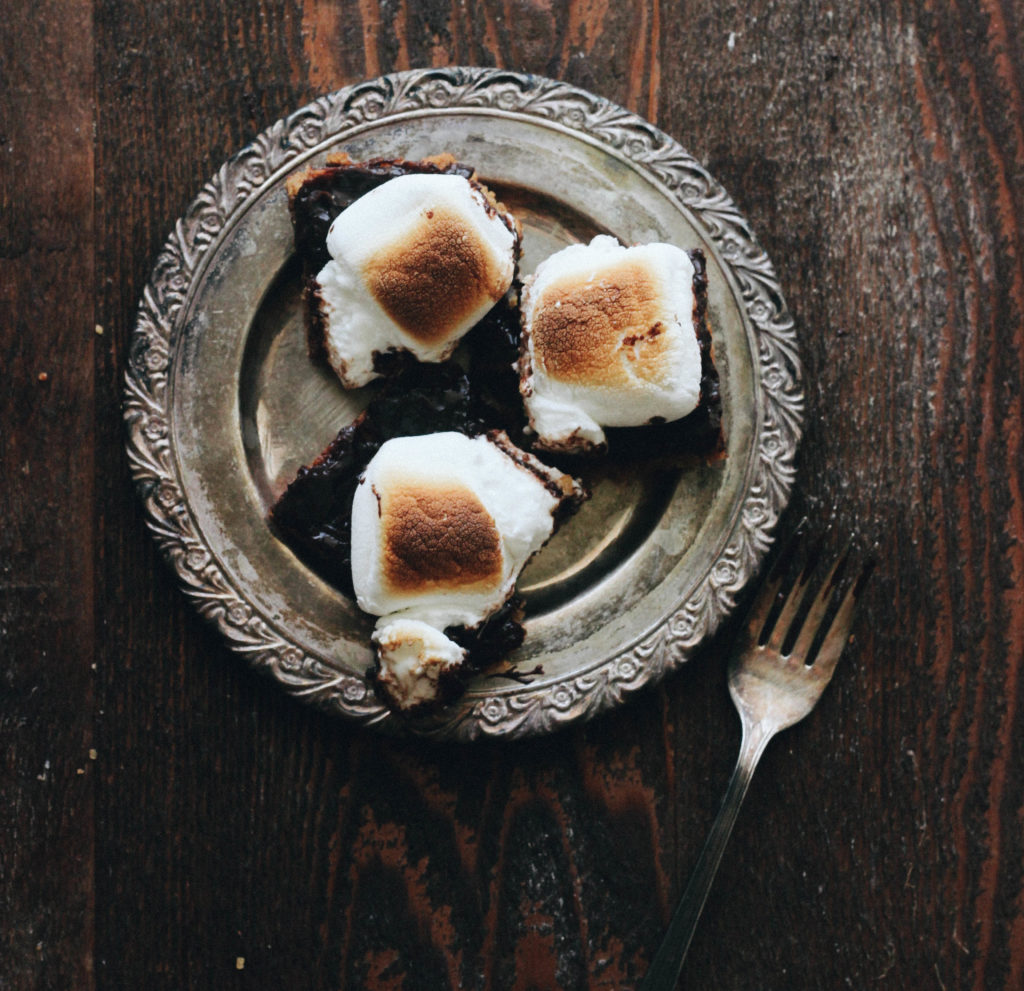 Because eating s'mores is more than just the flavor to me, I've eaten them through all seasons – I've roasted marshmallows over candles in the winter with a chopstick, in the oven on top of "s'more brownies" for potlucks, microwaved, grilled, etc.
So in honor of eternal summer, even as we head into fall – and because I missed s'mores on my birthday since I was in Rome – I made these s'more bars for myself and my office. They are chewy, buttery, sweet. Less crunchy and more chocolatey than the original, but they make a good treat if you're not around a campfire.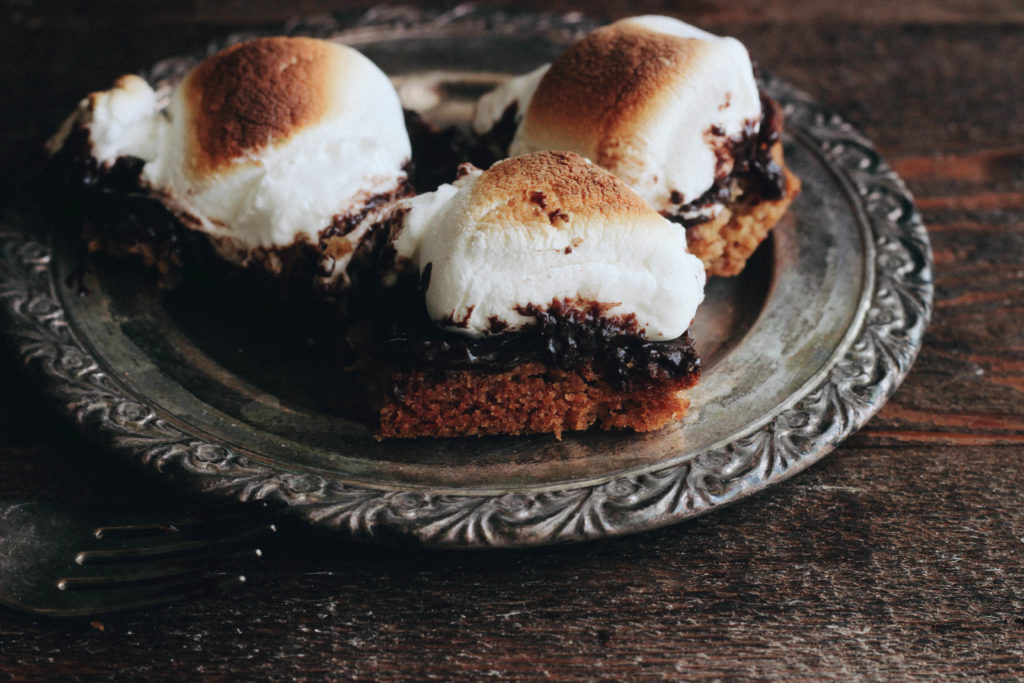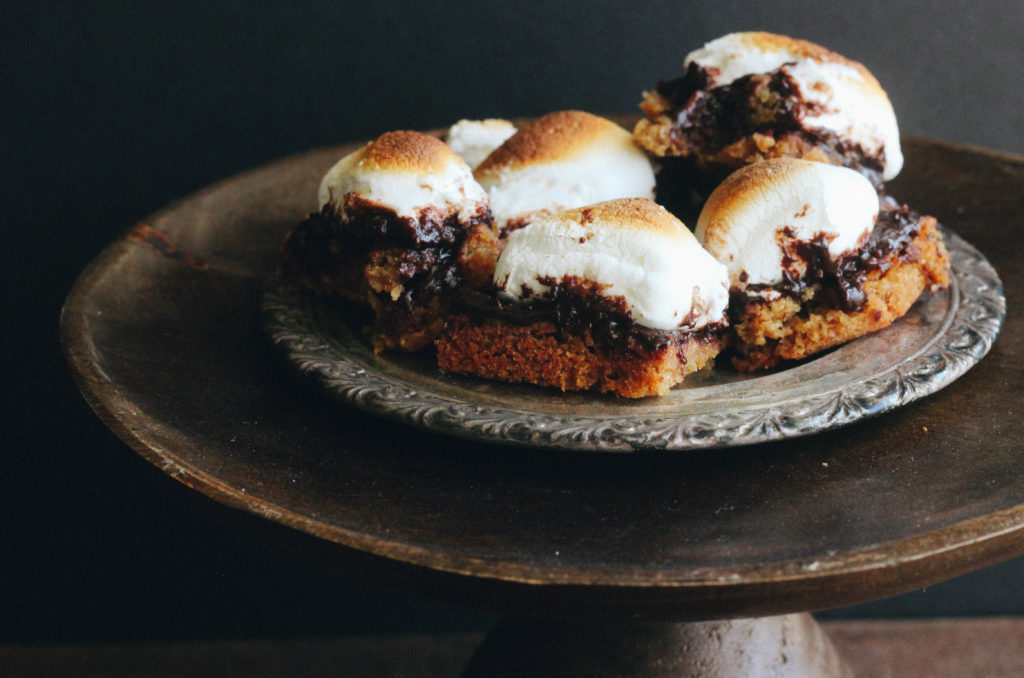 Ingredients
Crust:

1 1/2 cups graham cracker crumbs, very fine
1/2 cup brown sugar
1/2 cup butter
1 tsp vanilla
1 egg
Chocolate Ganache

1 cup chocolate chips
1/3 cup heavy whipping cream
1/4 cup powdered sugar
Topping

1 bag of large marshmallows
Instructions
Crust:

1. Preheat oven to 350 degrees Fahrenheit.
2. Melt the butter in the microwave until liquid. Set aside to cool.
3. In a separate bowl, combine brown sugar and graham crackers.
4. In a small bowl, whisk the egg until well combined.
5. Add vanilla and butter to the graham cracker mixture and combine lightly
6. Before completely mixed together, add the whisked egg to the mix and combine fully.
7. Line an 8x8 pan with wax paper. Spread the graham cracker mixture evenly across the bottom - making sure there are no holes and everything is evenly spread.
8. Bake for 30-35 minutes, until browned lightly. The base will be still soft and chewy.
Ganache:

1. After baking the graham cracker crust and setting aside to cool, make the chocolate ganache. In a double boiler (or a glass bowl set over a sauce pan with boiling water), melt the chocolate chips until liquified.
2. Take the chocolate off of the heat, turn off the stovetop, and add the heavy whipping cream.
3. Stir the chocolate and cream until liquified again, if needed, heat a little more over the warm water until the chocolate is liquified again - not chunky.
4. When liquified, set aside. Stir in the powdered sugar until no longer lumpy.
Put it all together:

1. Spread the chocolate over the graham cracker base.
2. Place the large marshmallows across the top of the bars.
3. Turn the oven to high broil.
4. Put the pan back in the oven and watch carefully until the marshmallows have roasted and are golden brown - about 3 to 5 minutes.
5. Take out of the oven and allow to cool completely before cutting up.
6. Enjoy!
http://thebayleafkitchen.com/smore-bars/