Over the past two years of living in the Bay Area, I've come to realize that I could happily live only eating Asian food for the rest of my life. "Asian food" is such a blanket term, which is perfect, because it covers everything I love. When we first moved here, we knew we loved sushi, so we went on a sushi crawl of all the local Yelp-reviewed sushi places, ordered the rolls each place was known for, and scientifically picked our favorite. Since then,  I've been on mission to find the best ramen in the Bay Area, discovered the best Indian butter chicken (their secret ingredient? honey!), found the most delicious pho broth, & recently discovered dim sum.
There is still so so much to try, but odds are (according to our current and past eating habits) if it's Asian food, then I will love it.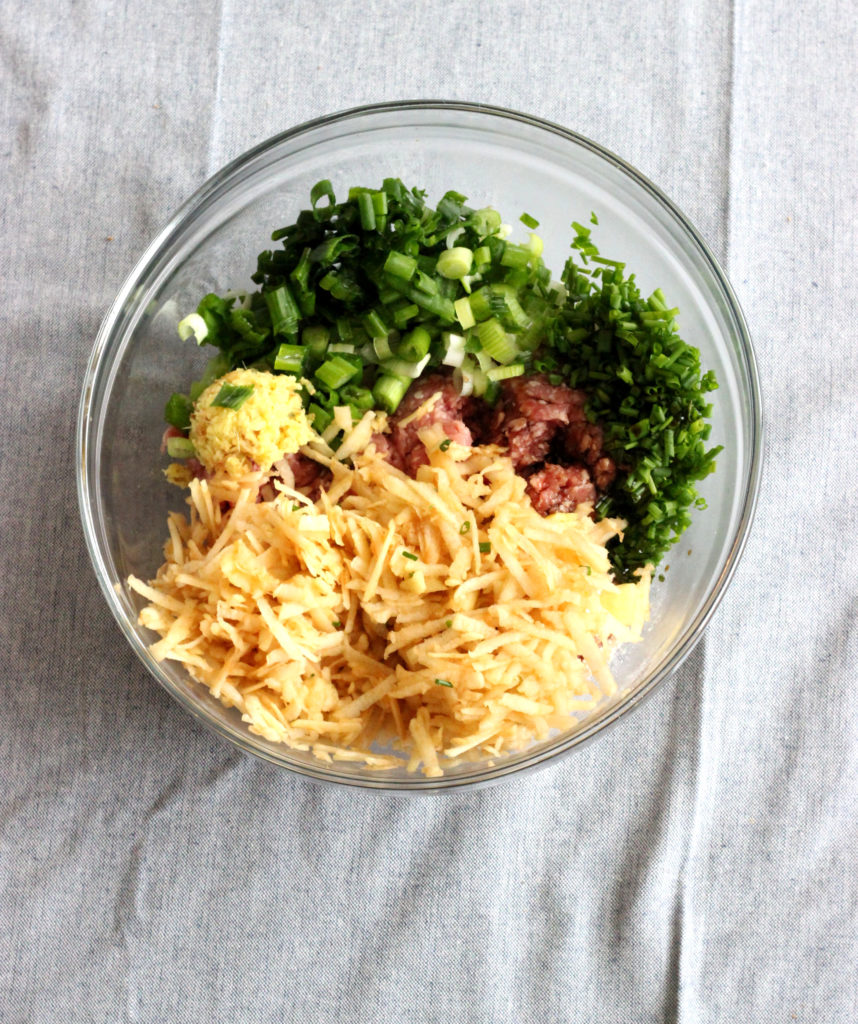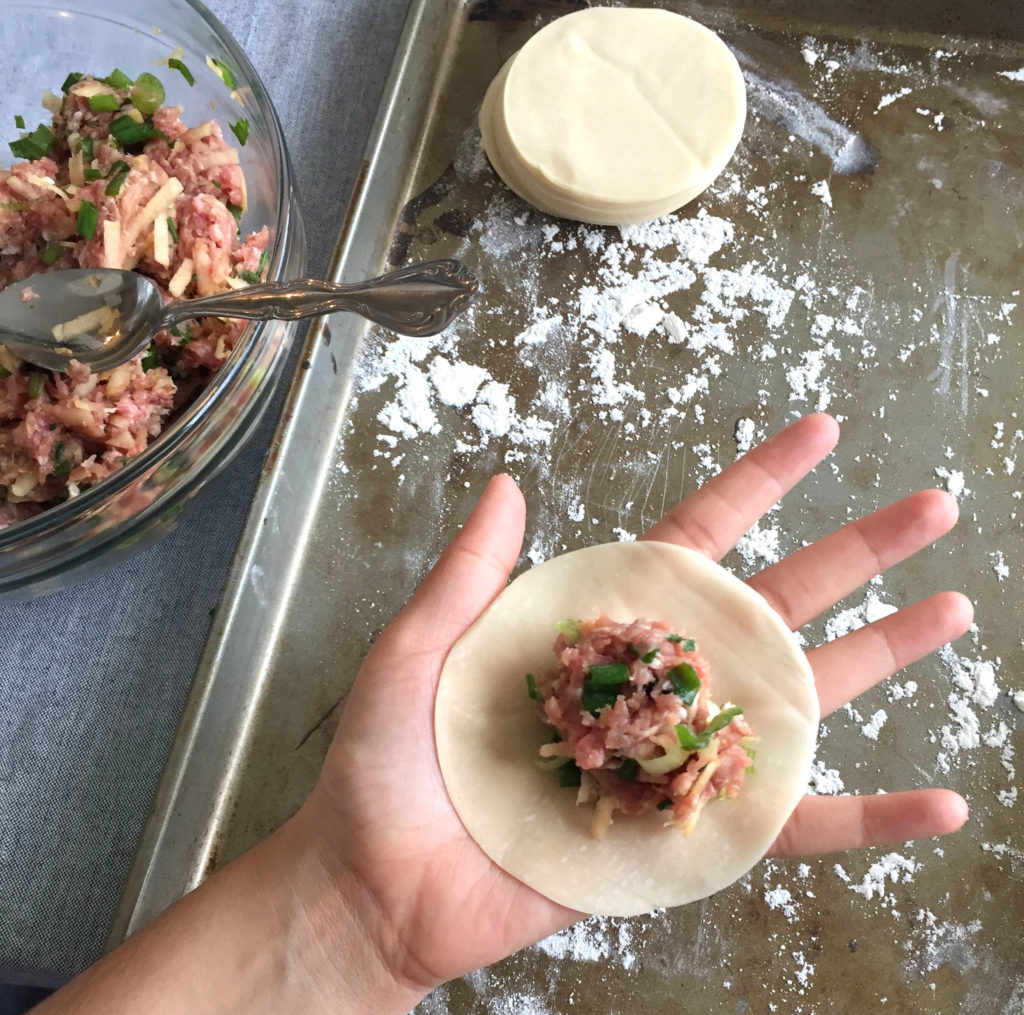 A few weeks ago, during some of the many mailings we've been doing at work recently, (side note: you would not BELIEVE how HUGE mailings are in the book industry. We're ALWAYS making things for mailings, stuffing envelopes, ordering boxes, printing labels, etc. It's easily about 40% of my job), a co-worker of mine was sharing her weekend story in which she prepared for the week by folding dumplings and watching TV.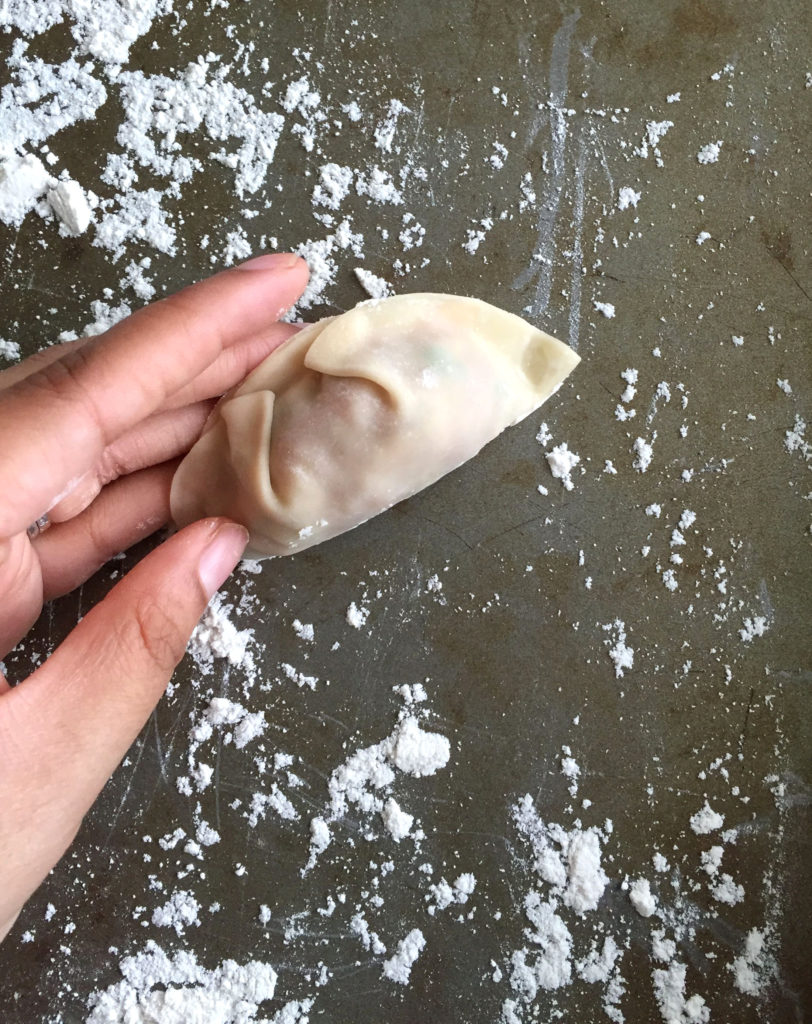 I was so intrigued by the idea of making homemade dumplings! Somehow I never thought it could be done at home, but found out that it's actually kind of fun, easy & therapeutic. If you buy premade dumpling wrappers, the hard work is done for you. You need only dream up the filling, watch this super helpful video about folding them, & then get to work. Listen to some music. Watch some TV. And a few minutes later, you'll have dinner & leftovers for the week.
I bought the dumpling wrappers at our local Asian grocery store, which made everything so much faster. This store actually had an entire freezer aisle of pre-made dumplings. I was tempted just to give up and go the easy way, but dumplings are really fun to do it on your own, and you can control what flavors & ingredients go inside them.
Pork Apple Ginger Dumplings
Ingredients
1 lb. ground pork
1 large fuji apple, peeled and chopped into quarters
1 tsp ground fresh ginger
6 chopped green onions
1/4 cup chopped fresh chives
1 tbsp shaoxing wine
1 tbsp soy sauce
2 tbsp sugar
2 tsp. salt
1/2 tsp corn starch
36-40 dumpling skins
To cook:

1 tbsp cooking oil (vegetable, canola or olive)
3 tbsp of water
Instructions
Using a box grater, shred the apple into thinly julienned bits.
In a large bowl, add ground pork, apple, chopped green onions, ginger, wine, soy sauce, sugar, & salt.
Mix cornstarch with a few drops of water, so that it dissolves into a liquidy-paste texture. Add to the bowl.
Mix all the ingredients together well.
Fill a smaller bowl with water.
Watch the video indicated above to learn to fold the dumplings correctly.
Put one round dumpling skin in your hand.
Spoon about 1 tablespoon of meat filling into the middle of the skin.
Dip your finger in the water & wet 1/2 of the rim of the dumpling skin.
Use the space between your thumb & pointer finger to fold the dumpling in half and close up the edges.
Repeat on the other side (if this is confusing, please watch the video! It's awesome!).
To Cook

Heat 1 tbsp of oil in a medium frying pan on medium heat.
When the oil is hot & shimmering, add 6 dumplings to the pan and cook until sides are browned. Loosen the bottoms with a spatula.
Carefully add 3 tablespoons of water to the hot pan, & immediately cover with a lid.
Bring heat to medium-low and allow to cook for 6-8 minutes, until the middle of the dumpling is no longer pink (I cut one open to check).
Enjoy!
http://thebayleafkitchen.com/pork-apple-ginger-dumplings/