As I mentioned in this post a long time ago, tea time is steeped (heh, heh) into my mom's history and culture from Sri Lanka, and has also played an important role my own upbringing. I remember going to tea parties with my momma when I thought fancy food was icky, and all I wanted was to wear a princess dress, each crustless PB&Js, and to suck on sugar cubes instead.
There were a few places for tea that my mom and I used to drive out to every month or so. These adorable tea houses were usually in converted Victorian homes with creaky wood floors, a whole lot of lace and embroidery and floral print like the old tea house on Main Street in my hometown that had the "Tahoe Tessie" sandwich (like Loch Ness Nessie, but maybe friendlier?): cheddar, tomato, mayo on white bread. Otherwise, they were quirky, like the Mad Hatter tea party in a neighboring city where you could borrow a crazy spaghetti monster hat, or a dainty lacy thing fit for the Kentucky Derby for the duration of your meal.
One by one, these shops started closing, so we would travel farther and farther for tea time. And now, they're pretty much all extinct. Except here and there in large cities (and one close to us now that we haven't yet tried!). And we rarely go to tea anymore now that I no longer live close.
But scones. I don't recall a time that I ever hated scones. I've eaten them happily, with butter, jam, clotted cream. I've eaten them all over the world; we try to go to tea wherever we travel. In the UK, the land of scones, (pronounced "scons") they thicker, creamier, heavier. But lovely when studded with currants and slathered in spread or real clotted cream.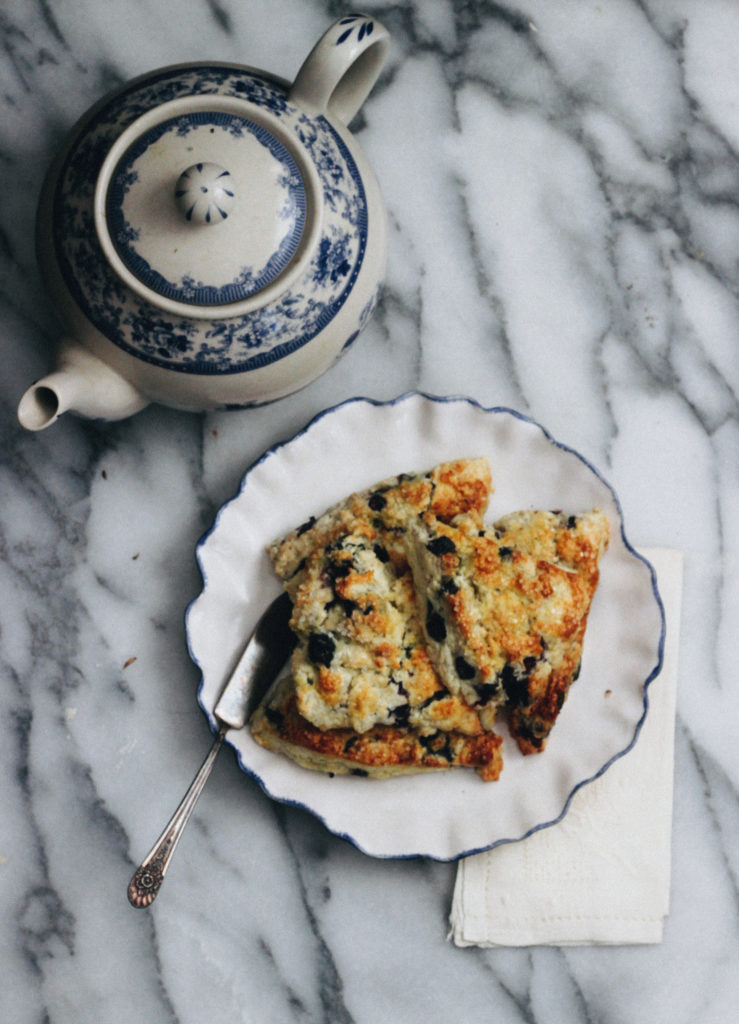 And despite my ultra LOVE of scones, I've never made homemade scones I've 100% loved.  I think it takes a lot of guts to say a recipe is "perfect," so I don't use that word lightly. These turned out perfect. They had beautiful layers, and were perfectly soft, yet slightly crisp. And they came together so fast!
Ingredients
3 cups all purpose flour
1/2 cup of white sugar
1 tbsp. baking powder
1 tsp. salt
1 cup + 3-4 tbsp heavy cream
1 tsp vanilla extract
1/2 cup frozen butter, grated (this is key!!)
1 1/2 cups of frozen blueberries
zest of 1 lemon
1 egg (for brushing on top)
coarse sparkling sugar for dusting
Instructions
Preheat oven to 425 degrees Fahrenheit.
Combine and stir flour, sugar, baking powder, lemon zest and salt in a large bowl.
Grate the stick of frozen butter into curls into the bowl of dry ingredients. Toss them so they are evenly distributed.
Sprinkle vanilla extract over the bowl.
Make a well in the center of the dry ingredients and pour in 1 cup of the heavy cream.
Mix in the frozen blueberries, lightly with your hands, and continue throwing the ingredients together until they start to glob together.
Turn out the still very powdery dough onto a floured surface, and sprinkle 2 tablespoons of heavy cream over the top.
Begin to press and work the dough, still lightly, and being very careful not to overmix. The dough should JUST come together without much powder. If it's still very powdery, add 1 tablespoon of heavy cream at a time, not exciting 4 tablespoons total.
Once the dough resembles the texture of the second photo in this post, pat it into a long rectangle and cut triangles, as demonstrated in that photo.
Place scones onto a baking sheet and into the freezer for 15 minutes before baking.
Beat the egg in a small bowl. When the scones are ready, brush them with the egg and sprinkle with coarse sugar.
Bake for 15 mins. Check to see that the bottoms are browning and the tops a nice golden brown. If they aren't already, keep the scones in for 5 minutes at a time, not exceeding 25 minutes.
http://thebayleafkitchen.com/perfect-blueberry-scones/