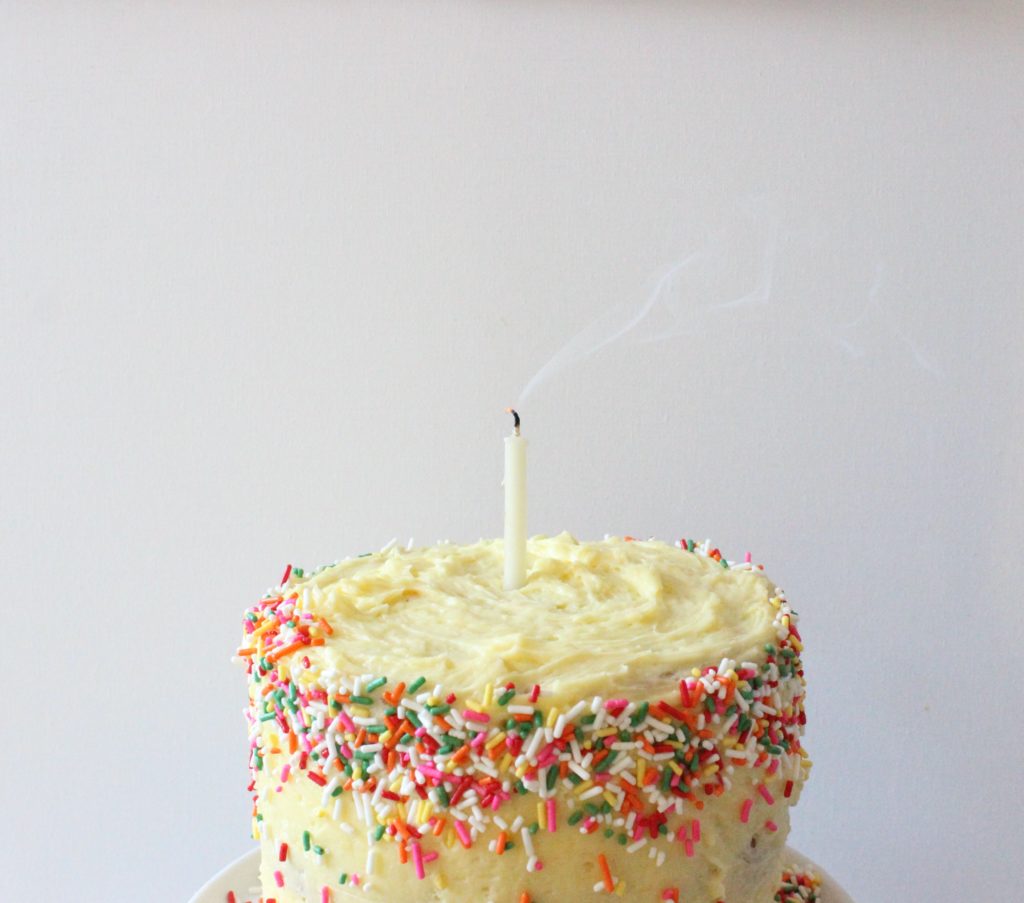 In high school, I had a crazy, awesome Spanish teacher with huge curly blonde hair and an impeccable Spanish accent, who looooved Funfetti cake (and also, Matt Damon). She spoke to our class totalmente en español, but the English word "Funfetti" sometimes leaked into her Spanish sentences and made class more enjoyable, and sometimes more understandable. "Funfetti" was like an island of understanding in a sea of confusion. This is all very profound for a cake with sprinkles baked into it, but the positive association I have with Funfetti is probably subconsciously why I chose to make this cake in the first place!
For me, food sparks memories. When I order something new at a restaurant I've never tried before, I always try to connect the meal to a prior taste experience. I love that food is so interconnected with my and everyone's emotions and history. We smell dinner cooking and remember past travels, moments with our families. Food ties us to tradition, but having fun in the kitchen also allows us to explore other traditions.
This being my first post, I will probably be more light-hearted and fun in later posts, but I want to get off on the right foot and proclaim my "mission statement," if you will. I want to keep this blog populated with recipes I love and recipes I'm experimenting with. Practice my photography skills. Connect with friends, family, and people who inspire me. And also just share the traditions and memories I have around food in my own life.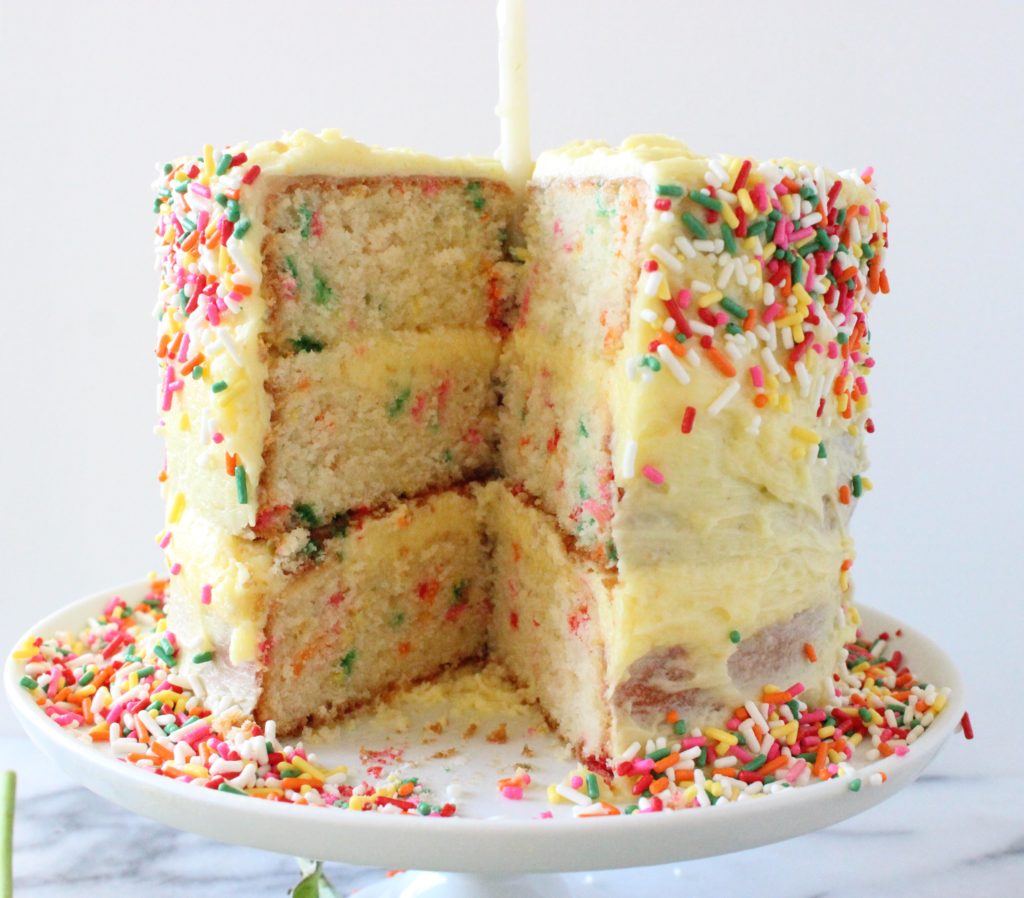 As for this cake, I tried to combine ingredients that would capture the celebratory feeling I have in starting this project. The Funfetti cake is yellow and cheery with the extra egg yolks (though some very experienced bloggers prefer white cake to make the sprinkle colors stand out better, I like my Funfetti yellow, like the kind you make from the box. But I think it really just depends on your preference.). I paired the cake with mango frosting because, to me, mango = tropical = vacation = party!! Perfect for a birthday. Or in this case, a first blog post.
With that, I'll wrap this up and say WELCOME! Thanks for joining me on this journey.
Homemade Funfetti Cake and Mango Buttercream Frosting
Ingredients
For the cake

2 cups of all purpose flour + a bit extra to dust the pans
6 tbsp. of sprinkles + extra for decoration
1 cup heavy whipping cream
1 cup sugar
3 whole eggs
2 egg yolks
2 tsp. baking powder
1 stick (1/2 cup) of melted butter (unsalted) + extra to butter the pans
1 tsp. vanilla extract
1 tsp. salt
For the frosting

2 sticks of softened butter (unsalted)
1 cup + 1/2 cup powdered sugar
1 tsp. vanilla
3 tbsp. mango juice
1 tbsp. pureed mango
Instructions
Preheat oven to 350 degrees Fahrenheit. Combine butter and sugar in a bowl. Using a stand mixer with whisk attachment, or a hand mixer, beat the sugar, vanilla extract, and butter on low for 10 minutes until fluffy and well-combined. In the meantime, combine flour, salt, & baking powder in a separate bowl and stir with a whisk, set aside. And in a third bowl, whip the eggs and cream together until well combined. After the butter/sugar mixture has been mixed until fluffy, add the eggs and cream and continue to beat on low for 5 more minutes. After combined, slowly add the flour mixture to the bowl, while still beating on low, in 1/2 cup increments. Right before the mixture has fully combined, scrape down the sides to incorporate any extra flour, and add the sprinkles to the mix. Continue beating until all have just combined.
Using the extra butter, apply to the bottom and sides of 3 6-inch round cake pans, or 1 9-inch round cake pan. Sprinkle flour on the bottom, and shake excess into the trash. This will help the cakes come out of the pans without breaking.
Place pans into pre-heated oven and cook for 30 minutes. After 30 minutes, check to see if the tops have browned at all. Make sure that they are uniformly brown. If one looks more colored than the others, move the pans around so that the heat distributes evenly. Use a toothpick to check if the cakes are finished. If the toothpick comes out clean, take the pans out immediately. If not, continue cooking in 5 minute increments, checking to see if they are finished. DO NOT over-cook!
When cakes are finished, flip the pans upside down on a wire rack to allow the cakes to come out, and to flatten the tops if they are domed. Cool completely.
To make the frosting:

Sift the 1 cup of powdered sugar with a sieve into a medium bowl. Add butter, vanilla, and mango juice and puree. With a hand-mixer, beat until the mix is smooth and leaves ripples in the bowl. If the mix is a bit lumpy, it may be because of the temperature of the butter; if so, store the bowl in the refrigerator for 15-20 minutes until the butter hardens up a bit and repeat mixing process. If the frosting is too watery, add the additional powdered sugar in tablespoon increments (and don't forget to sift with the sieve!).
I found this tutorial helpful in frosting the cake (especially the tip to add a dab of frosting to the middle of the cake stand to keep the cake steady!), but I also think this cake would be delicious as a naked cake, with frosting only between the layers. Also, a fun idea would be to add mango slices in between the layers, on top of the frosting, but be sure to eat the cake the same day, as the mango will make the layers soggy.
Decorate with extra sprinkles and enjoy!
After 30 minutes in the oven, watch your cake like a hawk. Especially if you are using 6-inch pans. Overcooking will make the cake dry and yucky
Do not skip the sifting powdered sugar step, or your frosting will be lumpy!
http://thebayleafkitchen.com/homemade-funfetti-cake-with-mango-buttercream-frosting/