Welcome to the fifth season of the year: the Indian Summer. We just got back from a weekend in northern Oregon visiting our nephews and brother and sister-in-law. Until Saturday, I didn't realize how much I'd missed waking up in piles of warm blankets, and the delicious feeling of being cold for a while. While I'm not completely opposed to the heat, warm weather puts me into this lazy, "I can't do anything and barely want to get up to put on shorts or get more ice for my water" mood. As such, I've been in a fitness rut the past couple of weeks. But the amazing Oregon fall morning weather prompted me to go for a run and also to consume a large victory cup of hot coffee when I was finished, which felt like a mini-luxury.
By contrast, today, in San Francisco, I didn't even have to wear a sweater to walk to work in the morning. And that's saying something. I've only been able to do that a total of 2 other times this entire summer.
We don't even have air conditioning in our apartment, so on days like these, I feel grateful for my over-air-conditioned corner of the office and happy to spend my time wearing light sweaters and drinking mugs of tea at my desk, rather than be at home hanging out in a mini pool of sweat. When I do spend time at home, I make salad and chug smoothies and scoff at Starbucks for unveiling it's Pumpkin Spice Latte in over 90 degree Bay Area weather (while ordering mine iced 😉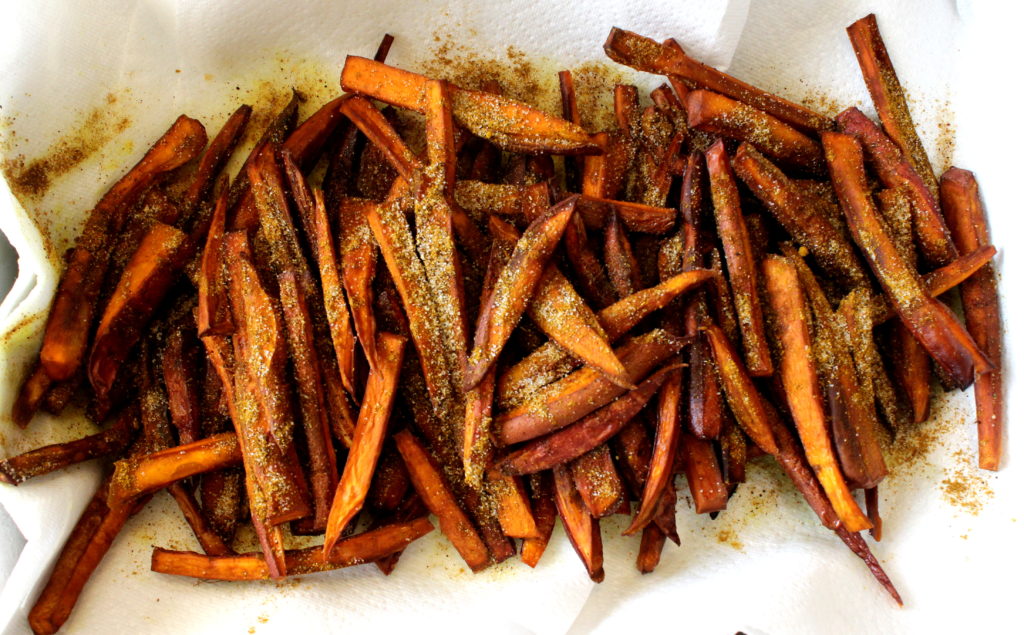 One thing I do love about this awkward in-between season is the ability to feel perfectly normal eating ice cream and corn-on-the-cob, and the last of summer's tomatoes, while also enjoying pumpkin spice bagels and cream cheese and looking forward to the imminent approach of apple season. My little brother is back in the rhythm of his school year, and I'm gearing up for almost boot and sweater time (and also, trying to figure out how to fake a British IP address to watch Downton Abbey online, since they're starting the new season this month in the UK). But for now, I'm wearing dresses and skirts on repeat, avoiding cardio exercise, and eating hot, crispy fries with cold, tangy avocado sauce.
These sweet potato fries capture the essence of the Indian summer. And ok, I see that there's a correlation with Indian summer and Indian spices. Though honestly, I crave Indian food every season of the year.
The curry + sweet potato combo is one of my favorites. These fries are somewhat inspired by by the food-truck- turned-restaurant Curry Up Now in San Francisco. They have a dish called "Sexy Fries," that I highly ultra recommend. It's a pile of crunchy waffle-cut sweet potato fries with chicken tikka masala or other curry of your choice and cheese on top – like a messy Indian nacho.
And while homemade ranch dressing might sound like a lot of work to you, one bonus is the ability to customize and reduce/amplify your favorite flavors in the dressing. For instance, I love milkier ranch sauces, and can never find the perfect consistency in a bottle of ranch dressing. I started with Tara O'Brady's recipe for basil buttermilk ranch and played around until I found the right flavor and texture. And THEN I added the avocado and fell in love.
Now, I readily admit that I'm no french fry expert. We never had a deep fryer in our house. I think my mom made us fried chicken only once in my memory, and even then, I think it was baked. I looked up this tutorial to learn how to fry these sweet potatoes, and ad-libbed the process because I had a large cast iron skillet, not a deep pot.
But one thing I do feel strongly about is the fact that sweet potato fries taste better when then are actually fried. This is quite a controversial statement, I know. But when you're craving "fries," it's hard to get the baked version to reach the perfect crisp outside to soft inside ratio that you really want. Baked sweet potato fries are good, they are just never going to be real fries. I'm sorry. But it's true. That being said, if you don't mind having a squishier fry, or if you're looking to make this a into a healthy side dish, go ahead and bake it. I tried both ways, but much prefer the crunchy texture that I was only able to achieve by actually frying.
Curry-Spiced Sweet Potato Fries with Avocado Ranch Dressing
Ingredients
Fries

3 medium sweet potatoes, chopped into matchstick fries
Vegetable oil for frying
Curry seasoning:

2 tsp curry powder
2 tsp garam masala
1 tsp salt
½ tsp pepper
¼ tsp chili powder
¼ tsp garlic powder
1 tbsp. sugar
4 tbsp crumbled cojita cheese (optional)
2 chopped green onions (optional)
Avocado ranch dressing

1 avocado
½ tbsp. chopped chives
1 tbsp. chopped cilantro
1 tbsp. chopped basil
2 chopped shallots
½ tsp lemon juice
½ tsp garlic powder
¼ tsp paprika
¼ tsp pepper
¾ tsp salty
1/3 cup greek yogurt (nonfat, plain)
1 ¼ cup buttermilk
Instructions
For the dressing

Combine all dressing ingredients into food processor or blender and blend until smooth. Transfer to a bowl or jar and keep refrigerated.
For the fries

Combine spices in a bowl, mix well, and set aside.
Pour vegetable oil into a large pot, a cast iron skillet with at least 3 inch sides, or into your deep fryer as the instructions dictate. If using a deep fryer, fry the potatoes according to the manufacturers instructions. If using a pot or cast iron skillet, raise stove heat to medium and insert a candy thermometer into the oil. Wait until the temperature is at 350 degrees Fahrenheit and try to keep it in that ballpark as much as possible. When oil is heated, add sweet potatoes in batches. Cook until the fries are slightly browned along the edges. I found that mine took about 3-4 minutes per batch. Using a slotted spoon, take out the fries when they are cooked and spread them onto a paper towel to absorb extra oil. Immediately sprinkle the spice mixture over the fries as each batch is completed.
When all the fries have been cooked, pour any remaining spices over the fries and toss to coat them.
To serve, spoon avocado ranch over the fries, or leave the dressing on the side if preferred. Optional: Sprinkle cheese and green onions over the fries and enjoy warm!
http://thebayleafkitchen.com/curry-spiced-sweet-potato-fries-with-avocado-ranch-dressing/