And so commence the holidays! Thanksgiving is TWO days away! And just in time.
I'm hoping and praying that this will be a time for healing and reconciliation. The last few months have been particularly rough, what with the election, in my family, and I suspect, in many families. We're still working on what it means to agree to disagree, peacefully state opinions and have discussions. It is not easy. It probably won't happen quickly. We still have to mainly dodge the topic in order to keep the peace.
But I'm optimistic that we'll learn. I heard the statistic that 40% of families disagree politically. This is comforting. I feel less alone knowing that 40% of families this Thursday will be figuring out how to deal with each other, just like mine.
On the upside, I've been encouraged by the reactions of other food bloggers, news outlets, friends, & organizations that I follow spreading messages of unity, of support, of hope, and standing together in this time of uncertainty and fear. A lot of my Christian friends on both sides have been saying and sharing messages over social media about trusting God. And it's very true. But I do also think that God calls us to stand up for what's right. Not to sit passively by and let evil happen. I'll be looking for ways to join in on efforts to keep our country safe by ensuring that everyone's rights are protected, no matter their race, nationality, or religion. I hope you will too.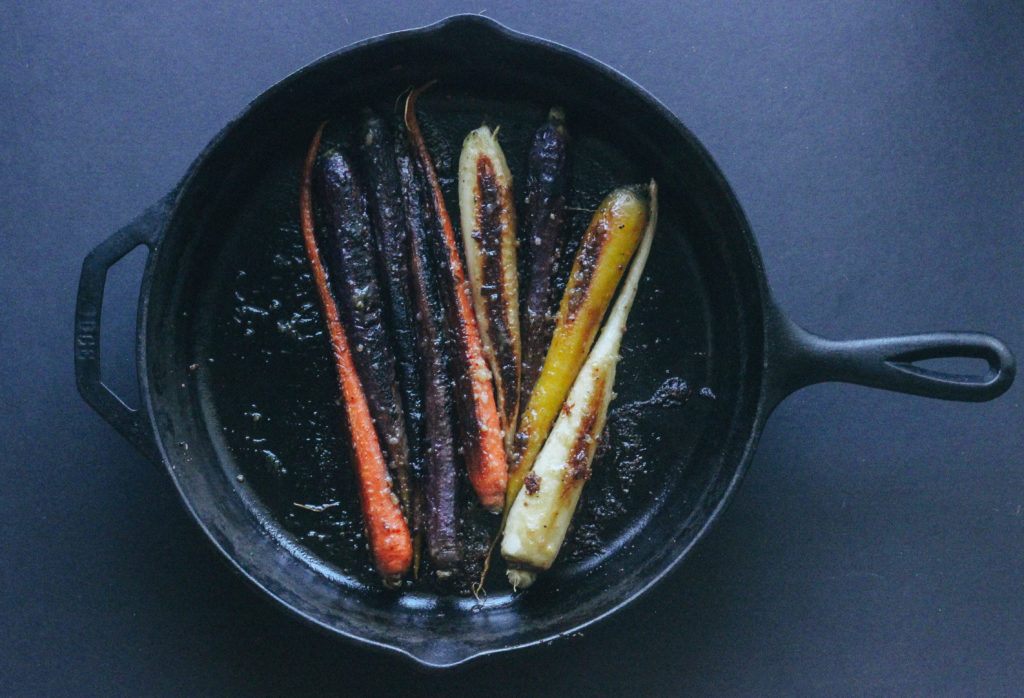 On the homefront, we have some amazing updates coming soon! A move and a new puppy are on the horizon for us. Excited to share more details — this has forever been a dream of mine, and I'm ridiculously excited for this change!
These carrots are an interesting, sweet & salty way to mix it up this Thanksgiving. Instead of bringing the same sides, try a new veggie. Miso paste is in the refrigerated section at Whole Foods, as well as many natural or Asian food stores. These roasted carrots are what I'll be eating instead of fatty green bean casserole.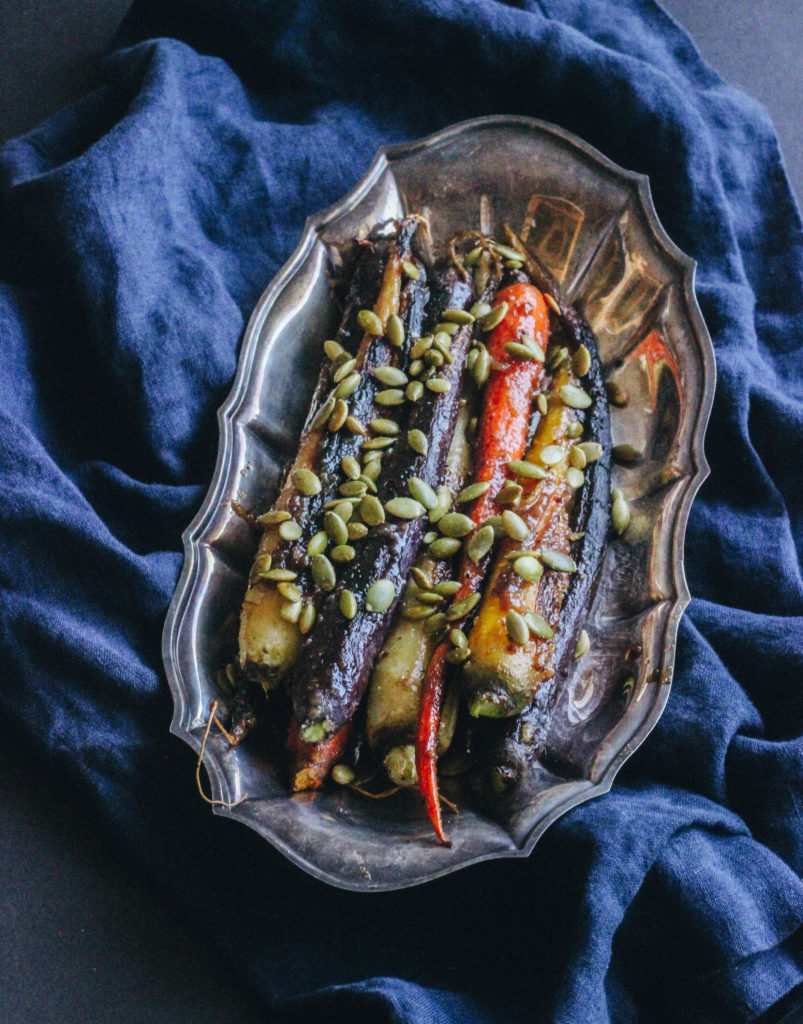 Miso Maple Roasted Carrots with Pepitas
Ingredients
2 tbsp white miso paste
2 tbsp maple syrup
1/2 tsp sesame oil
2 bunches of rainbow carrots (about 10-15 total)
1/2 tsp chili powder
1 1/2 tbsp olive oil
Pepper to taste
Dry-roasted pepitas to sprinkle on top
Instructions
Preheat oven to 400 degrees Fahrenheit. Wash and peel the carrots. Chop them into 1 inch thick chunks (optional). Toss in 1/2 tbsp of the olive oil and sprinkle with pepper and chili powder as desired.
In a cast iron skillet, heat 1 tbsp of the olive oil over medium heat until rippling. Add the carrots to the oil and allow to cook until darkened on the outside, and just soft enough to pierce through with a fork. They should still be rather firm.
In a small, separate bowl, stir miso paste, sesame oil and maple syrup until mostly smooth. When the carrots have softened slightly and browned, turn off the heat, pour the syrup mixture over them and toss.
Add the carrots to the preheated oven and cook for about 20 more minutes, turning them over halfway and checking their texture. The syrup will become darker and sticky, and the carrots should be browned on the outside, but softer and easier to pierce through all the way.
Take them out of the oven and sprinkle pepitas over them. Serve warm.
http://thebayleafkitchen.com/miso-maple-roasted-carrots-pepitas/