I never really had a grandpa figure in my life until I met Jon's grandpa. My grandfather on my dad's side passed away before my dad even met my mom. My grandfather on my mom's side lived far away, and died when I was only seven. So when I met Jon's grandpa at his high school graduation, I decided right then to adopt Grandpa as my own.
Grandpa was this large, funny, witty old man, who immediately welcomed me into the family. At his full height, he was 6'2″ and would wink profusely whenever he was joking with someone. He liked to "cause trouble" whenever he ended up in the hospital by trying to cajole his way out and go home early, or spread rumors from his hospital bed to make his kids and grandkids believe him for a second, but then shake their heads and laugh. He was also completely in the know and involved in so many things I still have no clue about, like the stock market. Whatever extra money he made from investing, he would give away to kids in his church that needed money for college.
Despite introducing me as Jonathan's "friend" to others, until we got engaged, Grandpa took the time to get to know me, to really understand what my strengths were, and then proceeded to help me network with his connections in the Bay Area. He helped me get my first job when I moved here.
One thing I really loved and appreciated about Grandpa was that you were never in doubt that he loved you or that he was proud of you. He said it right to your face, and also, behind your back. Even up to his last days, Jonathan would visit Grandpa in the hospital and the nurses would always approach him with, "Oh so YOU'RE the one getting your Ph.D.!" Grandpa bragged about his grandchildren to everyone who would listen.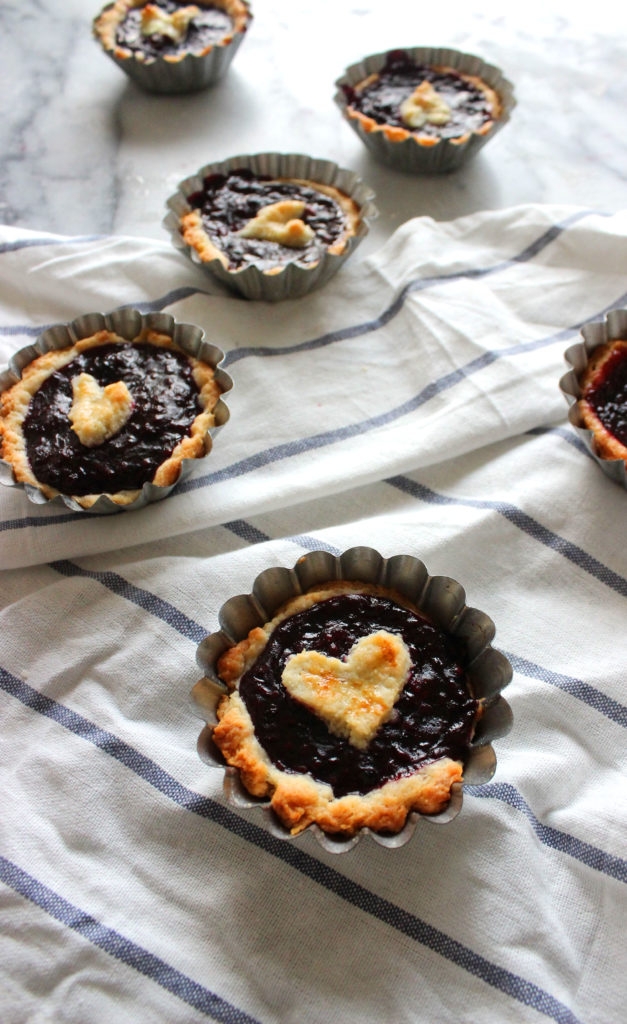 Grandpa was also the biggest fan of this blog (besides my mom, of course). I'm pretty sure that half of my readership was won over by his opening line in phone conversations that I sometimes overheard, "Let me tell you about this website that you should check out" and then proceeded to spell out my url. He'd even wait over the phone for people to look it up and ooh and ahh over it, before he let them hang up. A couple weeks ago, he printed the whole thing out to share with Grandma, because she wanted to read the whole thing but didn't want to deal with the computer interface. He even contributed a few recipe ideas from his family recipe book, that I'm planning to share with you all come Christmas season.
The last meal I shared with Grandpa a couple weeks ago, we ate take-out Chinese food from a local restaurant and, on a whim, I brought and baked a blackberry pie from Apple Hill. I didn't know that blackberry was his favorite type until he had downed at least three slices, and then heartily agreed to keep the leftovers. I was told that the next morning that he also snuck another slice for breakfast.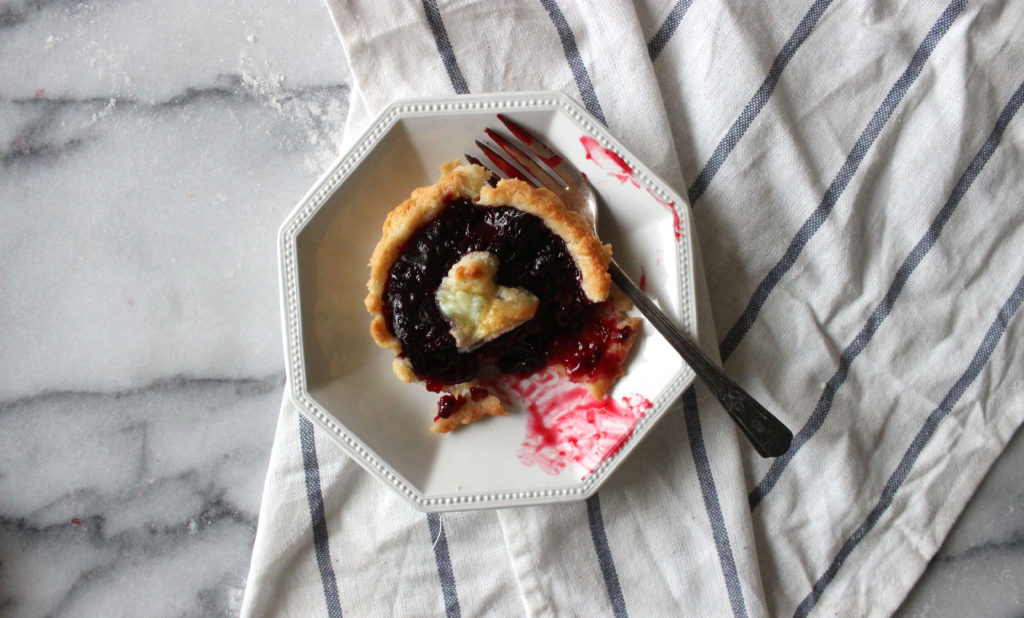 I'll be honest, these blackberry pies were hard to make. I think the honey in the crust makes them a bit sticky and difficult to roll out completely. I kept having to put the dough back in the refrigerator to harden up for a while. I was planning to make one large pie, but found it easier to make smaller tins with the sticky dough. After the pies baked, though, their crusts were yummy and flaky and sweet, and the filling bubbled up to the sides. They don't look perfectly uniform (I've been watching the Great British Baking show, where uniformity of baked goods is a must), but in this case, they are literally baked with love. It was hard for me to make something I knew he would have loved, and that I know I'll never share with him, but he's probably publicizing my blog all over Heaven right now. So Grandpa, this one's for you.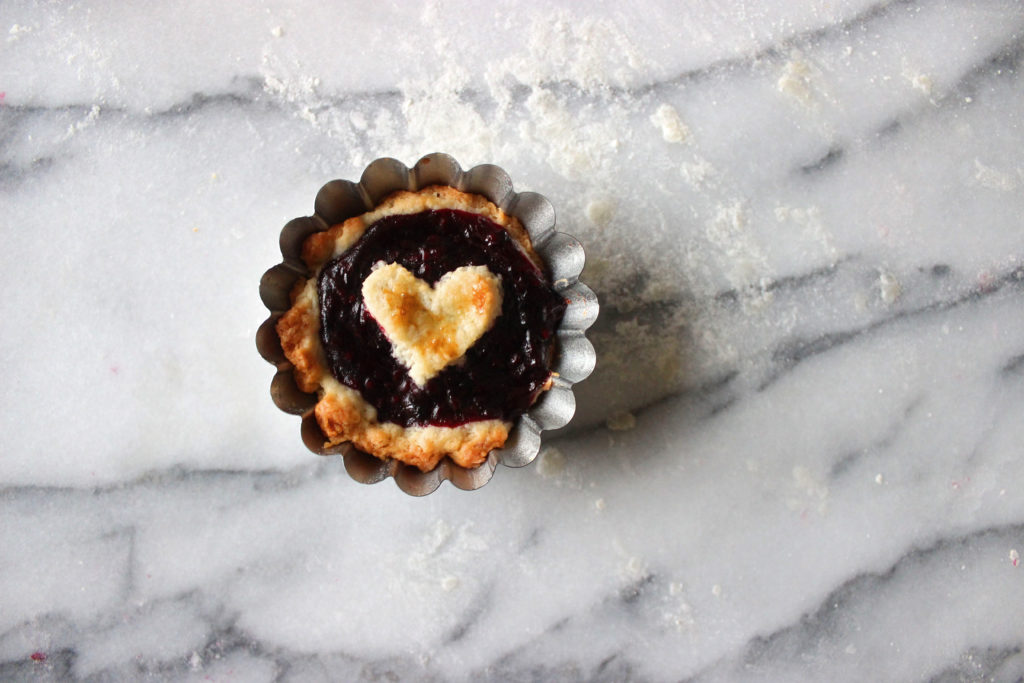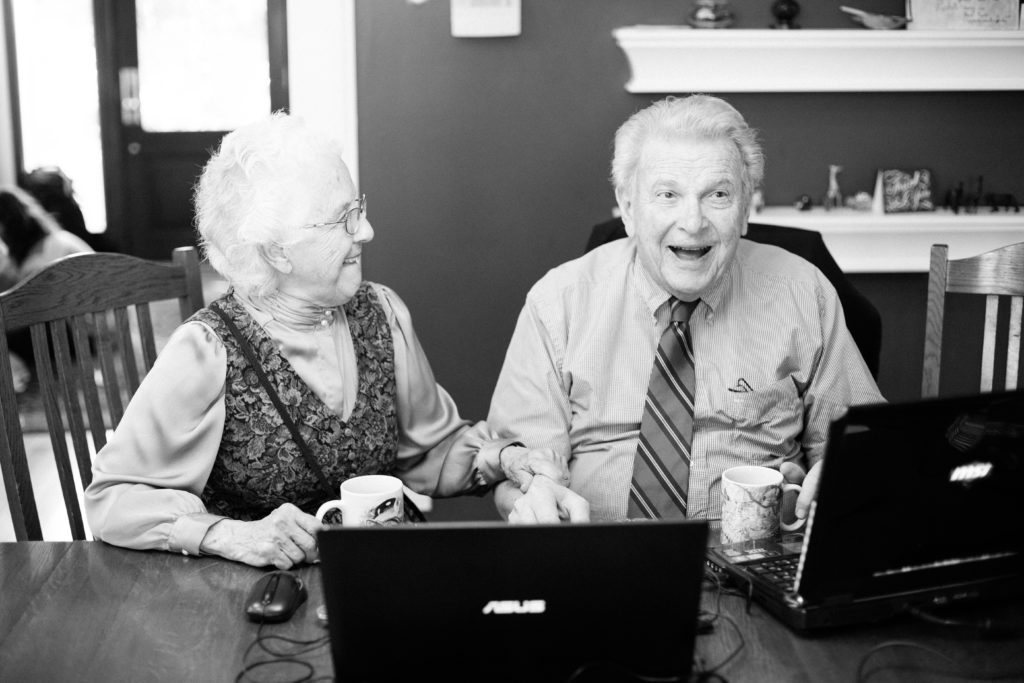 Mini Blackberry Pies with Honey Crust
Ingredients
For the Crust

2 cups flour
1 cup cold, cubed butter
1/4 cup of sugar
3/4 tsp salt
1 tbsp honey
4-5 tbsp milk
For the filling

3 6 oz. packages of blackberries
2/3 cup of sugar
1 tsp lemon juice
1/2 tsp lemon zest
5 tsp cornstarch
5 tsp water
1 egg
Instructions
Crust:

Combine sugar, flour & salt in a medium mixing bowl. Cut in the butter using a pastry blender or a fork until the chunks range between the size of peas and your thumbprint.
Add honey and 3 tablespoons of milk to the mixture, and combine with your hands.
Continue to add milk, 1 tablespoon at a time until the dough barely sticks together and is still a bit shaggy.
Turn out the dough onto a clean, floured surface or marble board and knead again, once or twice only, so the dough forms a ball.
Wrap in plastic cling wrap and refrigerate at least 5 hours or overnight.
When you are ready to make the pie, roll out the dough to about 1/4 inch thick, and cut with a round cookie cutter or biscuit cutter.
Press the circles into mini-tartlet tins, make sure there are no gaps in the pastry, or the filling will leak through.
Refrigerate until ready to fill.
For the Filling

Combine blackberries, sugar, lemon zest and juice into a small saucepan over medium heat.
As the blackberries begin to warm, squish them with the back of a spoon or a fork so that only a few remain intact and the rest begin to boil into a jam.
Cook over medium heat and allow the blackberries to bubble.
In a small bowl, combine water and cornstarch until cornstarch is dissolved. Pour into the blackberry mixture and allow to bowl again.
When the blackberries have become a darker black color, rather than bright red, take them off the heat and allow the filling to cool to a little warmer than room temperature to set.
To Assemble

Preheat oven to 350 degrees Fahrenheit.
Spoon filling into the prepared tart tins with crust, leaving at least 1/2 inch to the top of the crust. The filling will bubble up again in the heat.
Decorate with hearts, mini lattice, or full crust tops.
In a small bowl, beat the egg. Brush the egg onto the visible bits of crust so that they brown well in the oven.
Bake in preheated oven for 20-25 minutes, if you are using small tartlets. If you opt to attempt making a regular-sized pie, bake for 45-50 minutes, checking to see when the crust becomes golden brown.
Serve with ice cream.
http://thebayleafkitchen.com/mini-blackberry-pies-with-honey-crust/