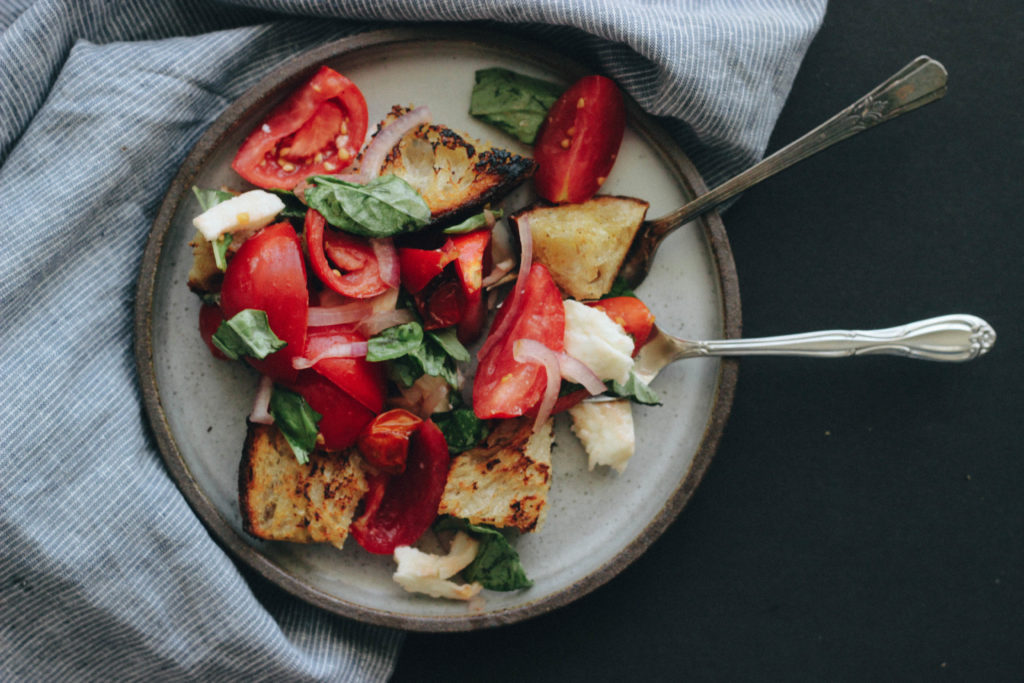 This Labor Day weekend, we were too late to plan a fancy getaway to another city, so we decided to take advantage of the city's mass exodus of locals to go to Burning Man, and spend some time in San Francisco – something we surprisingly do very infrequently. The new MoMa in San Francisco has been open for four months and we still hadn't gone. I have a giant list of restaurants I want to try but are too hard to get reservations for. So this weekend, that's what we did.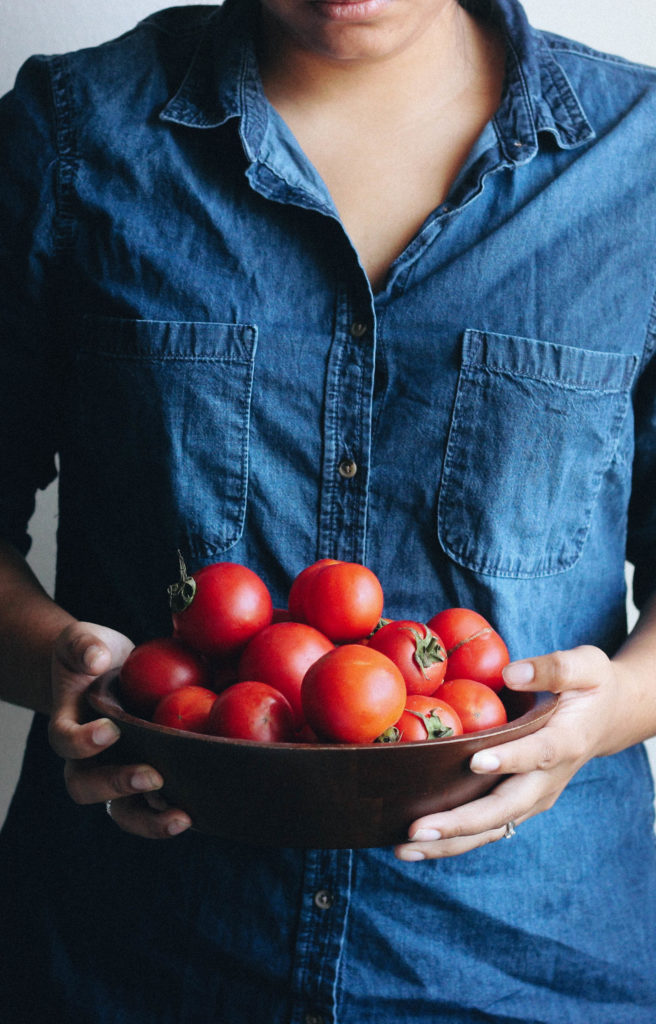 It was a weekend full of art and food and friends. We finally went to Zuni Cafe! This place has been on my bucket list ever since I learned to roast a chicken, and ever since I bought The Flavor Bible, my favorite cookbook, which references the amazing dishes that have been prepared at this restaurant.
My experience with the roast chicken and bread salad met my extremely high expectations. The bread was warm and somehow soft and buttery without being soggy – like what stuffing should be. The chicken had crispy skin and was soft and flavorful. Everything was amazing. I even tried a French 75 cocktail for the first time – definitely a new favorite.
We had dinner with friends the next evening and I volunteered to bring a side dish mainly to experiment with a delicious bread salad. This time, though, I added tomatoes – not present in Zuni bread salad, but more typical of panzanella, or Italian bread salad (basically, bruschetta in salad form).
Our local farmers market has a stand that has been selling the end of the season's Early Girl tomatoes the last two weeks. These tomatoes are small, deliciously crunchy, sweet, and somehow a little bit naturally salty (don't quote me on that though, maybe it's because I naturally associate the taste of tomatoes with salt?). I bought 3 pounds of these beauties 1) to eat plain, apple-style 2) to use the very best tomatoes to make a world class panzanella. Our farmers market is also extremely fortunate to have a bakery stand from our closest 3-Michelin-starred Manresa – which I take full advantage of in the form of flaky, crispy croissants or Kouign Amanns every Sunday morning. I picked up a loaf of whole wheat levain for my panzanella.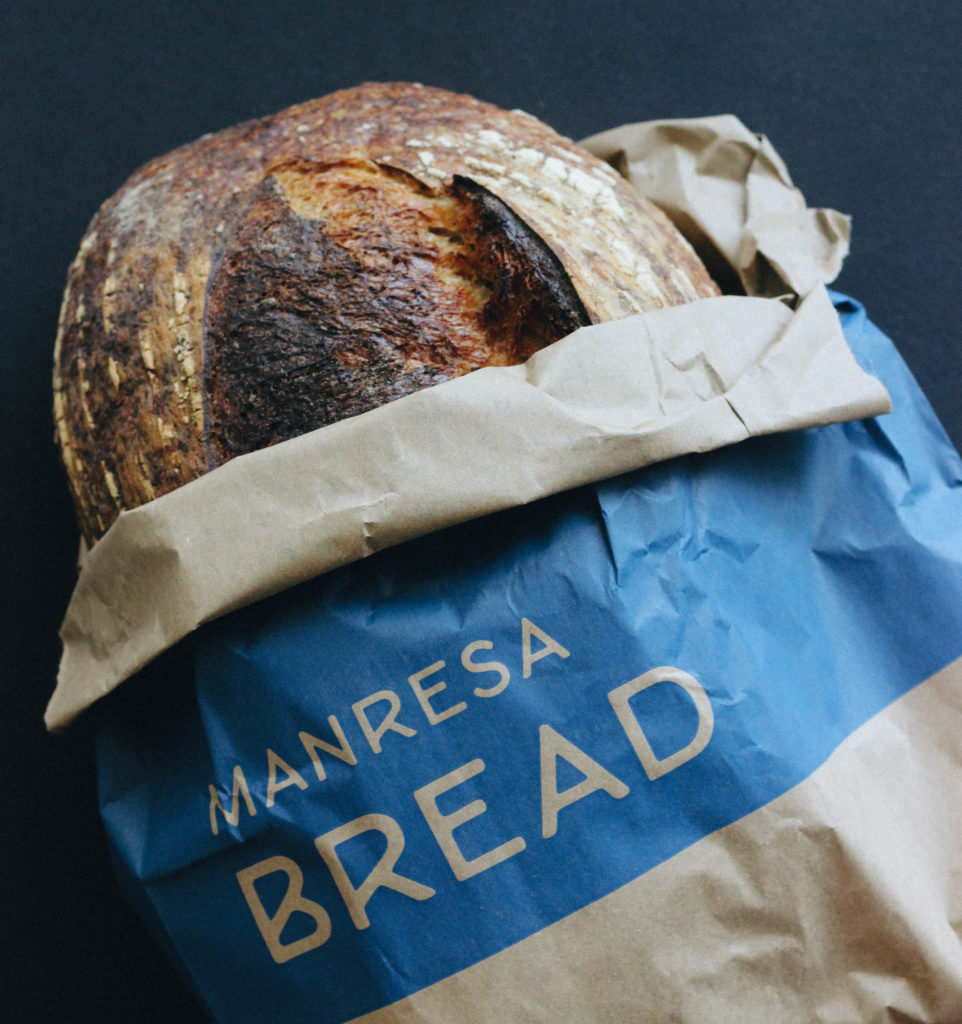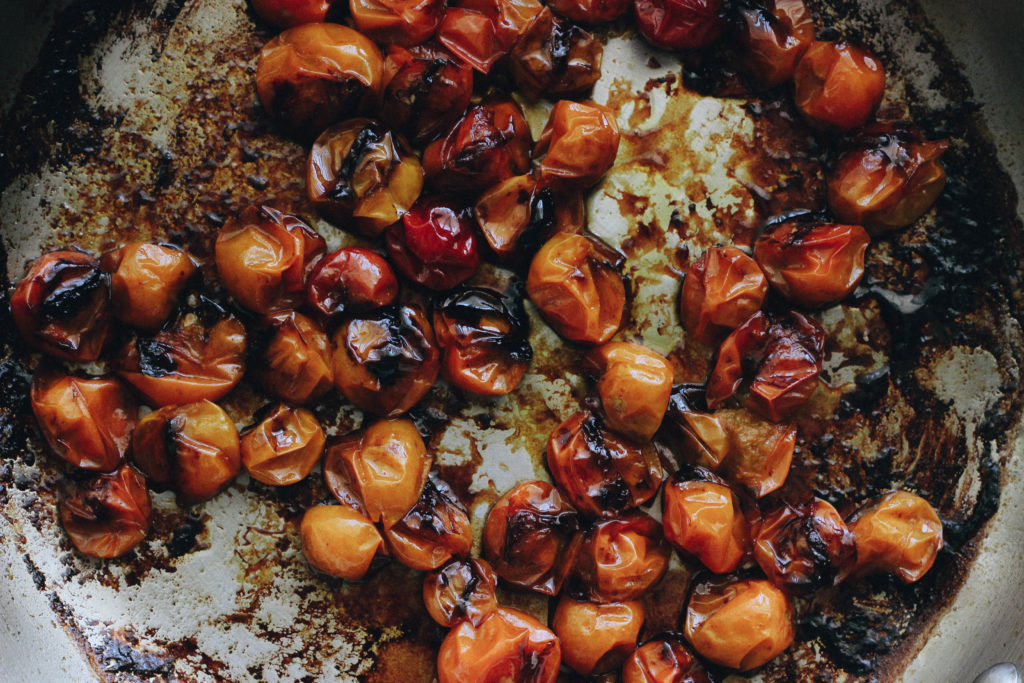 After splurging on all these delicious fresh ingredients, my panzanella was extremely tasty! Our friends thought it was delicious, we were happy, and though it wasn't really like the Zuni bread salad, which has cranberries and pine nuts, it was a perfect side dish to acknowledge the closing of the summer over the Labor Day weekend.
Early Girl Tomato Panzanella
Ingredients
2-2 1/2 lbs. Early Girl tomatoes, chopped into quarters
1 pint cherry tomatoes
2 cups crusty bread chopped into 1-inch cubes
1/2 small red onion
1 tsp. salt
1 tsp. lemon juice
1/2 tsp. garlic powder
3 tbsp good quality olive oil
1 tbsp good quality balsamic vinegar
1 8 oz. ball of fresh mozzarella
pepper to taste
Instructions
Carmelized Tomatoes

In a saucepan heat 1 tbsp of olive oil over medium heat until smoking and slightly bubbling.
Add cherry tomatoes and allow to cook for about 20-30 minutes, until the bottoms have browned, and the tops are very wrinkly.
Gently flip the tomatoes once and continue cooking for 10-15 minutes until the other side is browned.
Set aside.
Tomatoes

Chop the red onions into thin slivers. Toss with the Early Girl tomatoes.
Add salt and lemon juice to the tomatoes and stir well.
Allow to sit for about 30 minutes and let the juices seep out.
After 30 minutes, drain the tomatoes of the extra juice using a collander and pat dry with paper towels.
Set aside.
Toasted Bread

In a small bowl, combine 1 tbsp of olive oil with the garlic powder.
Pour over the bread cubes and toss well.
In a saucepan over medium heat, toast the bread cubes until lightly browned, about 10-15 minutes.
Set aside.
Put it all together

Chop the mozzarella into small bite-sized pieces.
In a large bowl, combine the caramelized cherry tomatoes, the marinated Early Girl tomatoes and onions, and the mozzarella.
Pour over the remaining 1 tbsp of olive oil and the balsamic vinegar.
At most, 20 minutes before serving, toss in the bread cubes to avoid sogginess.
Enjoy!
http://thebayleafkitchen.com/early-girl-tomato-panzanella/