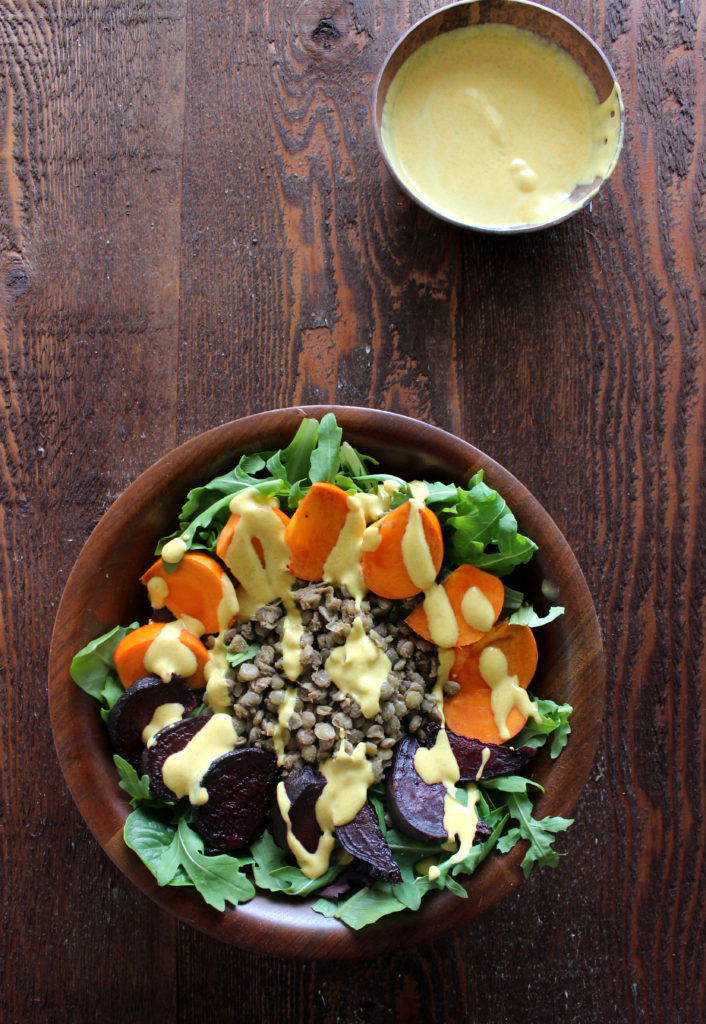 I hate dieting. Dieting is one thing in life that I wish was never ever necessary. There is so much good food in this world, and how I wish that I could always feel ok about eating it. That's sort of how I imagine heaven: a place with amazing food where you never have to worry about eating or not eating whatever you want because you won't get fat!
But because of holidays like Thanksgiving and Christmas, I always feel compelled to restrict myself, count up calories, forbid carbs, etc. by the end of the holidays. It's not that I overeat during the meals, I just eat primarily the sugars, and especially, the pies. While I'll rarely have a large portion of the mashed potatoes, I'll often have, at the very least, a second helping of dessert.
So because I am not a naturally healthy eater, my trick to making myself eat better is to make my health foods extra tasty. I can trick my brain sometimes into eating something healthy if I am generous with the flavors. I try to also make easy, attainable goals and stick to them. At the office, I often ask myself "is this candy bowl really WORTH me spending calories on?"
If you treat calories like money, you're much more careful about what you can afford, and you really want to make them count. You wouldn't buy an expensive piece of clothing unless you thought it was worth it, and you wouldn't have as much leftover for cheaper items. In the same way, picking high calorie foods mean you have less calories to spend on other things later. This is my diet philosophy. And one I plan to stick to. Tomorrow, of course.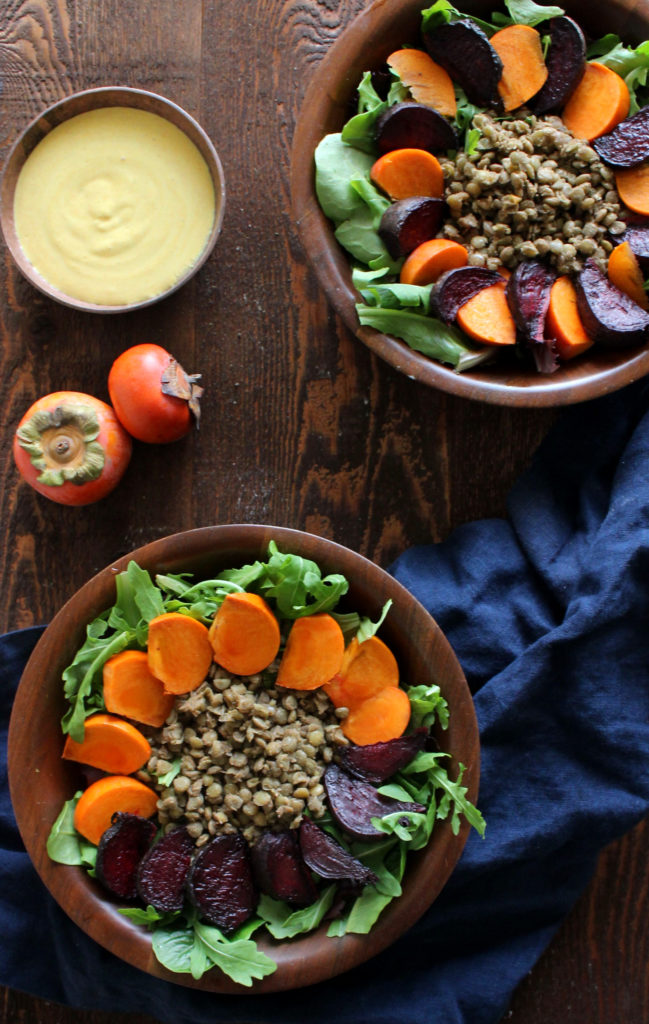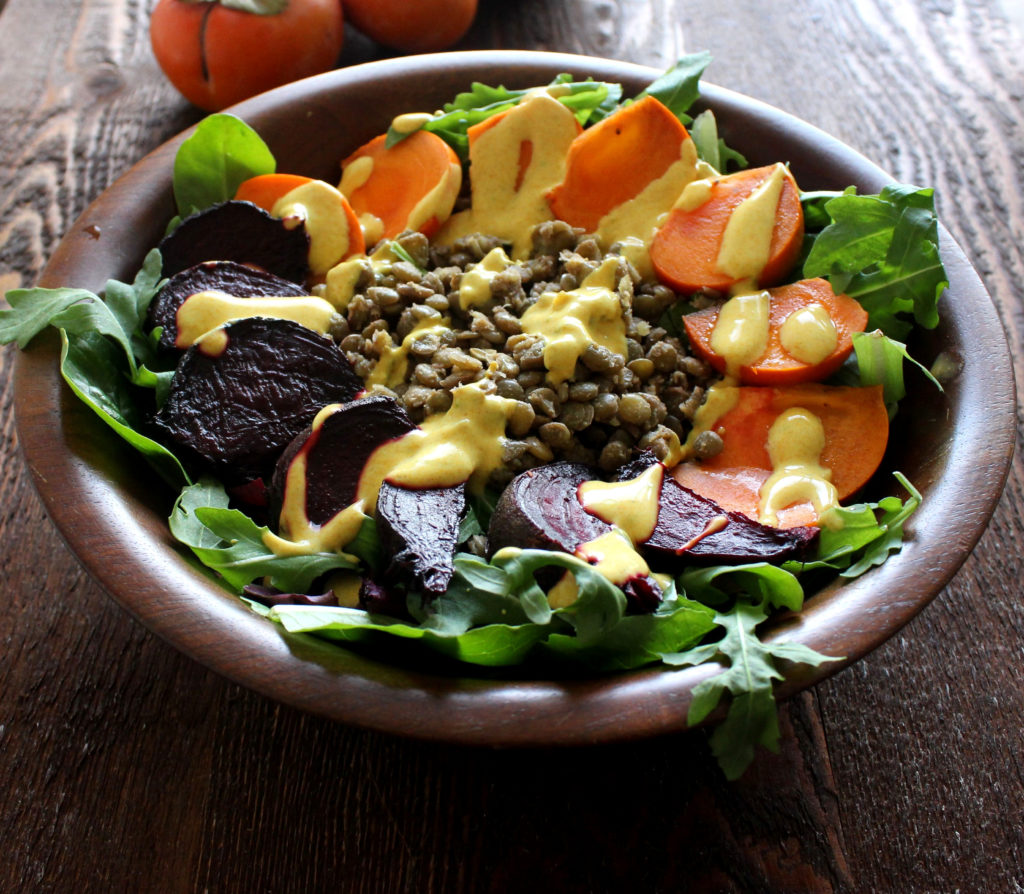 This salad is everything I crave after feasting on foods I shouldn't have eaten so much of! We had a great Thanksgiving, even though it started out dramatically. We replaced the full brake system on our car this week, but something was loose and broke off during the drive up. We were stranded for a couple hours at a McDonald's about halfway to our destination, but thankfully, were rescued by a kindly family member. Because of the holiday, I think my reaction was a little less explosive when the car failed. It really helps to think of people you are thankful for when things go off plan. And I hope to remember this even when it isn't Thanksgiving!
I didn't have any time to make a dish to contribute to the meal this year, so we ended up eating all the traditional sides and turkey that my family made. We made it to two Thanksgivings, but we could only eat at one, because we really stuffed ourselves to bursting. So this salad makes me feel better about the Thanksgiving feasting because it is full of power health ingredients needed during the winter months. I made it last weekend, and thankfully, have the leftovers to get me back on track with healthy eating this week.
The lentils, which are high in fiber and vitamins, are flavored with garam masala, which is a tasty Indian spice mixture that includes cumin, coriander, cardamom, & cinnamon. It's one of my go-to spice drawer essentials. The dressing is also very flavor-heavy, featuring lime, cumin, & turmeric- a powdered root vegetable that looks like orange ginger when it's fresh, and is especially known for its anti-inflammatory qualities and connection to weight loss. The roasted beets & the sweet persimmons add a little crunch and more lovely color and sweetness to the whole dish. On top of eating salad, I'm drinking lots of water and still counting my blessings when we go to pick up our (hopefully!) fixed car. Happy Thanksgiving to all, and I hope you had a wonderful time with your family and are planning to decorate for Christmas immediately, like me.
Post-Holiday Detox Lentil Salad with Turmeric Lime Dressing
Ingredients
For the Lentils

8 oz. dried lentils
2 tsp garam masala
1/4 tsp salt
1 tsp olive oil
For the Dressing

1 cup plain yogurt
zest of 1/2 lime
juice of 1/4 lime
1 1/2 tsp turmeric
1/2 tsp cumin
1/2 tsp salt
For the Salad

3 beets
3 tbsp olive oil
sprinkle of granulated sugar
4 persimmons
mixed greens
arugula
Instructions
For the Salad

Preheat oven to 400 degrees Fahrenheit.
Spread wax paper over a baking sheet
Slice the beets into 1/4 inch thick slices and spread over the baking sheet
Drizzle the oil over the beets and sprinkle with sugar
Bake for 25-30 minutes, or until soft when stuck with a fork.
Slice the persimmons and set aside.
Wash the lettuce thoroughly and set aside.
For the Lentils

Prepare the lentils according to the package directions. Drain well.
Allow lentils to cool completely until adding spices, or they may be too soft and can be easily mushed.
When cool, add olive oil, garam masala, and salt. Stir well to combine and set aside.
For the Dressing

Mix yogurt, lime juice and zest, turmeric, cumin, & salt together.
Keep to the side until ready to eat. Do not spread over the salad until just before eating.
To Serve:

Arrange lettuce on the bottom of the bowl and cover with lentils, persimmons, and roasted beets.
Add dressing to taste
Enjoy!
http://thebayleafkitchen.com/detox-salad-with-turmeric-dressing/