As I edited photos for this post, I had to eat chocolate chips to curb my craving for cupcakes. I take this as is a sure sign of a good recipe.
Sometimes you just need a good old regular chocolate cupcake with chocolate frosting. But I've learned through the years that "chocolate cupcake" is, (in the words of a meeting I attended recently at work where we were trying to define our team "culture") a "black-hole word." When I think of chocolate cupcakes, I think of elementary school birthdays and Safeway. But you probably have your own definition of what a "chocolate cupcake" should taste and look like.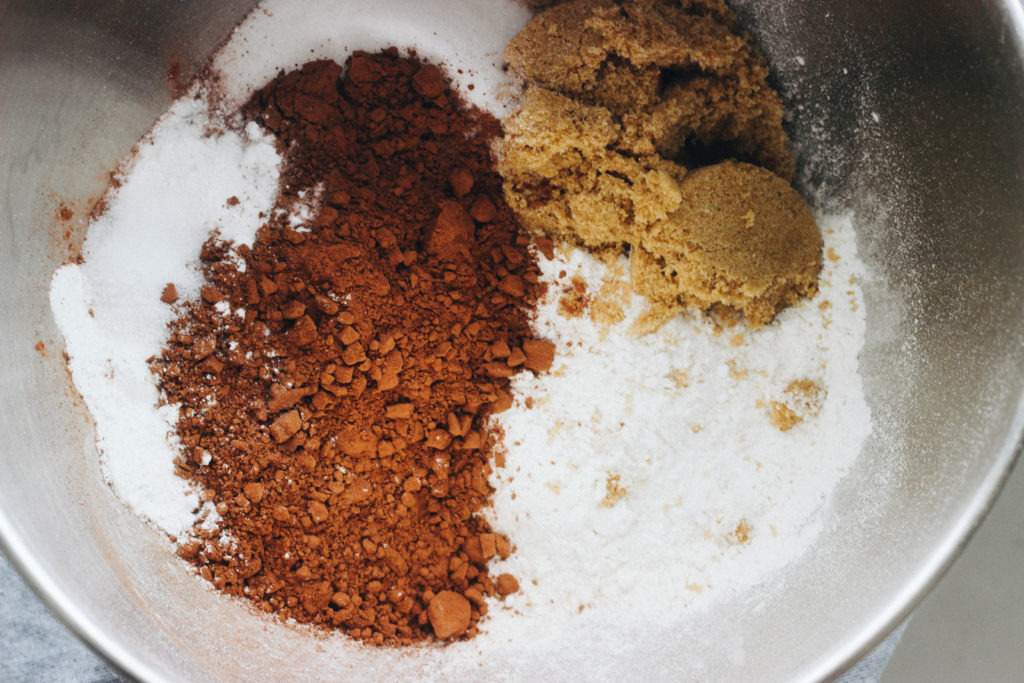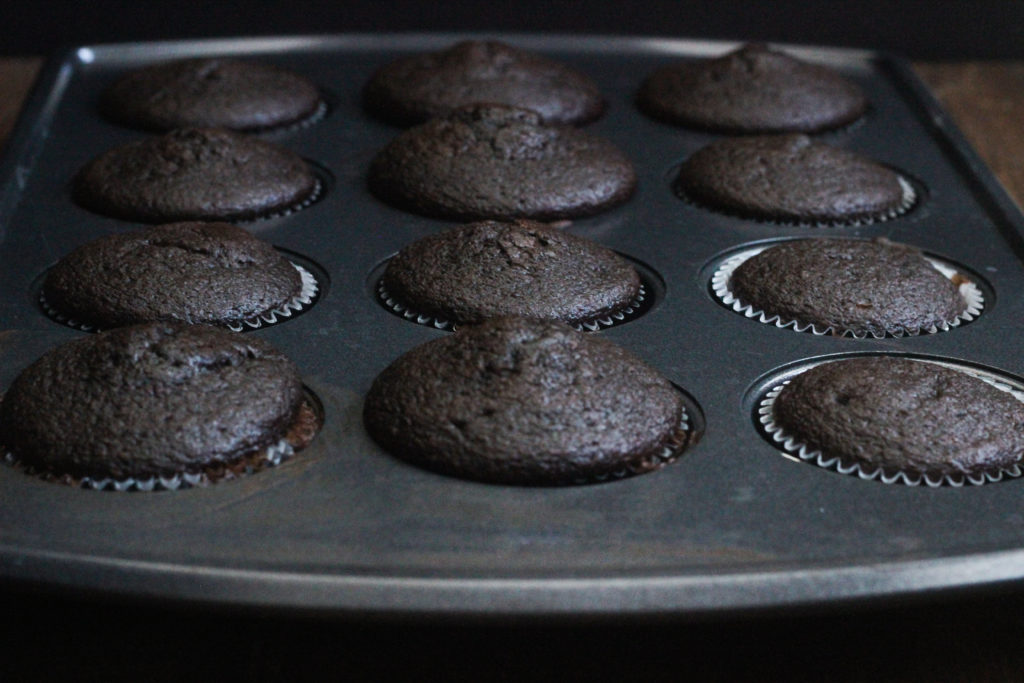 In my memory, it was regular policy back at my elementary school for the parents to send or bring their kids' favorite treat for the whole class to enjoy. It was a bit of a competition. Some parents would go the homemade route and bring in cookies, or Rice Krispy treats. Others — and these were always my favorite — would go the non-traditional route and bring in Twinkies or other Hostess Goodies (side note: do you remember when they were going to never make Twinkies again? Pretty sure now that that was DEFINITELY a marketing ploy to get people to stock up or try them to see what they were going to miss, and then get addicted).
These were obviously great days, but there were sometimes kids who brought in Safeway cupcakes for their treat.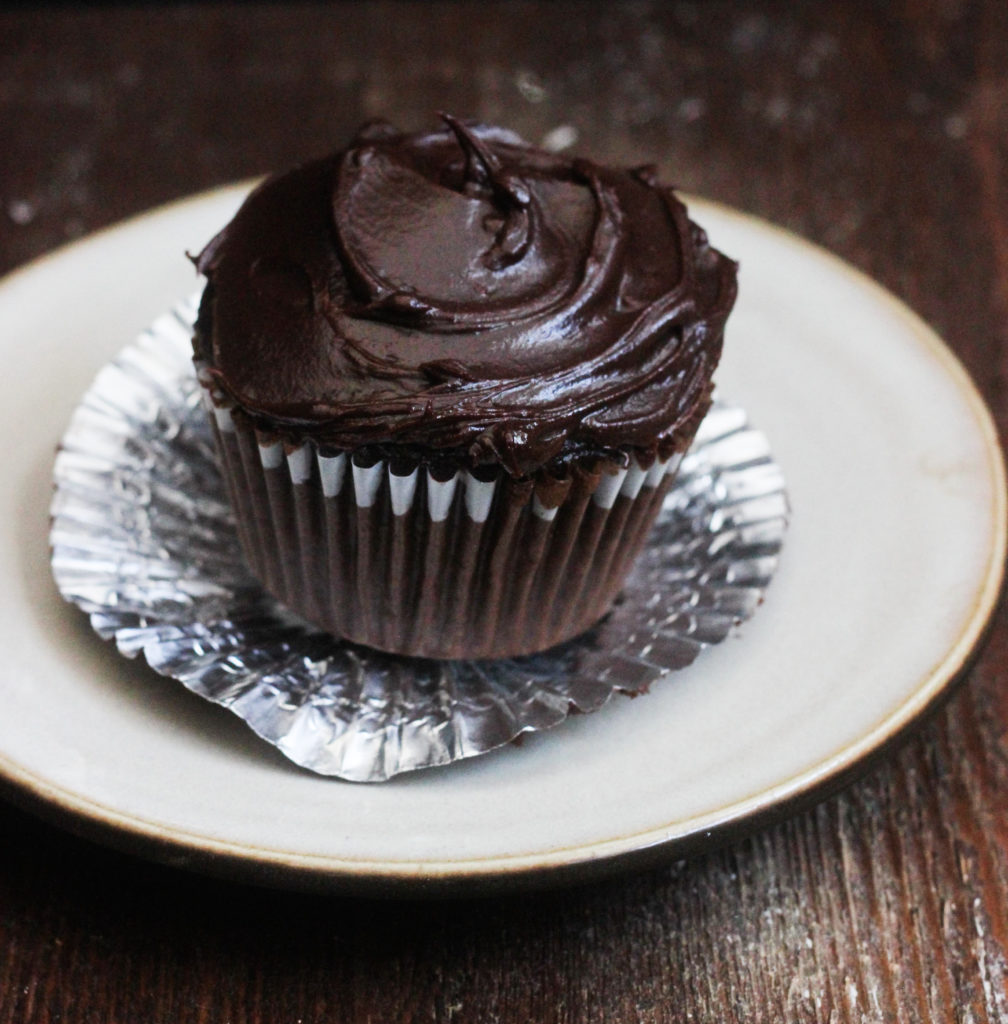 Don't get me wrong, as a kid I probably couldn't care less. Sugar was sugar and I was happy to eat treats. I bet I even brought in Safeway cupcakes to class for my birthday. But now the thought of Safeway cupcakes (or any grocery store cupcakes besides maybe Whole Foods) — chocolate,  vanilla, with colored (ew ew ew!) "buttercream" frosting really grosses me out. Their "chocolate" flavor tastes very un-chocolatey, and I'm convinced the frosting is just white frosting with brown food coloring.
So now that I'm through with that rant….let me give you a better way. This chocolate cupcake recipe hits all my requirements for what makes a good chocolate cupcake. In my world, the base should be sweet, and taste faintly of chocolate. And the top should be ganache — or basically melted chocolate with a splash of cream & some corn syrup. This helps achieve the perfect balance of "cake" and "chocolate," and you can add more frosting if you want a more pure chocolate taste.
These were so good, we had to give them away when we baked them, or risk eating them all in one day. But now I kind of regret it and wish I had more to eat right now. At least my birthday is coming up this month!
Straight Up Chocolate Cupcakes with Ganache Frosting
Ingredients
For the cupcakes:

1 1/2 cup all purpose flour
1/2 cup + 2 tbsp cocoa powder
1 tsp baking soda
2 tsp baking powder
1/2 tsp salt
2 eggs
3/4 cup brown sugar
1/2 cup white sugar
1/2 cup vegetable oil
1 tsp. vanilla extract
3/4 cup heavy whipping cream
1 cup boiling hot strong brewed coffee (or boiling water + 2 tsp instant coffee)
For the frosting:

2 cups semi-sweet chocolate chips
1 tbsp white corn syrup
about 3-4 tbsp heavy whipping cream
Instructions
For the cupcakes:

Preheat oven to 350 degrees Fahrenheit.
Line a 12- cup muffin pan with cupcake liners (I like the double liners -- 1 paper, 1 foil)
Combine the dry ingredients (flour, cocoa powder, baking soda & powder, salt) in a medium bowl and set aside.
In the large bowl of a mixer (you can use a handmixer too), combine sugar and oil until light and fluffy on medium speed about 3-5 minutes.
Add the eggs in on low speed and continue mixing for about 2 more minutes.
Add whipping cream and vanilla and mix until just incorporated.
On low speed, and very very slowly, pour in the hot brewed coffee. The batter will be very runny.
Spoon approximately equal amounts of batter into the cupcake-lined muffin tin -- about 3/4 of the way full.
Bake for 20-25 minutes.
When finished, allow to cool in the pan.
For the frosting:

Using a double boiler (or a glass bowl over a pot of boiling water), combine chocolate chips and corn syrup.
Melt the chocolate chips until totally smooth.
Add 2 tbsp of heavy cream and take off the heat.
Stir until totally smooth and shiny.
If it's still a little lumpy, add more heavy cream and stir over the hot water pan until totally smooth again.
The ganache will be shiny and drippy when finished. Allow it to firm up for about 15-20 minutes in the fridge. Then frost each cupcake when totally cooled.
http://thebayleafkitchen.com/chocolate-cupcakes-ganache-frosting/