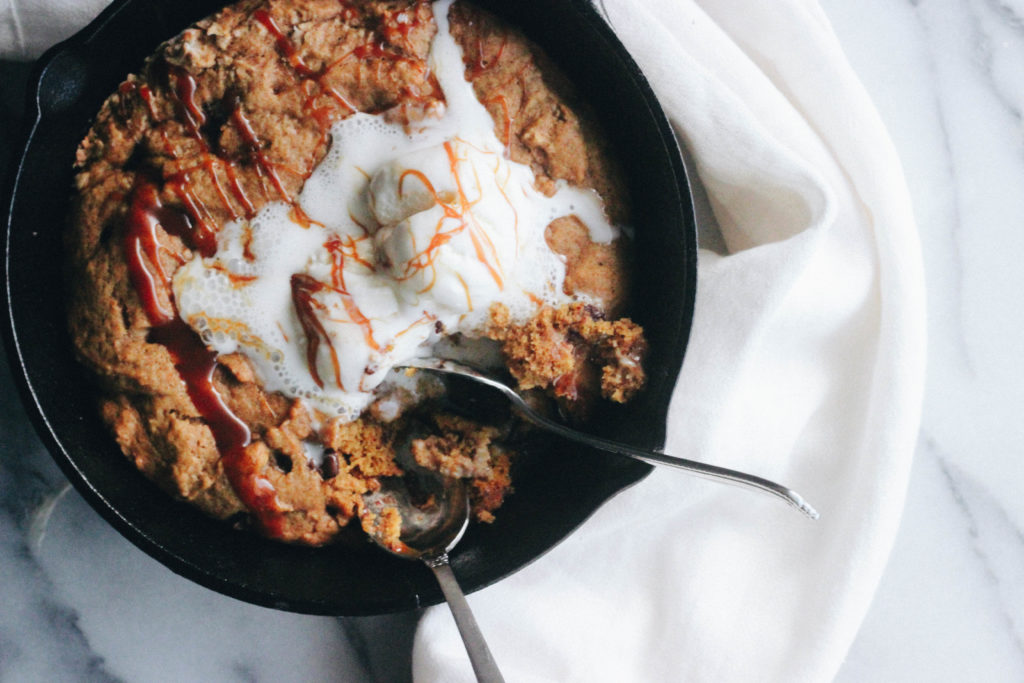 Happy Halloween!
Hope everyone stays safe out there tonight and enjoys boatloads of candy – preferably gummies. Here's how Halloween candy shakes out in my book:
OFFICIAL HALLOWEEN CANDY RATING:
1st place: gummy packets – Swedish Fish, Sour Patch Kids, Haribo gummy bears (in that order)
2nd place (tie): Fun-sized Twix, fun-size package of Twizzlers
3rd place: Fun-sized Reeses
Honorable Mention – anything specifically Halloween-themed like candy corn gets a smile and a nod – not a top-3, but definitely appreciated.
Last place: cheap assorted hard candy, Smarties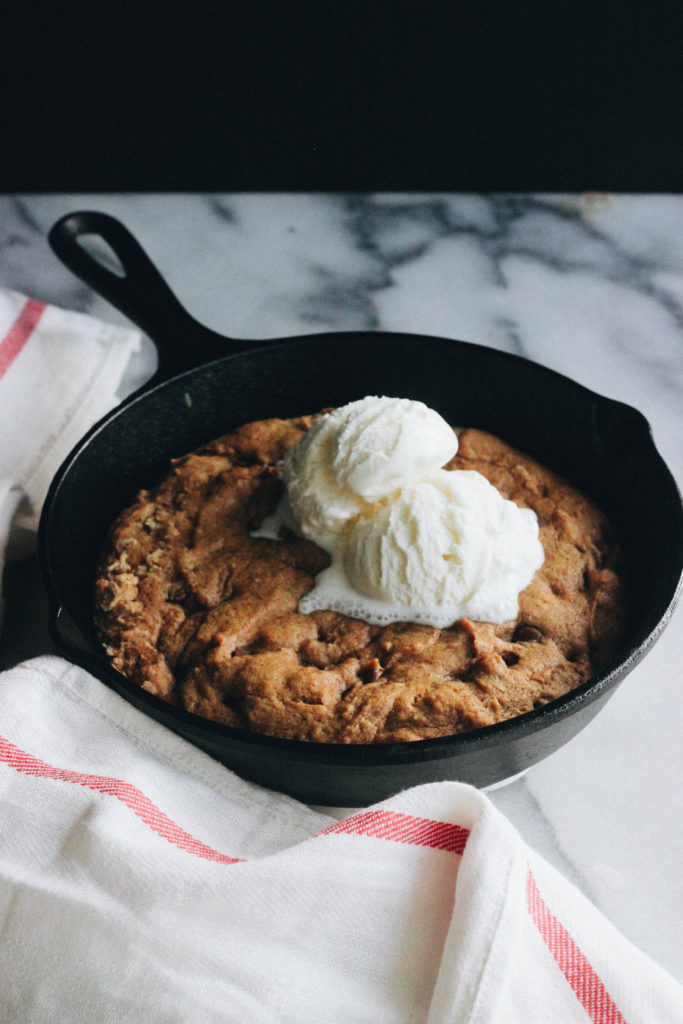 A few fun updates about my life – I'm at a new job! Much closer to home and working on really cool and inspiring projects. I've moved from book publishing to the philanthropy space, from marketing to communications – in an effort to find out what best suits my skills and my passions.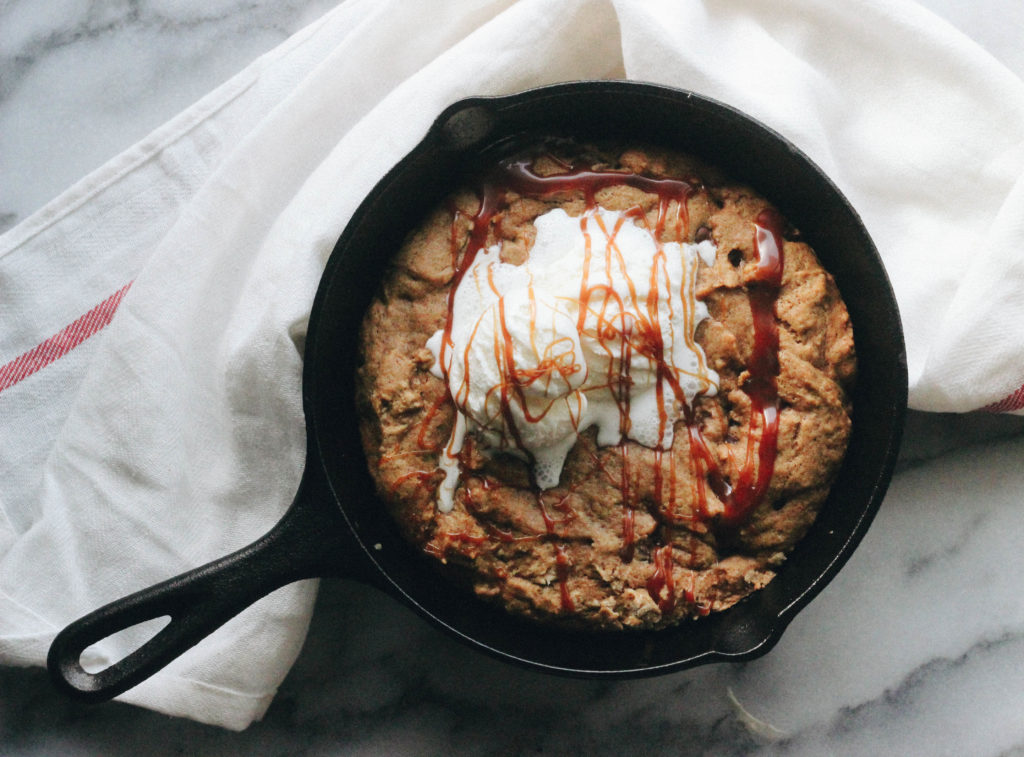 And now we are on the hunt (but rather casually) for a new apartment that will let us adopt a dog- child. Ever since moving to the Bay Area, I've wanted a dog, and I feel like this is a good opportunity. It's hard to make the decision to transition, especially since we've had the HUGE blessing of our apartment, which is most certainly a steal for this area. So, we're in no hurry, but we're keeping eyes open and touring apartment complexes that are dog friendly.
This skillet cookie, or as I fondly call it, pizookie, harkens back to the times I'd go to BJ's – a chain restaurant/brewery – to get their famed pizookie. It's a pizza cookie, but they serve it to you in a skillet, fresh-baked, hot out of the oven, with a melting gob of ice cream on top. They were always so creative with their flavors – I've had cookies and cream, red velvet cake, white chocolate macadamia, but my favorite was always the classic chocolate chip. I've added some pumpkin as a nod to the season, and this is the perfect cozy fall dessert.
Pumpkin Chocolate Chip Skillet Cookie
Ingredients
3/4 cup pumpkin puree
1 cup brown sugar
1 2/3 cup flour
1/2 cup (1 stick) unsalted butter
1 tsp baking powder
1/2 tsp baking soda
about 1 1/2 cups of chocolate chips
1 heaping tsp cinnamon
1/4 tsp cloves
1/4 tsp nutmeg
1 tsp vanilla
1 egg - room temperature
1 tsp salt
Instructions
Preheat oven to 350 degrees Fahrenheit.
In a medium bowl, melt the butter until liquid.
Add brown sugar, vanilla, and pumpkin puree to the melted butter - mix together.
Crack the egg into the bowl, and mix together well - so that all the white has been incorporated evenly through the mixture.
In a separate bowl, stir together the dry ingredients - flour, baking soda and powder, cinnamon, cloves, nutmeg, and salt.
Add the dry ingredients to the wet ingredients, stir, but be careful not to overmix.
Right before all the ingredients have been incorporated, stir in the chocolate chips.
Grease 2 6-inch skillets or one large 10-inch skillet.
Pour the batter into the skillet and spread across the bottom evenly with a spatula.
Bake for about 25-30 minutes, testing the middle at 20 minutes. I love having a slightly raw pizookie straight from the oven, so I took mine out at 20 minutes.
Serve with ice cream and caramel sauce.
http://thebayleafkitchen.com/pumpkin-chocolate-chip-skillet-cookie/