In the last week and a half, I've effectively booked every weekend of October, extending into November on my social calendar. I feel so popular! I've got birthdays & a wedding, family visits, and time spent with friends to fill up my next many weekends.
I think my influx of events is partly because it is fall and everyone is back from their summer holidays. But I like to think it's because my inner coolness has finally been discovered & everyone wants to hang out with me all of a sudden (insert sunglasses emoji) (that must be it, right?).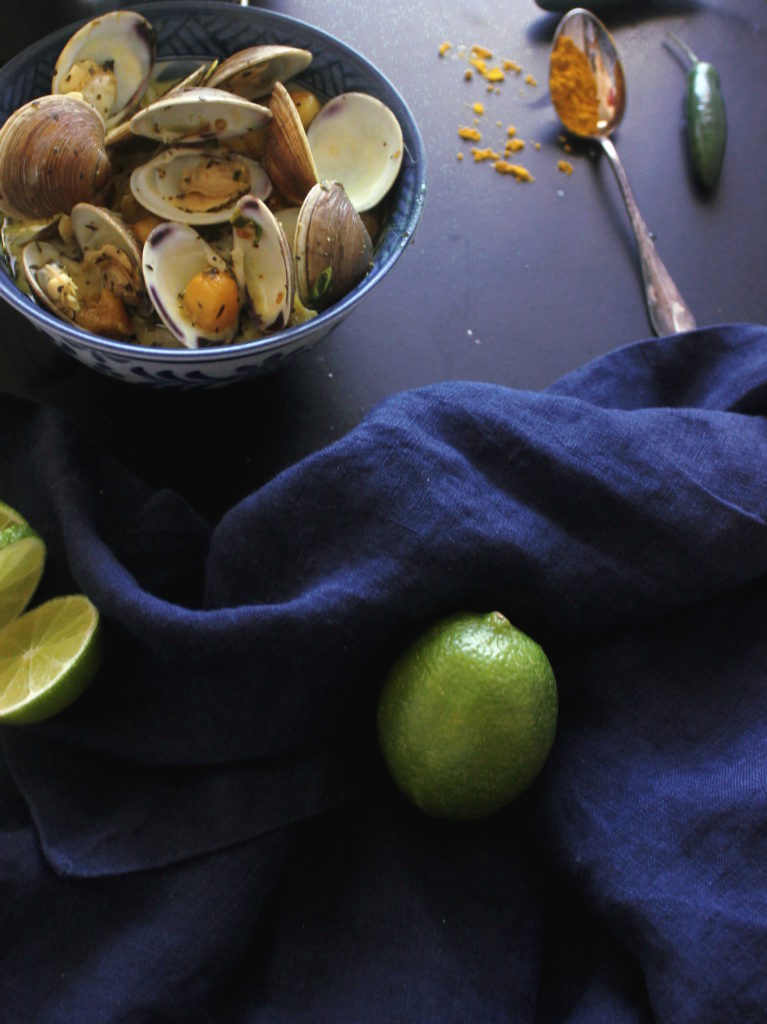 As an extroverted introvert (I'm INFP on Myers Briggs, but the chart from the test I took put me close to the middle on each of the categories) having plans makes me excited, but also, I feel just drained of energy when I think about them too much. It's sort of a weird balance in my life. I love resting, but it depends on my mood- because it can either make me feel antsy and want to clean everything, or redecorate, or try a new recipe. Or, I just end up enjoying some quality couch potato time (I'm making my way through Friends on Netflix right now, and The Great British Baking Show on PBS where they say lovely & exciting things when they are happy like, "That's just cracker!"). I think Jon is the same way. Sometimes, we'll have a plan for the evening, and then look at each other and say "nah" and go to Safeway for some ice cream and to rent a movie.
In any case, it's going to be a (fun!) busy month and I'm excited for all the social gatherings and for reconnecting with friends and family.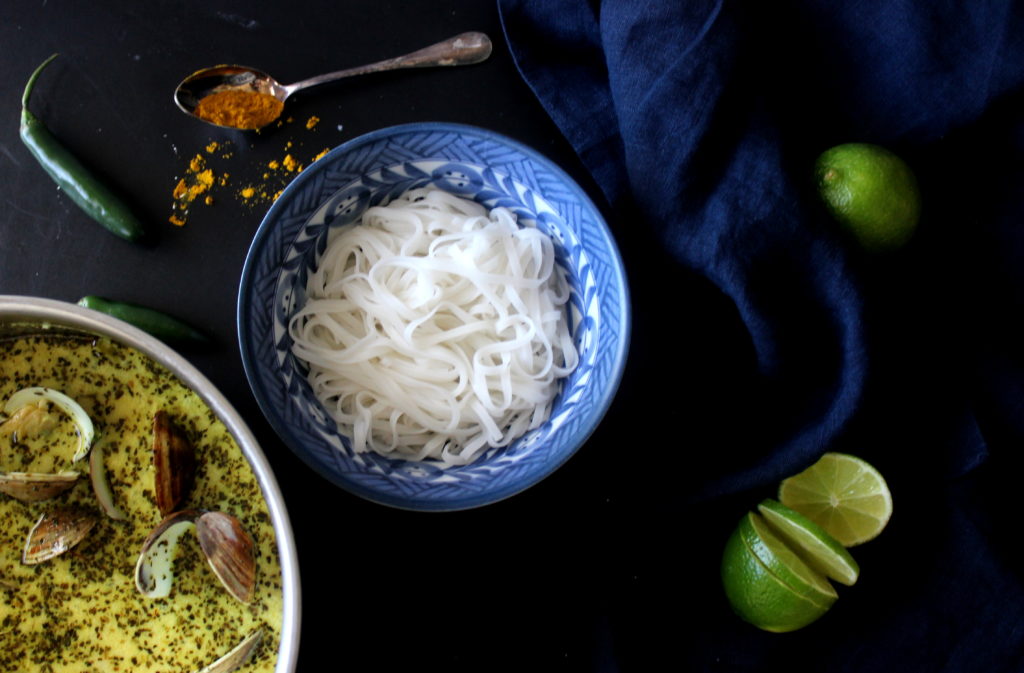 This coconut curry lemongrass clam soup is deceptively complex. The only difficult part about this recipe is amassing the ingredients. I think this would be a good candidate for Rachel Ray's 30 minute meals, and is also a great candidate for a quick and easy, but special meal to impress a friend coming over for dinner.
I love the look and taste of fresh clams in this meal, but you could easily substitute chicken or shrimp. I added in some bay scallops too, because I don't like to be stingy with seafood like most restaurants I've been to.
Also, it was my first time ever cooking with lemongrass, though, definitely not my first time eating lemongrass. It's common in many Asian, and particularly Thai, soups and sauces. But it's kind of a weird plant to deal with, so I had to Youtube it. This lady's video is so helpful and easy to follow. Plus she has amazing and enviable knife skills. You get to smash the lemongrass to release the flavor, reinforcing my point about how stress-free and possibly stress-relieving, this recipe is.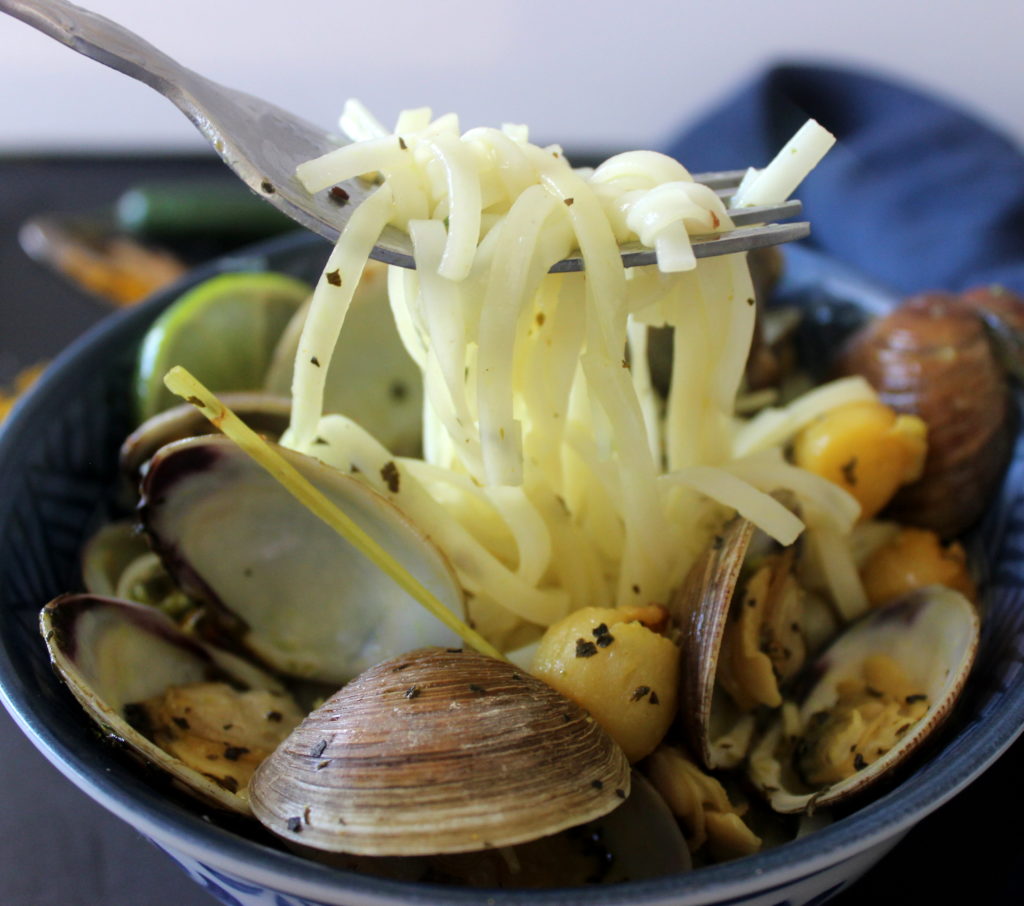 Coconut Lemongrass Clam Soup
Ingredients
1 lb fresh live clams
½ lb small bay scallops
1 can full fat coconut milk
2 bottles of clam juice
½ tsp fish oil
2 stalks of lemongrass
1 red or green chile pepper, de-seeded
1 tbsp curry powder
1 tsp pepper
1 tsp salt
2 tsp dried basil
1 pinch of saffron
1 bay leaf
2 tbsp of coconut (or olive) oil
1 tsp minced garlic
rice noodles to serve
Optional garnish: Lime wedges
Instructions
First, prepare the clams by letting them soak in cold water for 5 minutes.
After soaking, drain out the water, and using a stiff-bristled brush, scrub the clam shells. If any of the clamshells are open, and do not appear to close with handling, discard.
Soak again and repeat the process once more. While preparing the rest of the ingredients, allow the clams to soak in cold water
In a separate bowl, rinse and drain the scallops.
To prepare the lemongrass, treat as you would a green onion, by cutting about 1 inch off the bottom stalk, and the upper branched parts, leaving only the middle to work with.
Peel off the wood-like layers and discard until you reach the layer that still smooth and is very lightly green or white (usually 1-2 layers in, depending on how fresh the lemongrass is).
Using a heavy rolling pin, or the back of a sturdy soup ladle, pound the stalk 3-4 times to release the lemony aroma, then chop into 2-3 large chunks. This is a great video tutorial—pay special attention to the 3rd method of preparing lemongrass—"for soup" https://www.youtube.com/watch?v=58rSRxb_BMU
Chop the chile pepper into small chunks.
In a small frying or sauté pan, heat the oil on medium until warm. Add garlic and red chile until the garlic turns a golden brown. Add the bay scallops and cook until scallops are slightly browned, or at least, no longer slightly transparent.They will still be very soft.
Add spices (curry powder, pepper, salt, basil, saffron) to the pan when scallops are cooked.
Stir well, and set aside, off the heat.
In large sauce pan, boil water on high. When water is at a rolling boil, add the rice noodles, and turn off the heat, but keep the pan on the hot burner. Set a timer for 5 minutes.
After 5 minutes, drain the rice noodles and rinse in cold water to stop them from cooking. Allow noodles to soak in cold water while you prepare the soup.
In a large sauce pan, add coconut milk, clam juice, bay leaf, and lemongrass. Bring to a rolling boil.
Drain the clams and add to the pan.
Cover with lid and cook for 3-5 minutes, or until all the shells are wide open.
When clams are cooked, take the saucepan off the burner and turn off the heat.
Add scallop and spice mixture and stir. Place back on the still-warm, but turned-off burner to heat slowly through.
Take out the bay leaf and as many strands of lemongrass as you can before serving (it's ok if a few are left inside)
To serve, drain and dry the rice noodles and place your desired portion into a bowl. Spoon the soup over the noodles, and serve immediately.
Optional: garnish with chopped chile pepper and lime wedges.
Enjoy!
http://thebayleafkitchen.com/coconut-lemongrass-clam-soup/