Last year, Jon and I honeymooned in Ireland (Cork, Galway, & Dublin), England (Bath, Oxford, & London), and Paris. On the last leg of our trip, what we were really craving was not fancy cheese or bread, even croissants. We wanted fresh veggies and fruit.
I was so relieved to see fruit as a side dish on a Parisian menu, but was sadly disappointed when what I ordered turned out to be fruit cocktail instead (complete with those ambiguous grape/cherries that come in the cans in the U.S.!). This isn't the case in most French restaurants, I'm sure.
But as a tourist, away from home for so long and craving something uncomplicated and fresh with lots of fiber and vitamins to heal my poor digestive system from the pigging-out it had endured for days, it was a little anti-climatic to receive my fruit in soggy, unidentifiable chunks in a fancy glass bowl. (And, I probably picked the wrong restaurant to begin with).
Growing up in California definitely has its blessings. Californians are so close to fresh produce from the abundance of farms around us, including ripe avocados, leafy greens, crisp apples, juicy tomatos. My trip abroad proved to me that delicious produce isn't a given in every country or city.
One of the many joys in my current life living in the Bay Area is the access to big, amazing farmers markets. My favorite part is waking up, slapping on yoga pants, grabbing bags and loose change, thinking up a preliminary list, then getting to the farmer's market and being over-wowed by fresh in-season eggplant or poblano peppers or English peas or what-have-you, and changing all my cooking plans around that star ingredient. As I've mentioned before, I'm a big advocate of going in with a plan, and coming back with a bushel of surprising goodies to try out. It's how I stay inspired.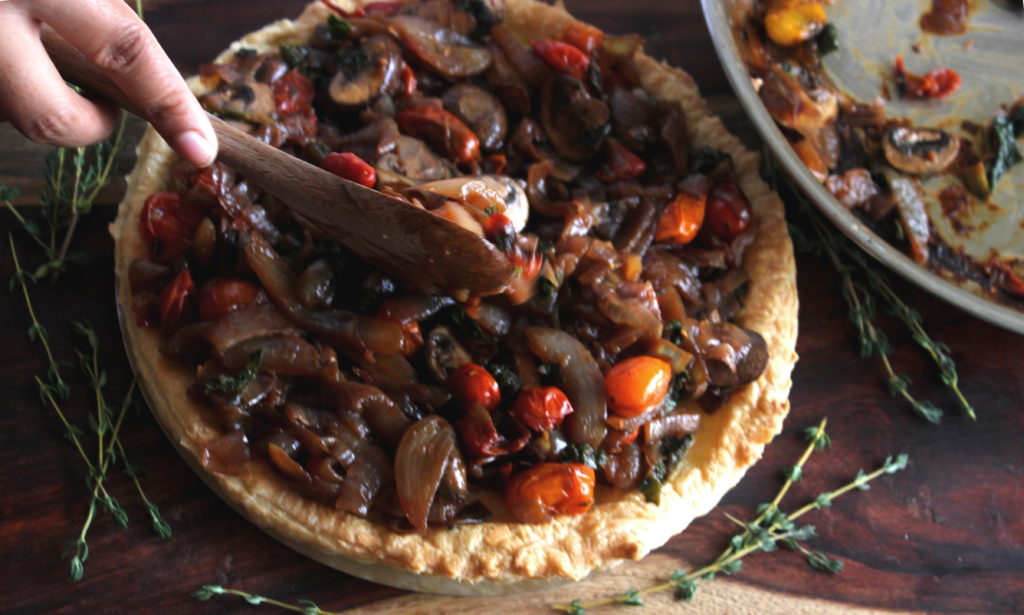 On the side, I volunteer with an organization called Kitchen Table Advisors that shares my love of farmer's markets. They help small sustainable farms with their business planning & financial advice so that they can also thrive in the competitive economic landscape.
I help on the social media side, and our big project was to grow the buzz around Kitchen Table Advisors' first fundraiser event. I couldn't help but catch the contagious excitement. Jon and I went to the dinner and were so impressed by the delicious food made by famous Bay Area chefs, who teamed up with local farms to make fancy meals with sustainable produce.
We stuffed ourselves to bursting (literally, I had to unzip my dress a little bit to sit down comfortably in the car on the way home. Maybe that's TMI. Oh well.) on white bean soup, curried chicken and basmati rice, squash and date sandwiches, strawberry panna cotta, cheese platters, etc.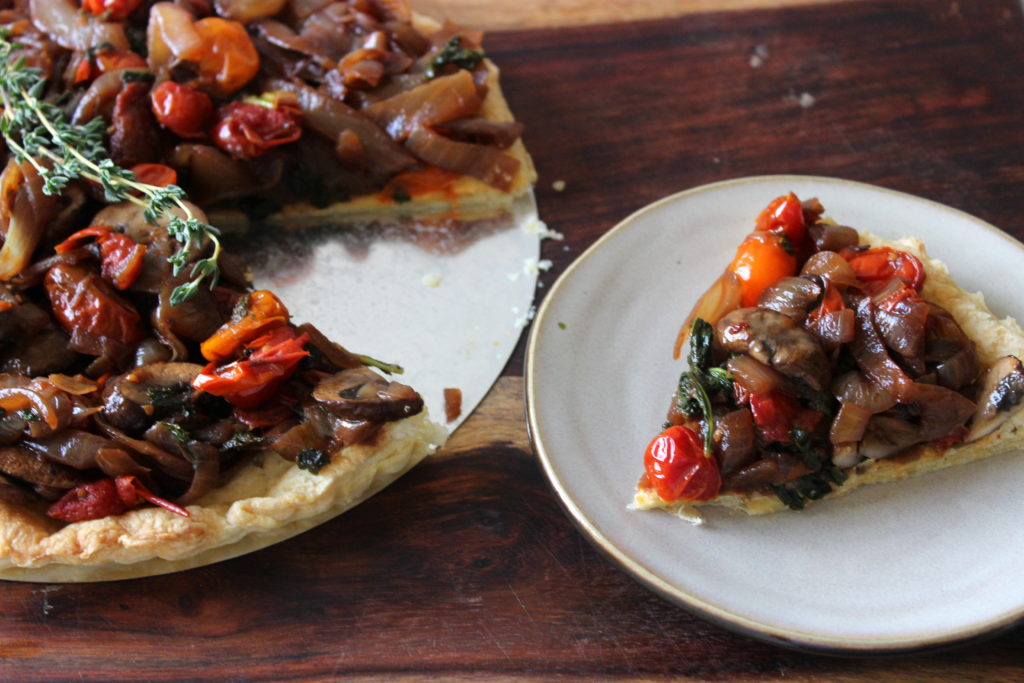 And then I was asked to help recreate one of the dishes for the Kitchen Table Advisors' blog, so I made this one. My favorite dish of the night were these small, tartlet potato crostatas with caramelized onion, kale, & tomato filling, and a dollop of handmade ricotta. Jon and I grabbed a seat nearby the serving station doling out this confection, and ate more of them than we could count. So I thought I would spin off the success of the dish and turn it into a full meal-sized tart.
This onion tart is bursting with flavor from the fresh, early fall ingredients it showcases: onions, tomatoes, & kale, and I added some mushrooms. A little bit of salt, red wine, & fresh thyme are all you need to highlight the flavors of the veggies. This meal uncomplicated, but very tasty, and a great Meatless Monday meal option and also #notsaddesklunch nominee.
Ingredients
3 large yellow onions, chopped into ½ thick strips
4 oz. sliced cremini mushrooms
2 cups of grape tomatoes, preferably heirloom variety
2 large handfuls of chopped kale
1/3 cup of red wine
1 tbsp olive oil
½ tsp of salt (or more to taste)
3 sprigs of fresh thyme
1 cup of water
1 package puff pastry dough
to serve: ricotta cheese and extra thyme sprigs
Instructions
Thaw puff pastry according to package directions.
For the Filling

Heat oven to broil on high. Wash tomatoes and place in a baking pan with high sides.
Broil until the tops are slightly scorched (but not crispy and black).
Take out of the oven and set aside to allow the tomatoes to cool.
Turn oven temperature to 375 degrees Fahrenheit and wait at least 20 minutes before baking to bring the temperature down from high broil.
In a large skillet, warm the oil.
Add chopped yellow onions and stir until onions become translucent and start to brown.
Pick the leaves off the thyme branches and throw away the stems. Add the fresh thyme and the salt to the skillet.
As the onions begin to brown and bits are sticking to the pan, add water in ¼ cup increments and stir well. Add wine about mid-way through the cooking, when the onions are translucent and light brown.
Continue to adding liquid and stirring until the onions are carmelized—darker brown in color.
Add mushrooms, tomatoes, & kale to the skillet, and cook until mushrooms are soft.
Keep skillet warm on low.
For the Crust

Roll out the pastry dough on a marble or flat countertop.
Place dough inside a 12 inch tart tin, or 9 inch pie plate.
Prick dough with a fork so that the puff pastry doesn't puff up completely when baked.
When the oven has cooled to 375 degrees, put in the pastry dough for about 10 minutes.
After 10 minutes, check to see if the dough has puffed up. If so, allow the air to escape by pricking the dough with the fork until it has reduced in size. Continue to check every 5 minutes to deflate the pastry as it rises, until the pastry shell is golden brown.
Allow shell to cool.
Spoon filling into the shell and top with ricotta. Add salt and pepper to taste. Enjoy!
http://thebayleafkitchen.com/caramelized-onion-tart/