In case you didn't know, the Super Bowl Sunday is coming soon! Also in case you didn't know, there are a few special things about this game:
it's the 50th Super Bowl!
it's in San Francisco!
Coldplay is playing the halftime show!
it's the perfect excuse to make snacks, drink beer, and watch funny commercials!
To be completely honest: I'm not a football person. I take pride in the fact that I actually do understand the game (mostly), but I don't follow teams or scores or playoffs, seasons, or records. Full disclosure: I actually don't follow any sport. The Great British Baking Show is as close as I get.
But, because the Super Bowl is in my hometown, it's been affecting my life for the last couple of months – not in significant ways, but enough that I've noticed. There are signs everywhere, we've been warned about the difficulty of our commutes in the next few weeks (I think they are closing down Market Street for a couple of days?!), people on Craigslist are renting out their houses for Super Bowl week. I'm sure having the extra flood of people and celebration in the city is going to get annoying at some point during Super Bowl week, but for now, the excitement is contagious! It's like having the Olympics in my backyard!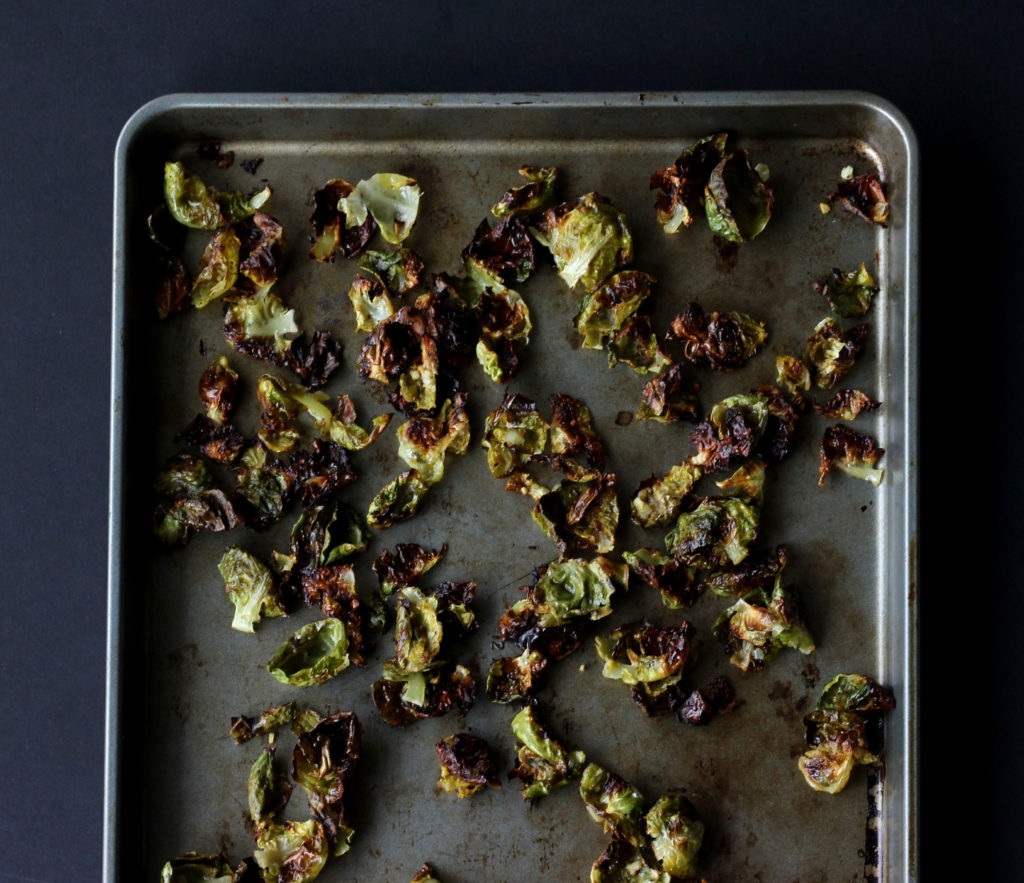 I thought I'd celebrate this occasion by offering two San Francisco/California-inspired recipes for your SuperBowl snacking extravaganzas.
This first recipe is inspired by a very famous brussel sprout chip appetizer at a restaurant called Marlowe in the city. It's on the list of 100 things to eat in San Francisco before you die. Even though I do not trust this list and have eaten some not-so-tasty foods just to cross them off, I really did enjoy the brussel sprout chips.
Not to mention that turning greens into gourmet snacking foods is a Californian specialty. We single-handedly started the kale and avocado crazes that are still sweeping the nation.
These brussels are lemony, crunchy, tangy, and somehow, a tiny bit creamy. They cook down, though, so make sure you buy a TON of brussel sprouts if you're cooking for a crowd. This recipe can (and should) be doubled, tripled, quadrupled, etc. etc. Brussel sprout chips are addictive and healthier than fried potato chips- so they are perfect for mindless snacking and game-watching.
Stay tuned for Part 2  for another San Francisco/California-inspired Super Bowl snack.
Ingredients
1/2 pound of brussel sprouts, leaves peeled apart
2 Tbsp good quality olive oil
1 Tbsp whole milk or whipping cream
3 cloves of garlic, minced
juice of 1/2 lemon
zest of 1/2 lemon
salt and pepper to taste
Instructions
Preheat oven to 325 degrees Fahrenheit.
In a bowl, combine olive oil, milk, garlic, lemon juice & zest.
Pour over the peeled brussel sprout leaves, mix well.
Sprinkle salt and pepper over the leaves, to taste.
Spread brussel sprout leaves evenly over a wax paper-lined baking sheet with ridges.
Bake for about 10-15 minutes, or until the leaves are very browned and crunchy.
Allow to cool and crisp up before serving.
http://thebayleafkitchen.com/brussel-sprout-chips/