I'm proud to say that these delicious jam buns are my very first ever non-flop no-consulting-other-recipes-except-once-for-two-seconds, yeast-using recipe!
To be totally honest with you, working with yeast is terrifying to me. Pies, cakes, and cookies – all of these seem easier than dealing with yeast, the weird (alive!) ingredient that needs multiple resting and rising periods. Usually, when I've decided I want to bake, it's because I want to eat something sweet and carb-y and fresh-baked in the next hour at the latest. In general, I've found that cookies fit the bill.
Yeast takes much more planning and foresight. If you make it for other people, you have to get up early to get the process started. If you're making it just for yourself like I did, though, you'll probably get up a late on a weekend, decide on the spur of the moment to make something with yeast, take up the rest of the morning to get the dough going, and FINALLY be able to eat "breakfast" at 1-2 p.m.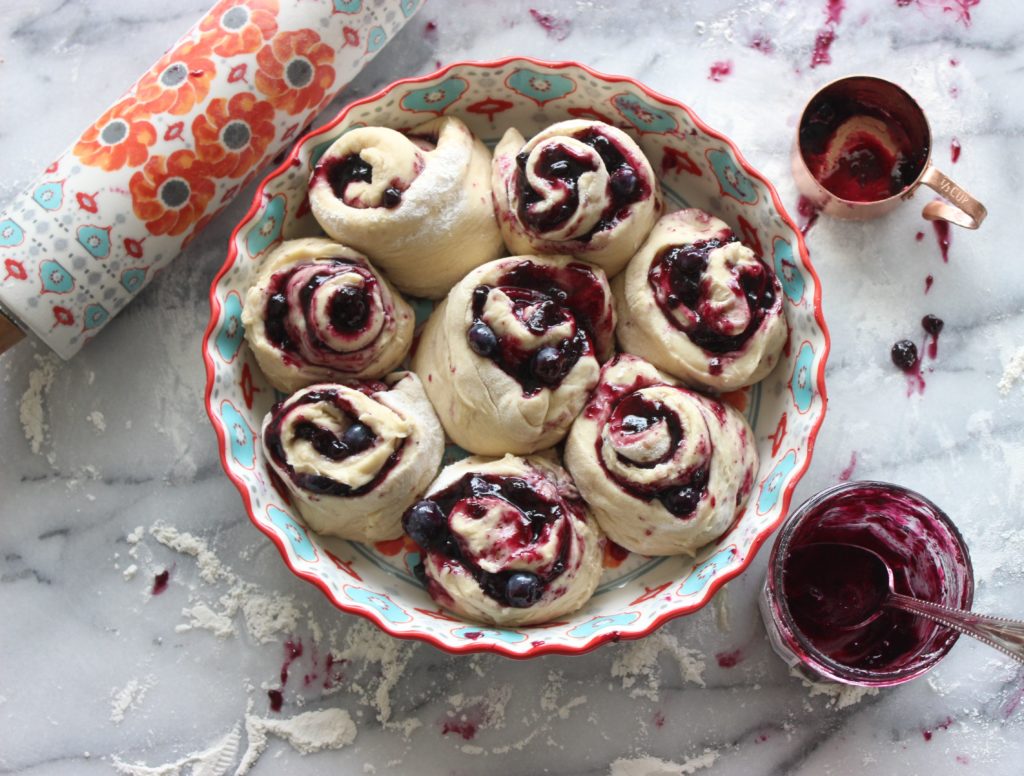 As you can see, I'm still working on my feelings towards yeast. I'm very much an instant-gratification baker. Yeast recipes are a lesson in baking patience that I really must be in the mood for (and have enough breakfast-y snacks on hand to eat while I'm waiting – like extra blueberries, or random half used bags of chocolate chips from the cupboard…That still counts as breakfast, right?).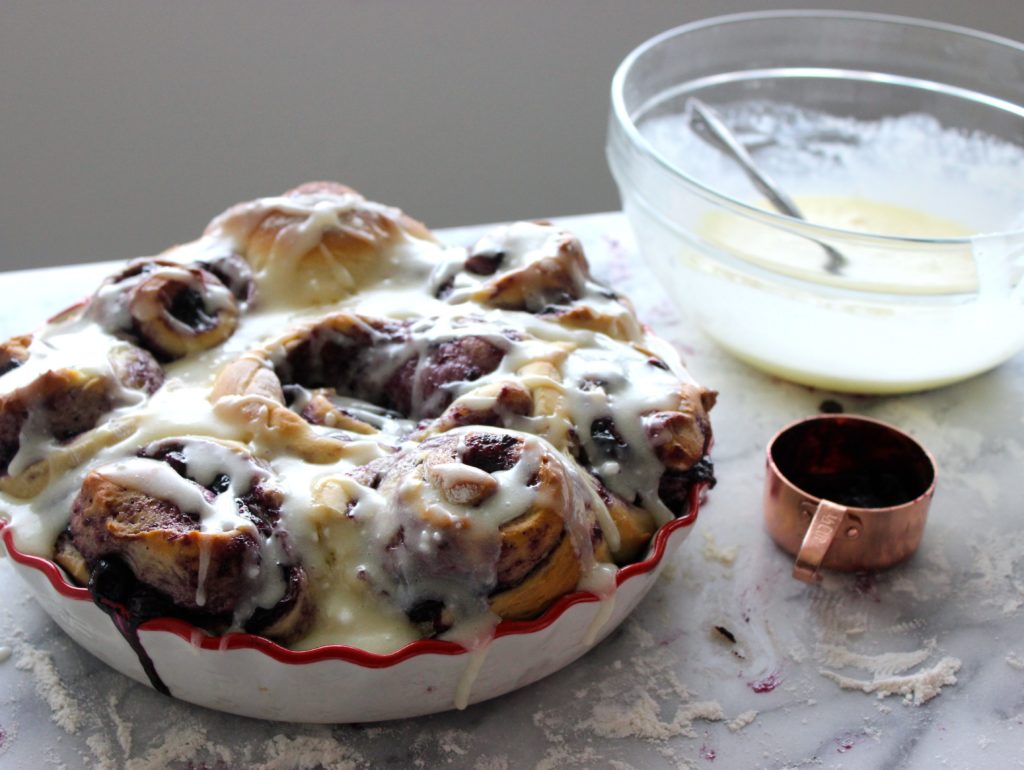 If after all of my late morning complaining above, you still choose to be bold, and brave, and bake with yeast, these jam buns are amazing! They were sitting on our counter for a day or two, and I found myself picking at them, eating pieces of them, until they were mostly gone. Watch out for this recipe, friends — these buns are definitely a trap.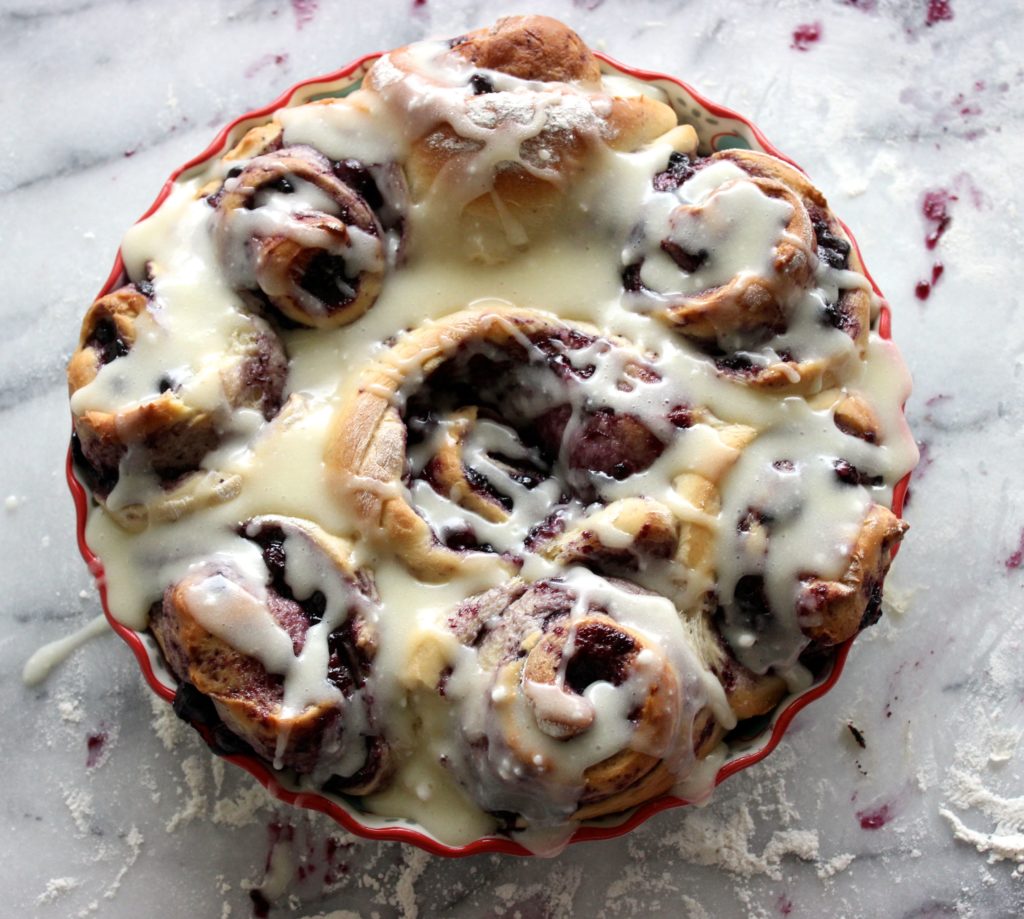 Blueberry Jam Buns with Marscapone Icing
Ingredients
For the buns:

3 1/2 cups flour + 1/2 more
1/4 cup buttermilk
1/3 cup sugar
1/4 tsp. nutmeg
1/2 tsp baking soda
1/2 tsp salt
1 tsp vanilla
1 egg
1/4 cup vegetable oil
1 tbsp. instant yeast
For the filling

1 pint fresh blueberries
1/3 to 1/2 cup blueberry jam (homemade or store-bought)
For the icing

8 oz. marscapone
1-2 tbsp milk
2/3 cup powdered sugar
1/2 tsp vanilla
Instructions
In a medium bowl, warm the buttermilk in the microwave for about 1 minute, in 30 second intervals, stirring until warm to the touch (not scalding).
Add sugar and stir completely.
Add yeast and allow to sit for about 5 minutes, as the mixture becomes frothy.
In the bowl of a stand mixer with bread hook attachment, combine flour, nutmeg, baking soda, salt and salt.
In a separate smaller bowl, beat the egg until mixed. Combine with vanilla, and vegetable oil.
Add the yeast mixture and egg mixture to the flour mixture and stir with bread hook for about 5 to 8 minutes, adding up to half a cup of flour to make the dough smooth so that it "thwaps" against the side of the bowl, rather than stringy, sticky and elastic.
When dough has been mixed until it peels away from the sides of the bowl, cover the bowl with plastic wrap and a rubber band and place in a warm spot to rise (I used my oven, which I warmed to 150 degrees Fahrenheit and then turned off and allowed to cool slightly ajar, while I made the dough).
Allow dough to rise 1 hour. It should be just about doubled in size.
Roll the dough out into a large rectangle shape on a floured cold surface ( like a marble board), until it is about 1/2 inch thick.
Spread the jam over the top of the flat surface, leaving very little white edges. Sprinkle the blueberries over the jam.
Cut the dough into strips about 2 - 2 1/2 inches thick. Roll each strip into buns, jam side facing in.
Arrange the buns in a large dish with edges, like a pie dish or brownie pan.
Allow buns to rise again, about 30 minutes, in a warm spot.
Preheat the oven to 350 degrees Fahrenheit.
Bake buns for 50-60 minutes. If the tops begin to brown too quickly, cover with foil. These take quite a long time before the insides are completely baked. Take them out of the oven and allow them to cool almost completely to the touch before pouring the icing over them.
For the icing:

In a large bowl or measuring cup, mix marscapone, powdered sugar, vanilla and milk by hand or with a hand-mixer until smooth. Add more milk if you want a runnier icing, and more sugar if you want a thick icing.
Pour over the jam buns when cooled. Enjoy!
http://thebayleafkitchen.com/blueberry-jam-buns-marscapone-glaze/