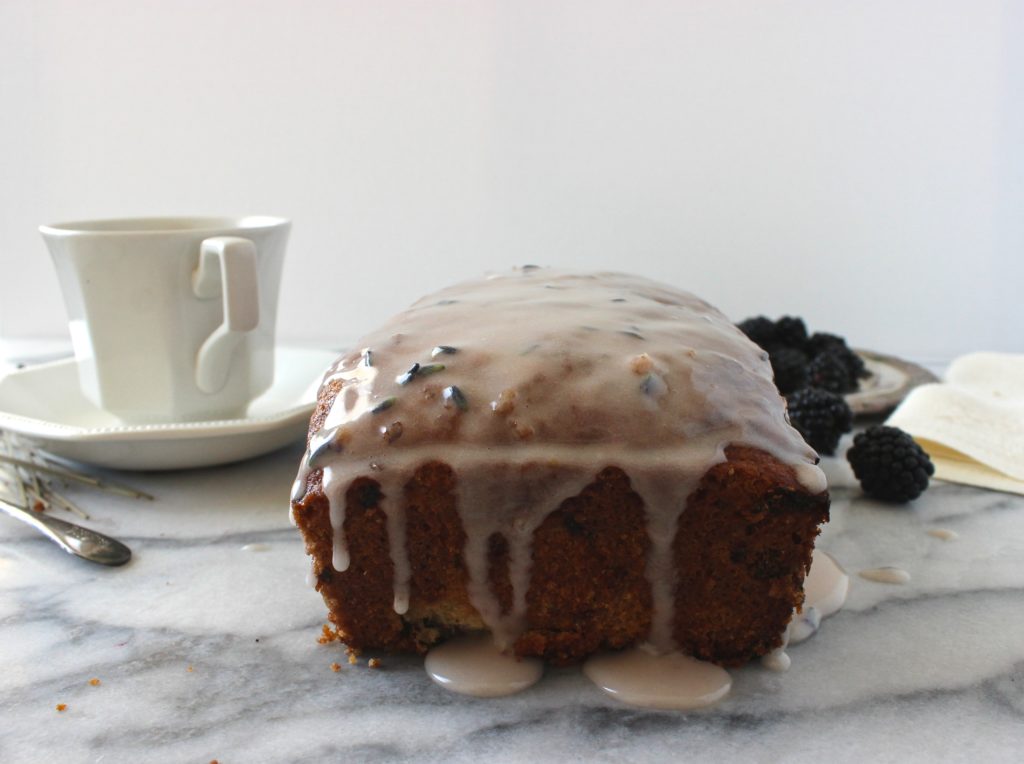 This recipe is inspired by my momma- hi mom!
Let me tell you about my mom. She was born in Sri Lanka- that little teardrop-shaped island off the coast of India. She grew up running on hot gravel with barefeet, and still has the calluses to prove it. Though now, her closet is stocked almost completely full with shoes that she's gathered over the years, and never seems to throw away.
She moved to the U.S. when she was 14, and the rest of her family trickled in over the years. She majored in English and Communications at U.C. Berkeley, and was the only person (let alone, woman!) in her family, at the time, to pursue a degree. As far as I know, she's the only one in her family that doesn't have a Sri Lankan accent; though she does pronounce "ear" like "year." She's an avid reader, thinker, and tea-drinker. In the evenings, she used to read me Nancy Drew, and she introduced me to Jane Austen novels before any of my friends or exposure to pop culture had the chance to spoil the ending of Pride and Prejudice for me. She directly influenced my choice to also major in English.
Back to the tea-drinking. Here's a mini history lesson. Sri Lanka used to be called Ceylon. If you like tea, you probably recognize the name. Tea companies often still print "made in Ceylon" or "Ceylon-style" on their boxes. I did a quick Wikipedia search for y'all to get the exact stats; apparently, Sri Lanka is still the second largest tea exporter in the world.
Sri Lanka was once a British colony (and before that, a Dutch colony), and some of the cultural practices still survive today. For instance, my mom grew up with a regular tea time. And it was a ritual she loved and shared with me as I was growing up.
I don't remember my first ever afternoon  tea, only that my mom and I went out for tea significantly more often than any of my friends ever did. We knew all the good tea spots in town, and in all the surrounding towns, and all the big towns that took hours to drive to. We'd always make a day of it by wearing extravagant hats and pretty clothes and go to tea on Saturday afternoons. We did it so often, I began to unconsciously raise my pinky finger, even while just drinking out of a water bottle at home.
To this day, whenever Jon and I travel, I make a point to book afternoon tea at some fancy hotel, so we can get our scone fix.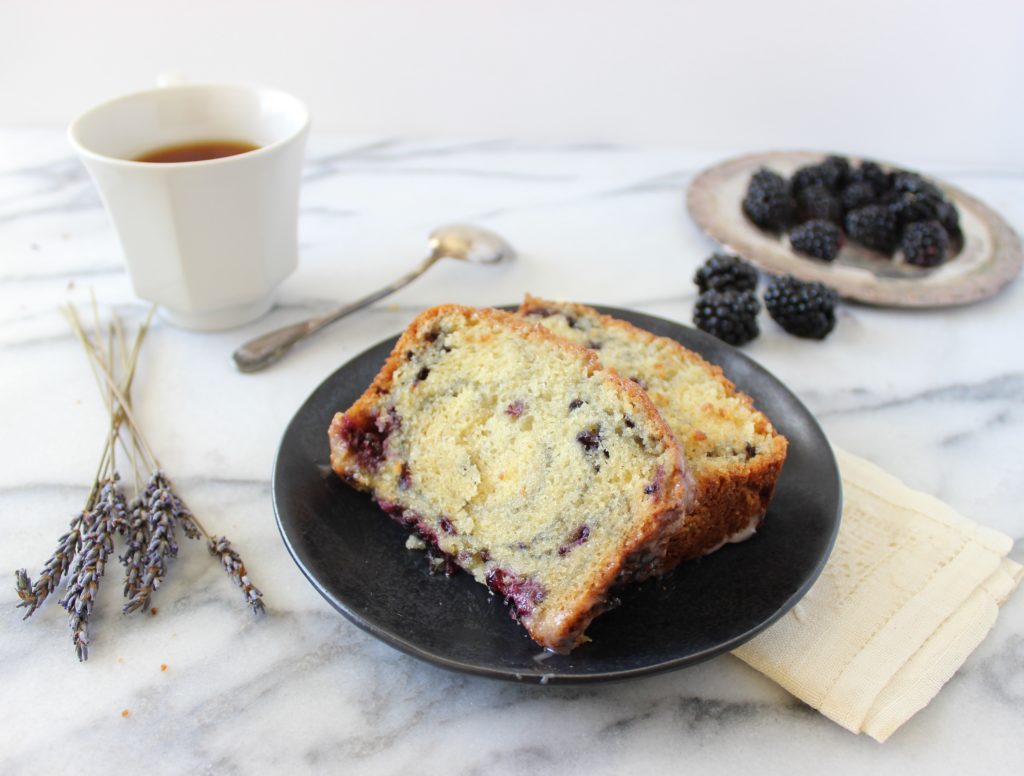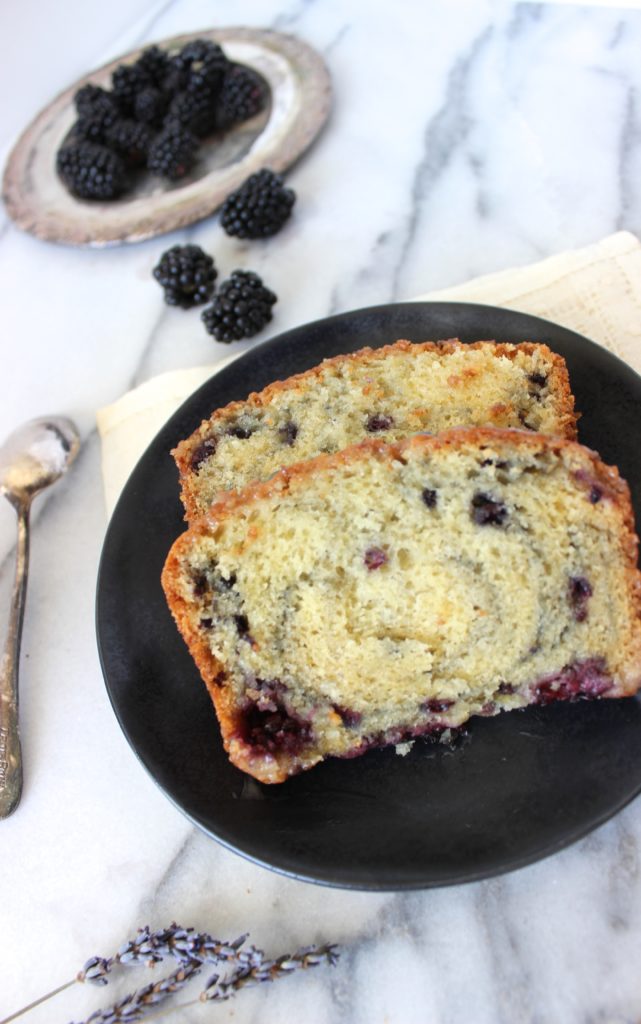 I made this cake for a tea party with my friends, which is why I would definitely recommend that you do the same. Bring it to a tea party, or eat the whole thing by yourself with your own cup of tea- no judgement. It turned out very soft and sweet, and the lavender glaze made it extra fancy and aromatic.
I took some advice from Joanne Chang's book, Flour, and added crème fraîche instead of sour cream or greek yogurt, to give the cake it's great texture. I also copied her method of combining ingredients: first I creamed the butter and sugar together, then adding in the pre-beaten eggs, crème fraîche, then slowly adding in the dry ingredients. At the very very last minute, I added the blackberries and did not mix them in fully, so that the batter would be lightly "swirled." I think the first step of smoothing out the sugar and butter really made this dessert amazing and light!
Blackberry Swirl Tea Cake + Lavender Honey Glaze
Ingredients
For the cake

1 ½ cups of flour
1 tsp baking powder
½ tsp baking soda
1 tsp salt
4 oz. crème fraîche
1 stick (1/2 cup) of unsalted butter, melted
1 tsp vanilla
2 eggs
1 cup of sugar
1 cup of mashed blackberries
For the glaze

1 cup powdered sugar
dried lavender, I used 4 stems-worth of petals, crushed
4 tbsp heavy cream
1 tbsp honey
Instructions
Preheat oven to 350 degrees Fahrenheit. Grease the sides of a loaf pan, and set aside.
Combine powdered sugar and lavender in a small bowl, and set aside so that the lavender can perfume the sugar while you make the cake.
In a medium bowl, combine melted butter and crème fraîche with a whisk until mixture is smooth, without lumps, and resembles yogurt. Add vanilla and set aside.
In a separate bowl, combine flour, baking powder, baking soda, and salt until completely combined. Fluff mixture with a fork for 1-2 minutes.
In another bowl, combine sugar and eggs, whisk until the mixture is smooth, and very light—even fluffy. When the eggs and sugar are whisked well and smooth, slowly add the flour mixture in, folding in with a spoon. When lightly combined (you will still see the flour), slowly add the crème fraîche and butter mixture, also folding in. Take care not to overmix! Right before all the ingredients are combined (there should be very little flour and crème fraiche mixture yet uncombined), add in the mashed blackberries. Do not stir these in all the way, only stir 1-2 times before pouring mixture into the greased loaf pan.
Bake for 40-45 minutes, checking in frequently in the last 10 minutes.
When the cake has risen fully and is browned on the top, stick a toothpick in to test that the cake is finished—if it comes out clean the cake is done!
While the cake is baking, add the heavy cream and honey to the powdered sugar and stir until the mixture is a runny glaze. I also added the extra juice leftover from crushing the blackberries to make the glaze a light purple color.
When cake is finished, allow to completely cool. Cut the cake out of the loaf pan and place on a plate. Pour glaze over the cake and serve.
Also a note, when you mush the blackberries, feel free to put them through a sieve to get rid of crunchy seeds. I personally do not mind the extra seeds, but if you're going for a totally smooth, soft cake, the extra straining step may be worth it to you for an even texture.
http://thebayleafkitchen.com/blackberry-swirl-tea-cake-lavender-honey-glaze/